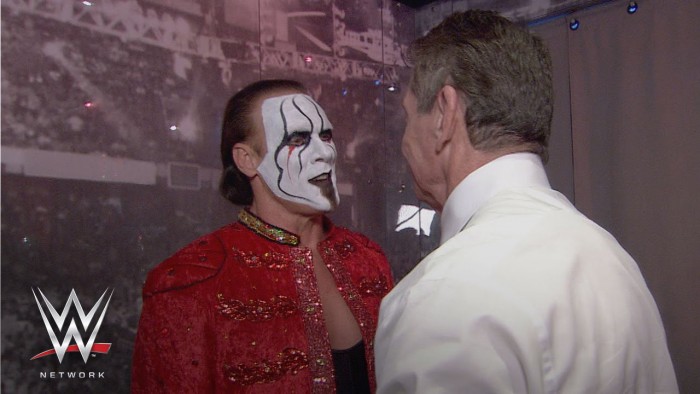 It started with the main attraction of WrestleMania, Sting arriving at the event giving his opinion on what it means to him. The Icons' finally wrestling in a WWE ring for the first time and at 'Mania no less, a day which will go down in WWE history.
This human aspect was a re-occurring theme throughout the network original, portraying the feelings and emotions of the superstars and giving us access behind the bravado of their characters.
The Hall of Fame event gave us a look at the real side of the superstars. Rikishi, Tatsumi Fujinami, The Bushwhackers, Larry Zbyszko, Alundra Blayze, 'Macho Man' Randy Savage and also Kevin Nash were all inducted in last year's ceremony with a few of these superstars talking with Vince McMahon and Triple H about being inducted.
This transitioned into the story behind the Ultimate Warrior Award with Stephanie McMahon telling us about Warrior himself and the recipient of the award, Connor Michalek who sadly passed away in 2014 after his battle with cancer.
The choreography behind Triple H's entrance was shown, allowing us to see the extent of planning which goes into events such as this. This was a cool moment as it also gave us a back story as to why this entrance was picked, telling us about the relationship with him and Arnold Schwarzenegger.
Backstage whilst WrestleMania was live gave us the best look at the real people behind the characters. Paige speaking about her first time being at the granddaddy of them all. The emotions of it all and being able to share it with her mother who has followed her whole career closely was heart-warming to watch especially when breaking down in tears, with them both embracing each other.
Other moments such as Sting and Vince speaking behind the curtain just minutes before his match. The excitement being shown, the whole locker room cheering him on just before the greatest moment of his career as he described it himself. "We stopped putting on a performance, and it was just real." Triple H describing the theme of the documentary perfectly in this one line.
Smaller moments were also shown to us with Brock Lesnar and The Undertaker exchanging words before 'Takers match and after the match, him kissing his wife and child after his match got us a look at the real Mark Callaway.
Overall, Wrestlemania Silicon Valley showed us the things we as fans don't see. The hard work which goes into huge events such as WrestleMania by backstage staff, the emotions of superstars which we don't see on screen and also the families of these superstars who are so proud of their relatives. It's an inspiring, feel good documentary showcasing the best of what the WWE has to offer and shows the viewer a totally different side of the company.
Let us know what you thought of the Network special via our Twitter- @Vavel_Wrestling