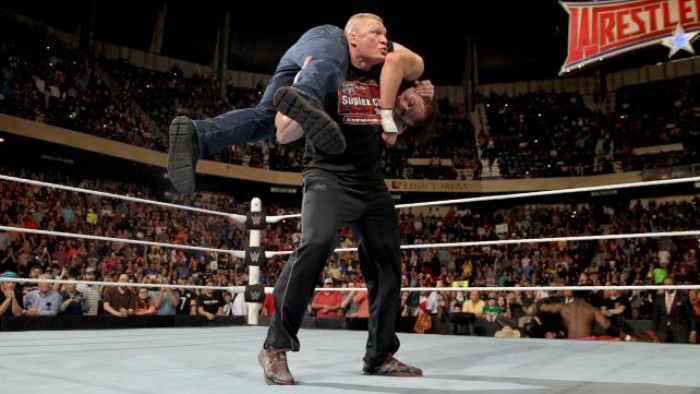 It was another thrilling night of Monday Night Raw as we head towards Fastlane. Here are five things we learned.
1. The Triple Threat match build up is wacky
If anything the build up and the writing for this triple threat match has been a confusing yet entertaining series of events. The WWE scheduled Roman Reigns in a triple threat match match against Dean Ambrose and Brock Lesnar to see who will face Triple H at Wrestlemania for the WWE Championship. Putting Reigns right after him losing the title at the Royal Rumble is pretty confusing as the Authority said he wouldn't get a title shot after that.
Are they trying to push Dean Ambrose? We all know Brock Lesnar is in this because he will make the match a lot more entertaining and is the WWE setting up a Reigns - Triple H match as sort of a passing the torch type moment? Lots to find out in the next few months.
2. AJ Styles maybe doesn't need a push as of right now
AJ Styles has been really fun to watch since he made his debut at the Royal Rumble. He has beaten Chris Jericho, fought with the Social Outcasts, and just beat up the Miz this Monday. Some are complaining about the WWE putting Styles against lower competition, other than Jericho of course. But it may be a good move as he adjusts to WWE. But we would all like to see him get a push later on in the year.
3. A show not all about the Authority is cool
For the first time in a while, Raw kicked off with someone other than Roman Reigns and the Authority as Brock Lesnar was the first one out on the ring. Thank you WWE for switching it up.
4. The Divas title match at Fastlane is one to watch
Charlotte vs. Becky Lynch was entertaining at the Royal Rumble but we have a feeling like Sasha Banks vs. Charlotte will a little more entertaining as all likelihood sees Banks face off against Charlotte for the title.
5. Where is Ryback?
Another week of RAW without Ryback? What happened to the guy? As Ryback would say "PUSH ME MORE"