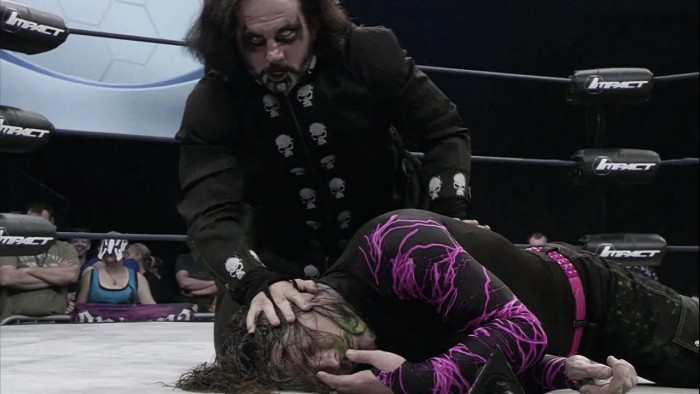 Show Opening: Bobby Lashley and Drew Galloway are shown arriving at the building. They meet each other in the hallway, leading to a pull-apart brawl between the two.
Murphy's Musing: This was a nice way to hype the main event and to remind the audience about the building hatred between the two.
Opening Segment: "Willow" called out Jeff Hardy. Hardy came to the ring and threatened to expose "Willow's identity, leading to a match between the two.
Match #1: Jeff Hardy defeated "Willow" in 0:40
Post-Match: A second "Willow" appeared and joined the first "Willow" in attacking Hardy. They then introduced a third, larger "Willow," who revealed himself to be the returning Matt Hardy.
Murphy's Musing: This storyline has officially "jumped the shark." The original formula was working well: the talented, more popular brother against the slightly less talented, insecure older brother. Matt was playing the "Big Money Matt" character well and the last match between the two was great. It's likely that creative would explain this move by saying that Matt is so consumed by rage, insecurity and jealousy, he has gone off the deep end. This is fine, but they could have done the same thing and kept Matt in the character he has been so good at playing these past few months. This just comes off as weird, creepy and doesn't help build excitement for the rematch.
Backstage: Maria's new assistant, Allie, informs Velvet Sky that she has an upcoming match against Sienna, with the stipulation that if Velvet loses the match, her TNA career is over.
Match #2: Sienna defeated Velvet Sky in 3:25 to end her TNA career
Murphy's Musing: Allie played the bubbly, arrogant Millennial heel role well. The match itself could have been executed better, Since Sky is leaving the company and has been one of the division's legacy stars for year, it would have been better to see Sienna completely beat her down, getting herself over a legitimate opponent, vs. the competitive match that was presented. This was a wasted opportunity to build a new heel in a division that is severly depleted.
In-Ring Segment: Mike Bennett calls out referee Earl Hebner and challenges him to a match.
Match #3: Mike Bennett defeated Earl Hebner in 1:50
Murphy's Musing: On the one hand, this was a nice way to showcase Bennett as the smug, arrogant bully as they build toward his match against EC3. On the other hand, this segment went on way too long and there was no real reason established as to why he would pick on Hebner. If it had been built around Bennett being angry over the way Hebner had been refereeing his matches, that would be one thing. But, the segment never took the time to establish any such rationale.
Post-Match: Bennett continues the beat down on Hebner until EC3 makes the save. This leads to Bennett informing EC3 that the next "demon" he has to overcome is Tyrus in a Last Man Standing Match. Tyrus attacks EC3 from behind, leading to the match.
Match #4: EC3 defeated Tyrus in a Last Man Standing match in 10:55
Murphy's Musing: This was a decent match. Tyrus plays a good "big man" heel; however, his added weight has affected his mobility around the ring, making his matches slower and more plodding than desired. Of note, after the match Bennett informed EC3 that he has now gone through two of the three "demons." The final "demon" to overcome will be Matt Hardy and that match will take place next week.
Match #5: Eddie Edwards and DJ Z defeated Trevor Lee and Andrew Everett
Murphy's Musing: This was a classic example of what TNA does wrong: Four talented athletes thrown into a "filler" match with no storyline and no build. Hopefully, when Davey Richards returns, they'll have somethuing interesting prepared for he and Edwards to be a part of.
Fact of Life Segment: Eli Drake interviews Bram. Drake threatens to cash in his "King of the Mountain" title match against Bram, but walks away. Bram attacks Drake until Drake escapes to the back.
Murphy's Musing: Drake is one of the refreshing spots on the roster. He's great on the miike and this segment has been entertaining. The storyline with Bram has been flat, particularly since the King of the Mountain title is meaningless. He would be a great opponent for EC3 down the road. The promos would likely be stellar.
Match #6: Drew Galloway fought Bobby Lashley to a no-contest in 17:15. Prior to the match, TNA President Dixie Carter made the match a lumberjack match in order to keep things in check. The match ended with all of the lumberjacks brawling around the ring.
Murphy's Musing: A non-finish on a TV main event is acceptable. However, this match, which basically served to highlight all of current TNA feuds, did nothing to hype Lashley and Galloway as a credible PPV main event in June. Instead, it came off as choppy and disjointed.
Overall, not a great episode of TNA TV this week. As always, there's good wrestling, but the poor booking decisions will continue to drive this company towards its demise, unless a credible investor can come in, with the power to steer the ship in the right direction.