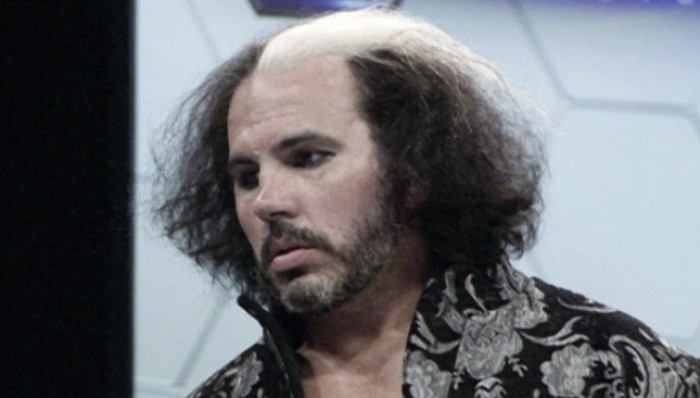 Opening Segment: Matt Hardy (with psychotic hair and accent) addresses the TNA Impact Zone and announces that his brother, Jeff Hardy, has challenged him to a "Full Metal Mayhem" match at Slammiversary on June 12th. Rockstar Spud and Tyrus interrupt and express concern over Hardy's new persona. Spud pleads with Matt to call off the match, stating that he fears for Matt's well-being. In response, Hardy proposes the following to Spud and Tyrus - face Jeff in tonight's main event in a handicap ladder match. Should Spud and Tyrus win, the match at Slammiversary will be called off. If Jeff wins, Matt will sign the contract, while Tyrus and Spud will no longer be allowed to associated with the "Matt Hardy Brand".
Murphy's Musing: This was just plain bad - from Hardy's getup, to his fake accent, to him repeatedly referring to Jeff as "Brother Nero". Spud's impassioned pleas were a nice touch, but this storyline simply doesn't need all of these theatrics to be effective. "Big Money Matt" was a great heel character. It worked well for him in ROH and it worked well in TNA. The closing angle of the ladder match was enough to engage the audience and sell the rematch. Creative is clearly over thinking here and it's clouding something that could have been booked much more simply.
Match #1: EC3 defeated Matt Hardy by disqualification in 6:30, when Mike Bennett attacked EC3. After the beat down, Bennett reminded EC3 that in order to defeat his third and final "demon", he had to make pin Hardy or make him submit. Since that didn't happen, EC3's request for a rematch is denied.
Murphy's Musing: This was a solid match, but these two have had better. Bennett continues to shine and his "bait and switch" on EC3, denying him the rematch, continues to highlight the story. It wasn't necessary to mix this story in with the Matt and Jeff Hardy angle, and doing so has made the first part of the show feel unorganized. But, overall, the Bennett-EC3 rematch is being built nicely and at the right pace. It will be interesting to see how they finally get to the place where the match takes place, likely at Slammiversary.
In-Ring Segment: Allie introduces Maria Kanellis Bennett, who addresses the TNA Impact Zone about the firing of Velvet Sky last week. Gail Kim interrupts, voices her displeasure over the situation and challenges Maria to a match. Instead, Maria books Gail in a match with Sienna for later tonight, who attacks Gail from behind. If Gail loses the match, she is also fired.
Murphy's Musing: Allie plays a good role here as the bubbly Millennial sidekick. Aside from that, there's not much to say about this segment other than it's clearly building to a match between Maria and Gail at Slammiversary. Unfortunately, it appears that Sienna's build will be sacrificed for the sake of furthering the Maria-Gail angle. As noted in past reports, the division is depleted, and a strong, dominant heel ,in the ring, is sorely lacking.
Backstage Segment: Robbie E. informs Jessie Godderz that he has hired a "guru" to help get them to the next level as a tag team.
Murphy's Musing: This is the kind of wasted booking that prevents TNA from being taken seriously.
Match #2: Al Snow defeated Grado in a street fight in 3:20, due to interference from the debuting Sylvester Lefort and Marcus Louis (formerly from NXT)
Murphy's Musing: Al Snow's classic heel tactics are enjoyable. While the match was basically a throwaway, it was a nice introduction for Lefort and Louis. Hopefully, pairing them with a veteran like Snow gets something out of them that their stint in NXT failed to produce.
In-Ring Segment: Bobby Lashely is interrupted by Drew Galloway, with Lashely challenging Galloway to a World Title rematch. Before they start to fight, TNA President Dixie Carter interrupts and announces that the match will take place as the main event of Slammiversary. As a stipulation, the match can only be won by knockout ot tapout. After the announcement, Lashley and Drew brawled to end the segment.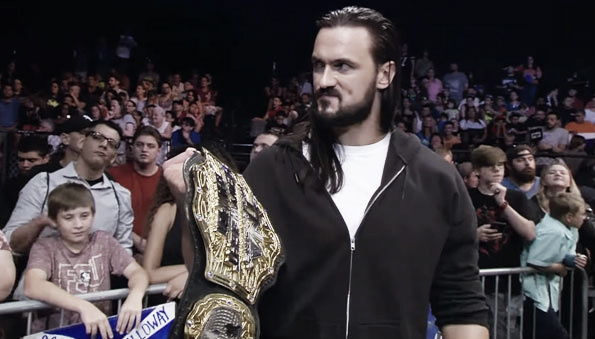 Murphy's Musing: Given Lashley's MMA background, the match makes sense and given that Galloway is the champion, it automatically deserves the main event spot. The angle needs a little more building to have that main event-level of anticipation and Lashley's mic work hasn't been convincing historically. The brawl at the end was a step in the right direction, and it looks like Galloway will have to continue to do the lion's share of the work to carry the build to Slammiversary forward.
Match #3: Trevor Lee defeated Eddie Edwards, DJ Z, and Andrew Everett in an Ultimate X match to retain the X Division Title in 6:00
Murphy's Musing: The match made sense from a storyline standpoint, given the tag team match last week. But, making it an Ultimate X match, which is supposed to be a match that sets TNA apart from the competition was random and threw away a match stipulation that would have been better placed on a pay-per-view. Given the lack of tag teams in TNA right now, it at least gives Eddie Edwards, one of the better workers, a spot on the card.
M​atch #4: Gail Kim defeated Sienna in 4:30
Murphy's Musing: This angle didn't need two segments to achieve what TNA was looking to accomplish - setting up a match between Gail and Maria. And, as mentioned earlier, it did so at the expense of building Sienna as a credible heel. The payoff should still be interesting, but the execution, thus far, has been questionable.
Main Event: Jeff Hardy defeated Rockstar Spud and Tyrus in a ladder match
Murphy's Musing: The outcome doesn't come as a big surprise. It was a decent main event for what it was, but Matt Hardy's persona is so far out there that it making a simple story much more complicated and not compelling. The payoff will be fine, given the Full Metal Mayhem stipulation, but hopefully, Hardy returns to a more normal character before the damage can't be salvaged.
Until Next Week...
Follow Murphy's Musings on Twitter: @don424