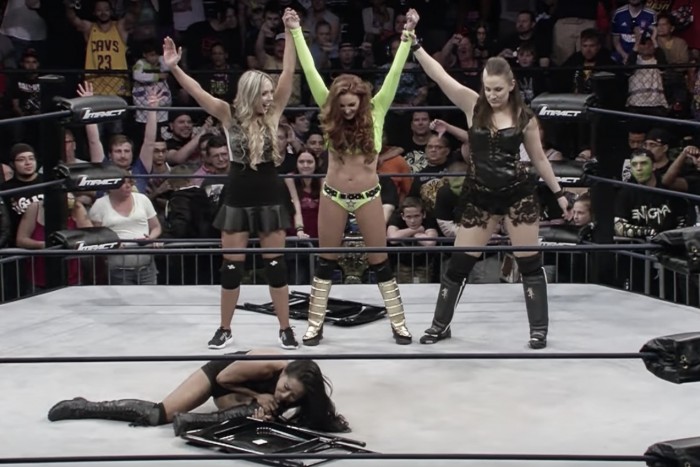 Opening Segment: Matt Hardy comes to the ring and talks about his upcoming Full Metal Mayhem match at TNA Slammiversary with his brother Jeff Hardy, noting that Jeff had been destroyed last week and won't appear on Sunday. Matt demands to be added to the TNA World Championship match between Drew Galloway and Bobby Lashley, causing Galloway to come out, deny Hardy's request, but declare that he will defend the title against Hardy in the show's main event.
Murphy's Musing: A good opening segment and both did a great job of reminding the audience about their past history. It was a bit of an odd decision to have Galloway defend the title right before Slammiversary, but as a one-off story that will conclude by the end of the show, this was fine.
Match #1: Sienna defeated Madison Rayne in 2:40 to earn a TNA Knockouts Title shot at Slammiversary against Jade.
Murphy's Musing: It would have been nice to see this type of presentation for Sienna earlier. She was presented as dominant over a credible veteran in Rayne and this win built her character nicely going into Sunday. Jade's title run has been flat thus far, but this should be a fun match, As an aside, Allie, who was at ringside with Sienna, continues to evolve as an entertaining supporting player.
Fact of Life Segment: Eli Drake interviews Decay. This eventually results in appearances by The Bromans, Bram, Grado, Mahabali Shera, and The Tribunal, leading to a brawl with all of the participants, culminating in an immediate ten-man tag team match.
Match #2: Abyss, Crazzy Steve, Eli Drake, Basille Baracca, and Baron Dax defeated Bram, Grado, Mahabali Shera, Robbie E, and Jessie Godderz in 7:00.
Murphy's Musing: While the "Fact of Life" segment is always entertaining and an explanation for an impending match is generally the way to go, inclusion of the segment before this particular match caused the entire segment to go on for way too long. The match, presented by itself, would have been sufficient as all of the participants are facing off with each other in matches on Sunday. Overall, the segment served its purpose, to efficiently promote, at one time, the majority of the under card matches for the pay-per-view.
Match #3: EC3 and Gail Kim beat Mike Bennett and Allie (subbing for Maria) in 4:50. After the match, Maria, Allie and Sienna laid out Gail Kim by slamming a steel chair onto her knee.
Murphy's Musing: The EC3-Bennett match had been built so nicely, that it was concerning having them as opponents days before the pay-per-view. However, they interacted at just the right amount, so that there's still anticipation for Sunday. Allie was brilliant here, between her high-pitched squeals of glee after executing a move to her over-the-top facial expressions. As the match between Gail and Maria has apparently been called off, Creative had to pull a quick explanation together, in the form of Kim's injury.
Match #4: Trevor Lee defeated Eddie Edwards in 7:15 to retain the X Division Title.
Murphy's Musing: A fine match here. The X Division has fallen flat in recent years, but as seen with most TNA pay-per-views, the Fatal Four Way between Lee, Edwards, DJ Z and Andrew Everett will be an entertaining opener to engage the crowd and set the tone for the rest of the show. It will be interesting to see how they go from here. A possible scenario would have Edwards winning the title and feuding with partner Davey Richards, upon his return.
Match #5: Braxton Sutter defeated Kalus in 2:15.
Murphy's Musing: The match, combined with the video vignettes over the past few weeks have been a nice touch in introducing the character.
Main Event: Drew Galloway defeated Matt Hardy by DQ in 8:30, due to outside interference by Bobby Lashley. As Lashley and Galloway brawled to the back, Jeff Hardy emerged and attacked Matt to end the show.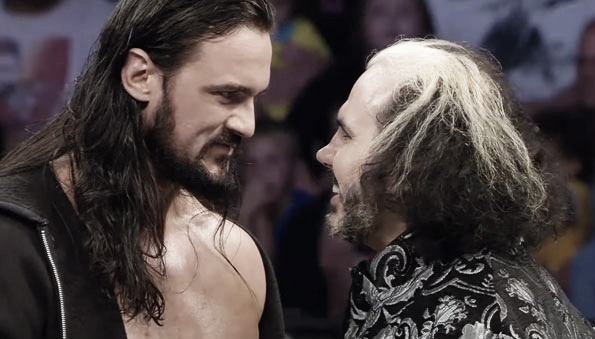 Murphy's Musing: Efficiency was key this week in generating the final hype for Sunday. The main event included a solid match between Galloway and Hardy and then the two brawls to build the two main events. There were hints that Jeff Hardy would be presented as Willow, but thankfully that never came to fruition. So, overall, a good final plug for Sunday, and from top-to-bottom, Slammiversary is poised, on paper, to be one of TNA's better shows in some time.
Follow Murphy's Musings on Twitter: @don424