 The Chinese pair of Wu Minxia and Shi Tingmao got off to a great start, and they would hold that lead for the Gold medal. The Italian pair of Tania Cagnotto and Francesca Dallape' would get the silver, and the Australian pair of Maddison Keeney and Annabelle Smith earned the bronze for the event, despite being in last place after the first two dives.
The Chinese had an excellent first round, with a 55.8 in the first round. The pair did well on each dive, and continued to extend their lead as the dives became more difficult. They got an 80.1 on their fourth dive and an 81 on the final dive, which were easily the highest scores of the event.
The Minxia/Tingmao pair finished 32 points higher than the Italians who won silver, which is quite the impressive margin. The team had the gold medal looked up the from the very first dive, and the Italians held the second position after each dive also. It was the bronze medal that came down to the wire.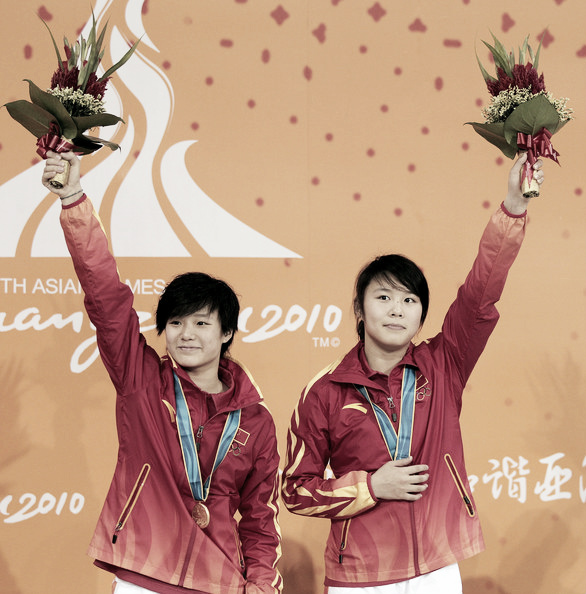 On the fifth dive, the Australians, Malaysians, English and Canadians all had a chance to win the bronze medal. After mediocre dives from the Malaysians and English, the Australians scored a nice 71 to put them in position. The Canadians ended up finishing in fourth by less than a point, after scoring a 67.5 on the final dive.
Final Standings:
The final results were:
China (Minxia/Tingmao): 345.6
Italy (Cagnotto/Dallape): 313.83
Australia (Keeney/Smith): 299.19
Canada (Jennifer Able/Pamela Ware): 298.32
Malaysia (Jun Hoon Cheong/Nur Dhabitah Sabri): 293.4
Great Britain (Alicia Bragg/Rebecca Gallantree): 292.83
Germany (Tina Punzel/Nora Subschinski): 284.25
Brazil (Tammy Takagi/Juliana Veloso): 258.75