 Madison Kocian is one of the United States' best bar specialists ever. You could actually call her by some standards, a bars legend. After putting up scores of 15.9 in Olympic Trials and 15.85 in qualifying, it was plenty easy to tell she would do well in the team finals.
She did. After putting up another score of 15.93, breaking her record yet again, it seems it's time we compare Kocian to some of the greatest bar legends the sport of gymnastics has produced over the years.
Nadia Comaneci leads list of bars legends
Nadia Comaneci may be the greatest bar legend of all time due to her remarkable consistency and her ability to get perfect tens multiple times. She actually earned a perfect ten on bars in both the 1976 Olympics in Montreal and the 1980 Olympics in Moscow. She is the only gymnast ever to score a perfect ten in back to back Olympics.
There are not surprisingly quite a few similarities between Kocian and Comaneci. The first of which is that they are both working with Martha Karolyi. Comaneci was coached by Karolyi in her early days, while Karolyi currently heads the United States womens program. Another similarity is that they can both participate in balance beam also. Comaneci earned perfect tens on beam as well, and Kocian has shown over the season by performing in all-around tournaments that she can do beam as well. There was actually talk ahead of the Olympics that there would be a chance Kocian would compete on beam to give Simone Biles a rest and Gabby Douglas' inconsistencies during Olympic Trials, however she ended up falling on day two, giving the edge to Douglas.
Julianne McNamara only U.S. gold medalist on bars
Another bars legend that's not as well known as Comaneci is Julianne McNamara. McNamara would dominate the uneven bars in 1984 in Los Angeles, earning perfect tens on the high bar in each major finals (team final, all-around final and bars final).
McNamara's name has gone down in history as the first United States Olympian gymnast to win gold in the event finals. She tied with Chinese gymnast Ma Yanhong with a perfect ten. Kocian looks to join McNamara as the best American bars specialists in history, being the only two to win gold in the individual event. Kocian would become the first American to claim gold for herself (since McNamara tied) if she can surpass Aliya Mustafina's and Gabby Douglas' totals.
Two other gymnasts have actually earned perfect tens on uneven bars at the Olympic games. Daniela Silivas earned a perfect ten at the Seoul Olympics in 1988 and Chinese gymnast Lu Li earned a perfect ten at the 1992 Barcelona Olympics.
More recent Olympics; the end of the Perfect 10's
In the more recent Olympics (1996-2012), Russia has taken 3/5 gold medals, with two going to Svetlana Khorkina back to back years in '96 and '00 and Aliya Mustafina winning gold on the event in London. The other two gold medalists were Emilie Le Pennec of France in 2004 and Chinese gymnast He Kexin who beat out American Nastia Liuken for gold at home in Beijing in 2008.
Of the above mentioned three, Khorkina earned a 9.85 and 9.86 score in her gold medal bars routines, Le Pennec earned a 9.68, Kexin earned a 16.72 and Mustafina earned a 16.1 in London, and will be back as the top competitor for Kocian's gold medal hopes.
This year's Olympics will be close at the top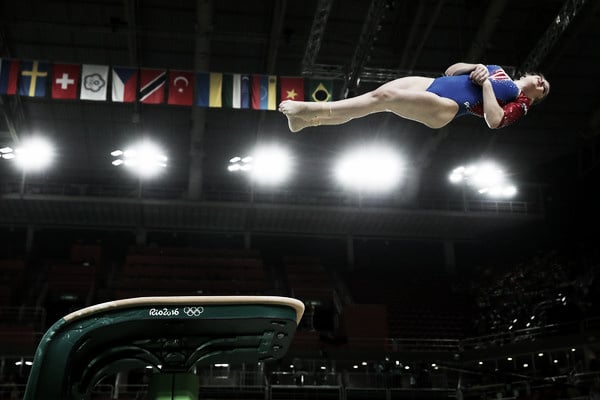 While uneven bars may seem like it's an easier event to score high execution scores in, these are the best of the best gymnasts. You can ask several other gymnasts; including Simone Biles, how difficult bars truly are. Biles didn't even qualify for the event finals after finishing 14 in qualifying. Kocian just looks to join a long line of Olympic greats.
With a max score of 16.7 and a personal high of 15.9 at Olympic Trials, there is a good chance Kocian comes out with the gold medal. Mustafina is a heavy favorite for the Silver, after she qualified with a 15.83 less than a tenth behind Kocian. Gabby Douglas of the United States and Daria Spridonova of Russia will be the biggest competitors for the Bronze most likely, looking to double up on their team's medal count. Also hoping to be a factor are the German pairing of Elisabeth Seitz and Sophie Scheder. This will likely be the second time since 1988 that the Chinese have not medaled on the uneven bars with 2004 being the lone exception.