 As expected, the United States have come away with yet another gold medal. Following in an incredibly distant second and winning the Silver medal was the Russian team, who overtook third place China who ended up with Bronze.
The race for silver and bronze tight until the end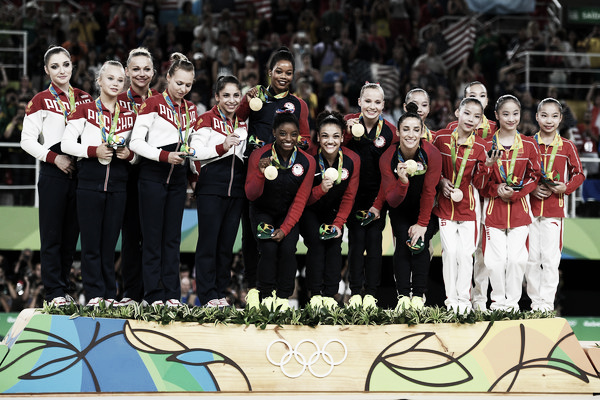 Great Britain and Japan, the next two competitors finished about two points behind the Chinese. The main reason why Japan and Great Britain were behind was in part due to the beam where Japan earned only a 42.6 and the English earned the worst beam score of 41.96 in large part due to an Ellie Downie fall.
Great Britain and Japan did well on floor exercise and vault, however, the large deficit on balance beam and falling behind the Chinese in uneven bars is what ultimately cost these two teams at a medal.
The Chinese cost themselves a medal from Russia on floor and vault. Mao Yi of the Chinese team almost fell completely off the mat on floor, and Shang Chunsong got a 14.333 after a fall on uneven bars.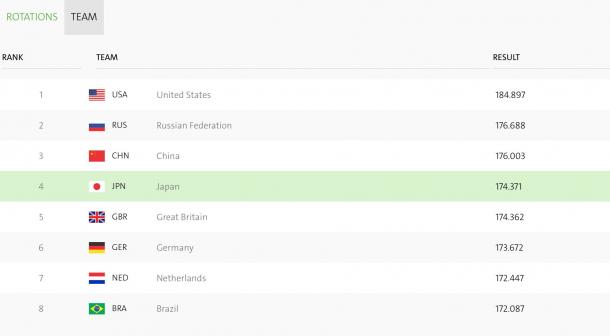 Team USA's results
Laurie Hernandez started off with a 15.1 on vault. Also on vault were Aly Raisman who earned a 15.833 and Simone Biles who earned a 15.933 for one of the best overall scores of the night.
Next up for Team USA was the uneven bars, where Laurie Hernandez would sit out reportedly due to injury. Instead, her spot would go to Simone Biles, who earned a 14.8 going first. Following her was Gabby Douglas who qualified third in the event, scoring a great score of 15.766 on her attempt. Rounding it out was bars specialist Madison Kocian, who earned a meet-high 15.933 to tie Simone Biles (vault) and Aliya Mustafina (Russian bars specialist) for the highest scores of the night. In part due to this, the United States took over a four-point lead into the third rotation.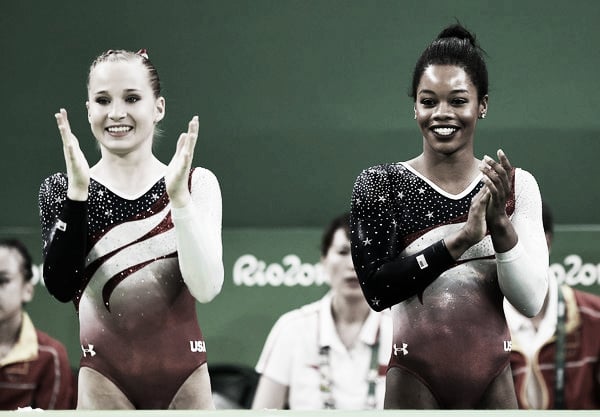 Next for the United States was the balance beam. Aly Raisman would leadoff for Team USA and score a 15. Following Raisman was Laurie Hernandez who would score a 15.233, and Simone Biles after scoring under 15 for the first time on an event in ages would bounce back strong and lead the U.S. with a score of 15.3 in the anchor spot. After Simone's performance, it was essentially a guarantee that the United States would win the gold medal. The U.S. would have to average only slightly higher than a 12 to guarantee a gold medal.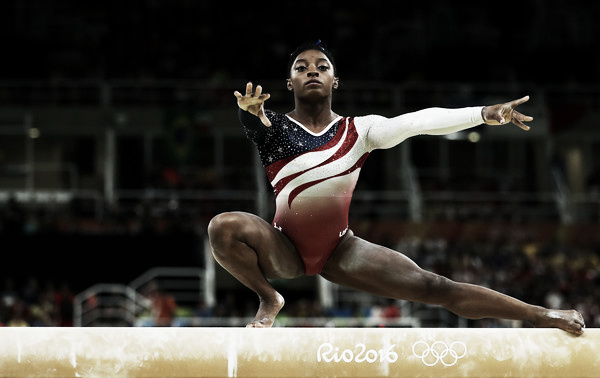 Going into floor, all Team USA had to do was not fall all three times, and they would lock up the gold medal. Not only would Team USA not fall or wobble once, the team would put up the best score on floor of the night by over three points. Only two teams earned higher than a 42.5; the UK with a 42.765 and the United States, with a whopping 46.
Team USA's dominance on floor started with Laurie Hernandez who had a very exciting routine and earned a 15.3. Next up was Aly Raisman who earned a great score herself of 15.366. Finally to top it all off, with the final routine of the night was Simone Biles. If she could get at least a 7.591 she would secure the gold medal for the United States, and she almost doubled it earning a 15.8.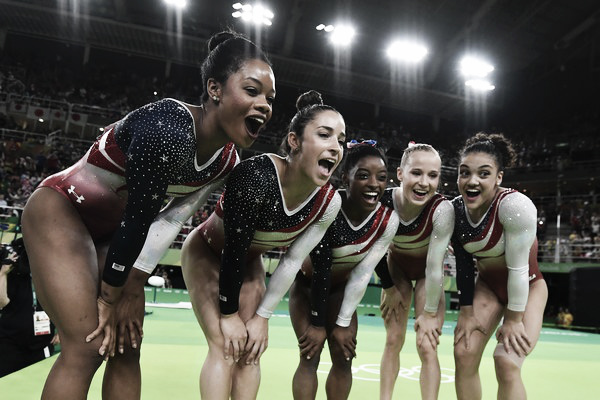 Other impressive gymnasts include Russia's Mustafina
There were several non-USA gymnasts who also looked to impress today as well. In addition to everyone on team USA, other top countries including Russia, China, Japan and Great Britain also had some good performers.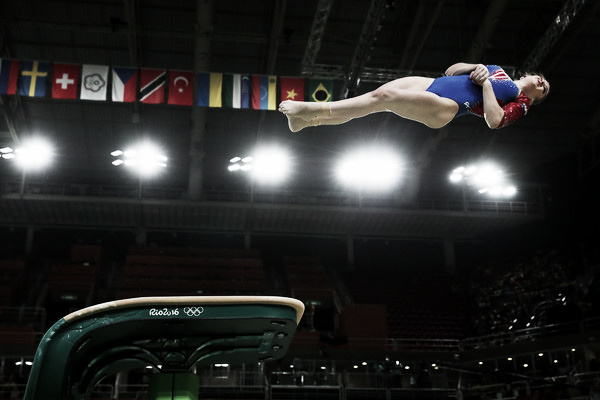 Aliya Mustafina finished in a three-way tie with Simone Biles and Madison Kocian for best score of the night overall with her bars routine score of 15.933. Mustafina also had a team high for Russia on floor with a score of 14, and a good 15.133 on vault.
There were other gymnasts who stood out as well in their time at the Olympics, but next up we move on the individual event finals, where each member of the "Final Five" (named in honor of Martha Karolyi) will compete for individual gold on different events, and Simone Biles and Aly Raisman will compete for the all-around gold, with Biles the favorite and Raisman leading the pack of chasers for silver.