 After a lot of anticipation for what was expected to be a great bars final, the United States did not do as well as expected. Aliya Mustafina won gold with a 15.9. Silver went to Madison Kocian of the United States with a Rio low 15.833 for her, and the bronze went to German Sophie Scheder with a 15.566.
The scores were quite low for all of the gymnasts except for Aliya Mustafina. Kocian earned her lowest score in Rio, about a tenth behind her team final score. It's the lowest score she's earned since the Olympic Trials first night when she earned a 15.75 a little over a month ago.
Mustafina has now won one of each medal (Gold, Silver, Bronze) at these games, and has also defended her gold medal from London. Kocian will go home with a Gold and Silver, while Sophie Scheder will take home her first and only Olympic finals with a Bronze medal.
There were also some other surprises. Russian Daria Spiridonova was the only one with a fall, finishing in last by over a full point. She was a favorite for a bronze medal, along with Gabby Douglas. Douglas herself, also had a bad routine, earning the worst score without a fall, scoring only a 15.066.
Was the Gold fixed in favor of Russia?
Although there may be talk that there might have been a fixed gold for Mustafina, it doesn't appear that way according to experts. While some biased fans of the United States team might notice Kocian's drop off from the other Rio contests, the performance was mentioned to be her weakest performance in Rio. That doesn't say too much however, because a 15.833 is still an extremely impressive score, which equates to a 9.133 on execution. According to gymnastics experts including the NBC commentating teams that feature previous Olympic gymnasts, Mustafina had a smoother, cleaner routine, and all of the small things added up. Also, having the extra tenth of difficulty was more than the difference, as she won by less than the difference in difficulty score.
In this writer's opinion, the medal couldn't have been rigged, however it may have made things much more interesting if an inquiry was put into her score. For the medal to have been completely rigged, we likely would have seen Kocian get closer to a 15.7, which would have been her lowest score since the P&G's 15.45 the judges gave her on day one. She earned a 15.7 at day two of P&G's with a great routine, so to see her earn a 15.833 in Rio doesn't appear to be rigged.
What's next for Mustafina and Kocian?
After finishing with another gold medal, and another Olympic trio (Gold, Silver and Bronze) in both London and Rio, Aliya Mustafina may be done with gymnastics. Or she may stay, as she was a big reason for Russia's medals this quad. She has gone through a lot to be able to get to Rio and win Olympic Gold, will she try and stick to the gym for another quad? She has several fans all over the world that will say she should.
Madison Kocian meanwhile will look to compete for the UCLA Women's gymnastics program alongside Fierce Five member Kyla Ross where Jordan Wieber will be one of the assistants. After missing out on the gold by less than a tenth of a point (actually earning a higher execution score than Mustafina), there is a chance she stays on the national team after taking a break for a little while, and joins the transition team after Marta Karolyi steps down.
After taking the team gold, she may be done; however she could come back for Tokyo 2020 and with a little bit of help, likely earn another medal on bars and potentially compete for an all-around medal (she finished fifth at nationals in the all-around).
Her average score of a 58.2 at P&G's in June would have been a couple hundreths of a point behind fifth place at the all-around final in Rio. If she would have earned the same score in a hypothetical Rio all-around final that she earned at P&G's, she would have finished a bit more than four tenths behind Mustafina for all-around bronze.
Over the next four years, and with the chance that all three medalists (Simone Biles, Aly Raisman and Aliya Mustafina) retire from gymnastics after Rio, there is a chance that come Tokyo 2020 she may be able to compete for an all-around medal; particularly if she goes for it at UCLA with Jordyn Wieber assisting her.
There's also a chance that Valeri Liukin is named the replacement for Marta Karolyi, who is her current home gym coach at WOGA in Dallas, Texas. The continuity of coaching might help her even more, and it may help her chances even more should she choose to come back for Tokyo.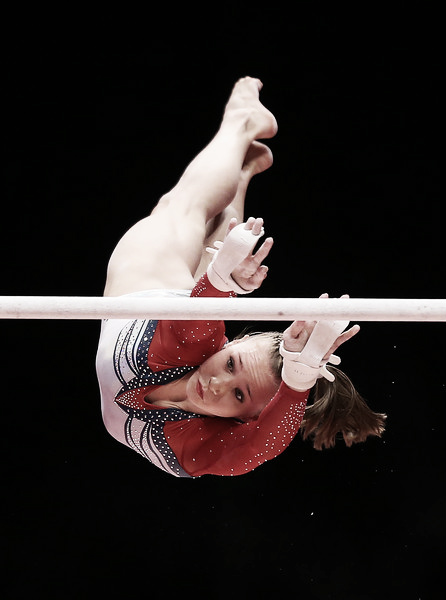 The rest of the field- where do they go next?
The German duo who finished third (Scheder) and fourth (Elizabeth Seitz) has set a strong mold for German gymnastics for at least the next quad. While they still won't compete for a team Gold any time soon, they may have a chance for a bronze or even silver if they continue a strong development track. They showed that German gymnastics has great bars artists, now it's just a matter of can they find some equally as talented on floor, beam and vault. It should be fun watching them compete against teams like Great Britain over the next quad in European Championships.
While this particular bars final may not have been exactly what we expected, it will certainly make things interesting over the next quad heading into Tokyo for the 2020 Summer Olympics.