 The Chinese men's team would once again win gold in team table tennis, this time in Rio de Janiero, Brazil. After having both the gold and silver medal winners in the individual tournament earlier on in Rio.
Gold medal game filled with back and forth action
The match started with the Chinese taking a 1-0 lead, before the Japan team would tie it back up at 1-1. The Chinese would then take the lead going up 2-1, and having stopped the Japanese momentum, would end up winning 3-1 to retain their Olympic gold medal.
In match one, Long Ma of China would win all three games, winning 11-6, 11-9, 11-6 over Japan representative Koki Niwa. The only game Niwa had a lead in was game two, in which Niwa was up as many as five points. What helped Ma out most, was winning 16 points on his own serve, and winning 17 points on Niwa's serve.
The second match was an epic, which lasted a total of 96 points before the final outcome was determined. After a long battle, Xin Xu would end up finishing with 51 points, but losing to Jun Mizutani 12-10, 11-9, 3-11, 7-11, 12-10. It would be the only game team Japan would win against the Chinese team in the 4-game match.
The second match was close all the way through as both Muztani and Xu won a lot of points on their own serves. Mizutani happened to lose more points on his serves, and only had a lead of three or more one time; in set two in which he defeated Xu 11-9. The first game he would overcome a two point deficit and the final fifth game he would overcome a four point deficit to win.
Jike Zhang and Xin Xu would then take on Maharu Yoshimura and Koki Niwa in a doubles match in game three. In a match that started with Japan getting an 11-4 win, the China duo of Zhang and Xu would sweep the next three sets 11-6, 11-9, 11-5 to give China a 2-1 advantage going into match four.
After taking back the momentum, China's Long Ma would take on Maharu Yoshimura in game four. The match would seal China's sweep of gold medals in table tennis in Rio, with a three-set sweep by Ma, who won 11-1, 11-4, 11-4. Yoshimura would win no more than two points in a row, and only won five points on his own serve.
China's dominance in table tennis unmatched in Rio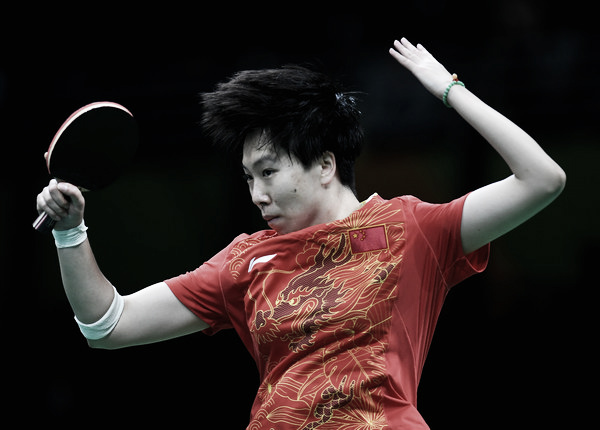 The dominance of China in the sport of table tennis will not be stopped at the Rio Olympic games in 2016. After defeating the German team on the women's side 3-0, the men's team also wouldn't lose after defeating the Japan trio 3-1. China's dominance in table tennis will look to continue heading into the Tokyo games in 2020.