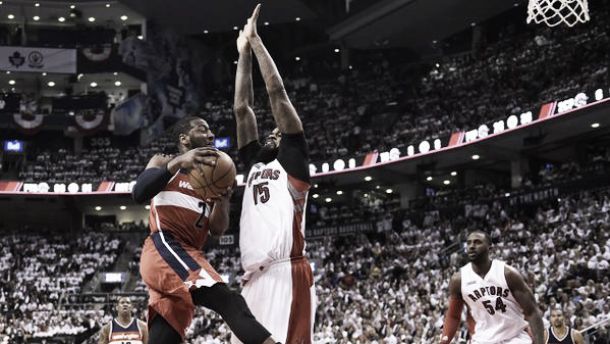 The Washington Wizards back court of John Wall and Bradley Beal responded in impressive fashion Tuesday night at the Air Canada Centre as the Wizards took a 2-0 lead over the Toronto Raptors in their first round playoff series with a 117-106 win.
Wall had 26 points and dished 17 assists while Beal added 28 points. Marcin Gortat scored 16, Otto Porter had 15 and Paul Pierce chipped in with 10 with another dominate performance down the stretch for the Wizards.
NBA Sixth Man of the Year Lou Williams and DeMar DeRozan led Toronto with 20 points. Jonas Valanciunas added 15 points to go with 10 rebounds and Patrick Patterson had 15.
Another disappointing night for Raptors all-star point guard Kyle Lowry was the big story, however. Lowry has been been looked upon to lead his team in many difficult situations throughout the regular season, but just hasn't shown up in the opening two games of the series. Lowry finished with just six points and four assists and ran into foul trouble yet again, after fouling out with more than two minutes to go in game one.
After a dismissal shooting performance in game one, the Raptors came out much better at the start of game two, racing out to a 10-point lead early.
A big second quarter from the visiting side, scoring 34 and limiting the Raptors to just 18 to make the halftime score 60-49, put another "oh no, not again" moan into the home crowd.
The Wizards went up by as much as 23 when the fourth quarter came round, and the closest the Raptors would get would be 10 points.
A three-pointer from Greivis Vasquez would make it 106-96 with 3:23 to go, but the Raptors were unable to get any closer.
Washington's ability to get shooting from everyone down the stretch to put the game away early was the key difference from game one. The Wizards shot 77 per cent the third quarter and ended it with five consecutive three-pointers.
The Raptors again struggled with perimeter offence, unable to find their guys out wide. The home side also struggled in the paint, allowing the Wizard players to dominate the scoring down low and unable to shut them down on both sides of the ball.
The big turning point in this one was Lowry having to take a seat in the second quarter because of his three fouls. The Wizards surged on a 25-8 run into halftime right after that.
Toronto become the 30th team in NBA history to lose the first two games at home. Only three teams have ever come back to win the series.
Game three is set for Friday night in Washington with the Wizards taking a commanding 2-0 lead back home.