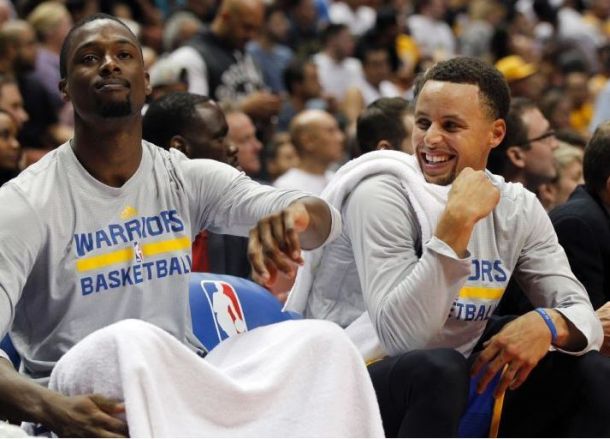 The Warriors kick off their season and ring ceremony against a young and talented New Orleans Pelicans squad. The Pelicans were defeated by the Warriors in the playoffs last year, but did show they have a team that is not a joke. The Pelicans are here and here to stay. Gametime for Warriors - Pelicans is at 10:30 PM EST.
The Warriors are the better team in tonight's game, but the one big test for this team will be the impact of interim head coach Luke Walton. Steve Kerr is currently recovering and it will be on Luke to lead the team. Obviously, the Warriors have plenty of veterans, but Kerr was an integral part of this team last year, so it will be a key to keep our eyes on how the team goes without him. Kerr has reportedly been dealing with painful headaches during his recovery process, so the timetable on him is still unknown.
"Basketball is everything he's ever known and loved," Myers said. "So you can relate to that. You can know he'd do anything to be out here in full capacity."
He did attend practice on Saturday, and may possibly be there to at least receive his ring on Tuesday night.
"When he first stepped away, my gut told me he'd be back by the start of the season," the 35-year-old assistant said Saturday. "But my gut was wrong."
A couple things Stephen Curry will need to do in this game is control the tempo, and control the players. Walton is a very respected coach, but Steph will need to lead the team for adjustments in plays, defensive adjustments, and just setting the pace for the game. Him and Klay Thompson will be key in igniting this offense.
Going into the season, Curry has a couple of things he should get better at, and strive to be better at. The first thing is that Steph will need to limit the turnovers. He's got incredible vision and great passing abilities, but he needs to avoid the fourth quarter turnovers we saw oftentimes last season. The second thing is he needs to dictate the game not just by shooting. He was very good at getting to the free throw line last season, and should get more respect when driving to the basket and getting to the line for free points.
Defensively, the target is Anthony Davis. Davis, who is arguably a top 5 player in the league, is a tough one to be stopped on offense and defense. His defensive abilities are outstanding, but his offense has grown each season. The Warriors need to play unreal help defense to try to neutralize Davis, and close out well on shooters when Davis kicks out to the corners.
This will be a nice test for the Warriors as they kick off this season with a target on their backs. A lot of criticism was directed at them in how they were "lucky" to win the finals. This season will show everyone wrong.