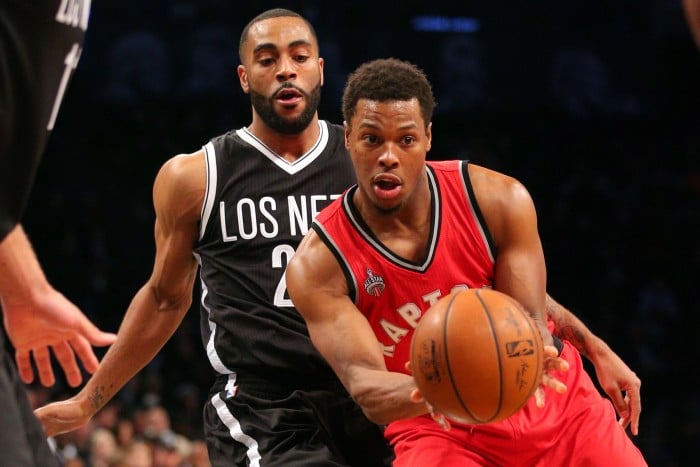 The Toronto Raptors defeated the Brooklyn Nets 91-74 on Wednesday night in the second game of their five-game road swing.
The Raptors had lost two in a row coming into this matchup, giving up 117.5 points in those two games, uncharacteristically. Toronto got back on track defensively in this one against a poor Nets team holding them to just 39.7 percent shooting and 74 points. The Raptors had struggles of their own on offense as they shot just 43.8 percent from the floor, including a mere 18.2 percent from deep.
Game Dominated By Big Men
It was not a pretty win for Toronto but considering they had lost two in a row and have a long road stretch ahead of them; the Raptors will be happy to take the win.
Jonas Valanciunas led his Raptors in scoring with 22 points on 8-of-13 shooting to go with 11 rebounds and two blocked shots.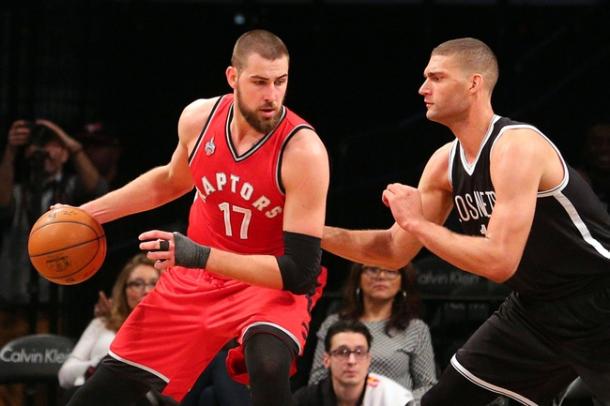 On the other side of this matchup for the Nets was Brook Lopez, who had himself a solid game of his own scoring 24 points on 11-for-21 shooting and grabbing 13 boards.
Toronto Backcourt Made Enough Plays
Kyle Lowry, while only contributing 17 points and six assists, made an enormous impact in this game. Lowry was extremely active on defense, recording five steals and eight defensive rebounds. On the other side of the court, Lowry struggled mightily with his long-range shot going 0-for-7 from three-point range. When he attacked, however, Lowry did a fantastic job of finishing at the rim. Lowry did not miss a single shot from inside the arc in this game including three free throws.
DeMar DeRozan and Cory Joseph combined for 25 points and eight assists for the Raptors to make up a good majority of the points along with Valanciunas and Lowry.
For Brooklyn, Bojan Bogdanovic and Thaddeus Young followed up Lopez with 12 and 11 points, respectively.
Both Teams Adjusting To Injuries
Both teams came into this game following recent injuries to key players. News broke out Wednesday morning that defensive specialist DeMarre Carroll had undergone knee surgery and is expected to miss significant time.
Brooklyn guard Jarrett Jack tore his ACL on Saturday in a game against the Boston Celtics and will be out for the remainder of the season.
Up Next
The Raptors, who now improve to 22-15 on the season, will head to Washington to take on the Wizards on Friday in what will be their third of four matchups against the Wizards this year.
The Nets, who fall to 10-25 on the year, will see the Orlando Magic on Friday as they complete their brief three-game homestand.
The two teams will meet once again on January 18th at the Air Canada Centre in Toronto for their second matchup of the season.