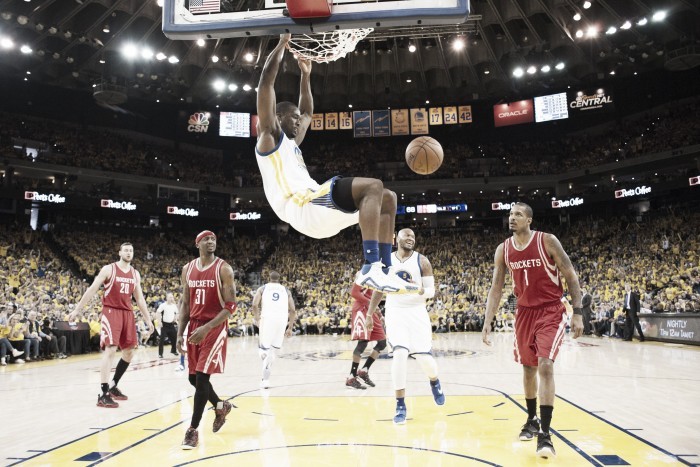 There was no extra arrogance, no underestimating their opponent, no hangover from celebrating their record breaking regular season that the Houston Rockets could exploit in Game 1. Then again, did anybody really expect there to be? Any team that wins 73 games in a season requires insane amounts of both talent and discipline. The Golden State Warriors are probably the most poised team in a long time outside of Gregg Popovich's San Antonio Spurs. If anybody really thought that the Warriors would behave like that, then they were just living in an impossible fantasy where the Rockets pull the greatest upset in all of sports.
Instead, they took care of business early and never looked back. It was the type of performance expected from such a team. Does anybody remember high school basketball practices when the varsity team scrimmaged against the JV team? It was exactly like that, as the Warriors were superior in every single way that game.
But the Rockets didn't fight their way back into the playoffs just to give up in the first round. They embarrassed themselves the whole year and the only reason that made sense for them to make it in the postseason was for pride. They lost their first round pick in the process, so there is no other plausible explanation. If they were to get annihilated every single game this series to this extent, then no pride will be salvaged. Their goal in the playoffs wasn't to eliminate the Warriors, it was just to win anything.
Is that even possible anymore? The Warriors are obviously light years ahead of the Rockets. They're more talented on both sides of the ball, have much better chemistry, and are better coached. On paper, nothing suggests that the Rockets have an advantage. The only way they can even have a chance of stealing a game this series is if they want it more. And, according to yesterday, that won't ever happen.
But this writer is still hopeful, for some unknown reason. Will they win Game 2? No, the Warriors' fan base is so rowdy that opponents entering their territory feel like they're getting constantly run over by the bandwagon the fans keep riding. And with every fan that jumps on it, the weight slowly increases to fatal proportions.
The Rockets' only chance is when they come back to Houston. So what will happen in tonight's game?
James Harden will Play Better
James Harden played very poorly on Saturday, as he only got 17 points and added six turnovers to do that. Much like the final game of the Western Conference Finals last year, Harden tried way too hard to go one on five instead of being patient and waiting for the opportunity to strike. The Warriors capitalize on any mistake, even small ones. Harden playing solo all game long was a huge one; the Warriors just sat back and licked their chops in anticipation for him.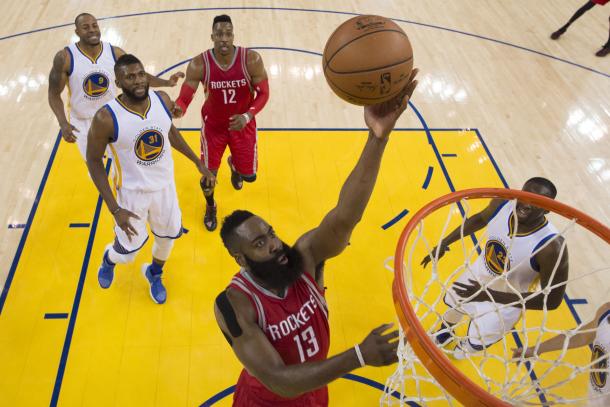 However, if they expect him to do this all series long, they are deeply mistaken. Harden is way too gifted and smart offensively to fall into the same trap over and over again...right? No, don't think like that, of course he is. There's a reason why he is second in points per game in the league. He is a master at creating contact (it's not flopping), he's got a great shot and he can create something out of nothing often. The Warriors won't be able to shut him down once he gets it going and he will look to swing the ball more in Game 2 to avoid getting locked up like he did on Saturday. Harden will have a great game, but will it be enough to lead the Rockets to win? Probably not, unfortunately.
Stephen Curry Won't Play that Much
Stephen Curry hurt his ankle in Game 1 and coach Steve Kerr opted to bench him the rest of the game for precautionary reasons. Curry tried convincing his coach that he was fine, but Kerr was having none of it. He doesn't want to risk losing his star at all, especially since he has a history of bad ankles, even though it has been a while since they have kept him out for long stretches.
Much of the same will happen in Game 2, but that is not to say Curry won't play at all. In fact, he will start. While the Warriors can't afford to lose him, they still want to get past the Rockets as fast as possible and they will need Curry to start the game off strong. But once they are able to maintain a double digit lead, Kerr will choose to rest Curry.
If the Rockets stay in the game, then he won't be able to do so. However, Houston also has to play a million times better to stay in the game, and it is unclear whether they even can compete with the Warriors. Kerr is definitely planning to rest his MVP some in Game 2 and he will do so unless the Rockets manage to foil his plans.
Recap Article will have Another Rant about J.B. Bickerstaff
J.B. Bickerstaff simply doesn't learn his lesson. Nor will he by tomorrow. Or by Game 4, since this series will end that quickly if he doesn't. Somebody should send him a link to this article, or Game 1's recap. Please guys.
Once again, he will fail to allocate minutes properly. He will bench Michael Beasley most of the game even though he can provide solid scoring off of the bench. He will try to play fast, much like the Warriors instead of trying to exploit the post, possibly the Warriors' only weakness. Yes, the Rockets do normally play fast-paced, but that isn't going to work against Golden State at all. And what does Bickerstaff have to lose? The only way he can save his job is to salvage a couple of wins this series. And the only way for him to do so is to go outside of the box and play big.
Starting Clint Capela instead of Corey Brewer will do just that. Him and Dwight Howard can be a bankrupt, not even poor, man's Twin Towers, but they have to make use of what they have. They are both great rebounders and it's not like Brewer was providing much when starting. The downside is that the lane will be much more clogged, but they can run pick and rolls to fix this.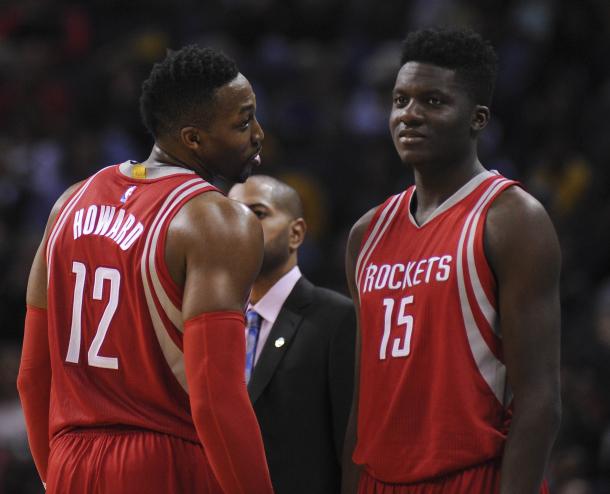 Just think about it. Harden has the ball up top. Whichever big man is closer to him goes up to set a pick on the inside, and then rolls down to the basket. Harden drives, and the other big man waits patiently at the block on the other side. This then creates a triangle, with Harden having a ton of options. Either take it himself, give it down low to either of the big men, or kick it out to Trevor Ariza or Beverley waiting at the three-point line. Whatever he does, the Rockets will have both Howard and Capela waiting on the blocks trying to get the offensive rebound.
Genius isn't it? You know who should become the Rockets' new coach? Yours truly. Just kidding, but Bickerstaff needs to try taking advantage of size instead of playing the Warriors' game. They only lose when they game is slowed down, and the Rockets can't stick with their normal game plan to defeat Golden State. The two lineup changes mentioned above are necessary for the Rockets to have any chance of stealing a game and making the loss of their first round pick at least somewhat worthwhile.