Welcome to our 2016 NBA Finals roundtable discussion. A rematch of last year's NBA Finals is set as the defending champions Golden State Warriors take on the Cleveland Cavaliers. Our VAVEL writers, Sully Akbari, Oliver Gold and Vijay Vemu share their thoughts on each team's X-factor, backcourt and frontcourt advantage, what each team needs to do to win and our series prediction. This series should be a good one so let's get started.
Cleveland Cavaliers' X-Factor
Sully: The X-factor for the Cleveland Cavaliers in the Finals has to be Iman Shumpert. He has been struggling through the playoffs and has yet to find his touch on offense. Shumpert is averaging a playoff career-low 3.5 points per game in 17 minutes of action. We know Shumpert can get it done on the defensive end but this series will have more of an offensive focus. With limited scorers coming off the bench, Shumpert must hit his shots when the Cavaliers go to him in order to compete with the Warriors' deadly offense.
Oliver: Kevin Love will be Cleveland's X-factor. Love will play a huge role in this series as he wasn't able to be a part of the Finals last year. In the Eastern Conference Finals against the Toronto Raptors, the Cavaliers performed much better when Love was playing well. During the four wins against the Raptors, Love averaged 19.5 points per game, 5.8 rebounds per game, and shot 59%, while he averaged just 6.5 points, 5.5 rebounds, and shot a dismal 22% in losses. It's very simple. If Love plays great, the Cavs will have the best chance to win. If he doesn't, the Warriors may cruise to victory.
Vijay: The X-factor for the Cavaliers will be Kevin Love. Last year he didn't play due to a shoulder injury and now he is ready to take on the Warriors. Love offers a chance for Cleveland to space the floor with his three-point shooting, which in turn will test the Warriors defense. His rebounding can also prove to be a problem for the Warriors especially when they go small-ball. But it all depends on his confidence. Sometimes Love takes himself out of games and he can't afford to do that in the Finals.
Golden State Warriors' X-Factor
Sully: We know what we can expect from the Warriors' starters but the Warriors' X-factor in this series has to be Andre Iguodala. Last year's NBA Finals MVP was inserted as the starter in Game 4 when the series was tied at two games apiece and the Warriors improved drastically. When Iguodala was on the floor, the team's field goal percentage went from 41.9 percent to 44.4 percent. Their three-point percentage improved as well, from 27.5 percent to 41 percent (ESPN Stats & Information). There is no doubt Iguodala can improve the Warriors' offense but he can also help out on the defensive end. He can take the load off Draymond Green who will be guarding LeBron James. When Iguodala was on the floor in last year's Finals, LeBron James shot 38 percent. Iguodala is a two-way threat and will cause problems for the Cavaliers. He is indeed the X-factor in this series.
Oliver: The Warriors X-factor is Harrison Barnes. Barnes will play a huge role in this series because of the man he will likely be guarding, LeBron James. Barnes didn't play his best in the Western Conference Finals against the Oklahoma City Thunder and lost his starting job to Andre Iguodala. While head coach Steve Kerr has not yet made an announcement as to who will start in the first game, if Barnes is a threat in this series, it'll make Golden State much tougher to stop.
Vijay: The X-Factor for the Warriors will be Andre Iguodala. The MVP from last year had a big role in the Warriors comeback against the Thunder in the Western Conference finals. Iggy was clutch for the Warriors last year in the Finals and along with Draymond Green, they are the two most important impact players for the Warriors. Iguodala will likely guard LeBron James in crunch time situations and will have to try and prevent the King from scoring as much as possible. Which is harder than it seems. His defense against Russell Westbrook and Kevin Durant was superb in the Western Conference Finals and he will need to do it again for the Warriors.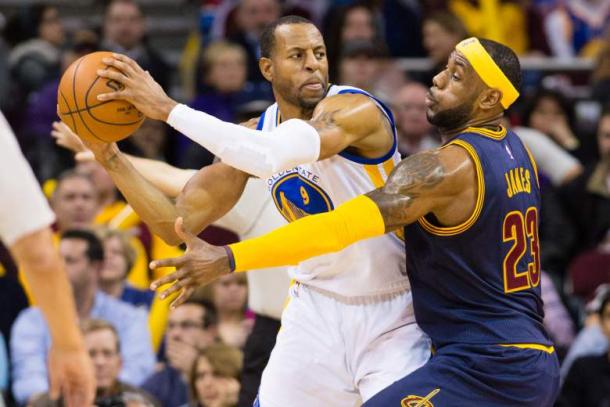 Backcourt Advantage
Sully: The best backcourt isn't even close in this series. The Warriors have a major edge in Stephen Curry and Klay Thompson. In the 2016 playoffs, Curry and Thompson both average 26 points per game. We know what we can expect from them, a lot of threes and attracting double teams to pass to the open man. On the Cavaliers end, they just have Kyrie Irving and an inconsistent J.R. Smith. Irving will have to carry most of the load for the backcourt. Indeed, Warriors have the edge in this one.
Oliver: Warriors' Stephen Curry and Klay Thompson. This backcourt has already been discussed as one of the best backcourts of all time. In the Conference Finals, the duo was insane, combining for 62 three-point field goals. Previously, the record for the most three-pointers in a series was 28, but Thompson had 30 treys while Curry had 32 in the series. Thompson had 11 in Game 6, breaking the record for most three-pointers in a playoff game. Enough said.
Vijay: The backcourt advantage goes to the Warriors in a heartbeat. No backcourt duo can out-do Steph Curry and Klay Thompson. Both are exceptional scorers and both can get hot quickly, as we saw with Thompson in Game 6 and Curry in Game 7. Cleveland's backcourt of J.R. Smith and Kyrie Irving is more inconsistent, mostly due to the shot selection of Smith. But even when both backcourts are firing on all cylinders, you have to give the edge to the Warriors. They are too good.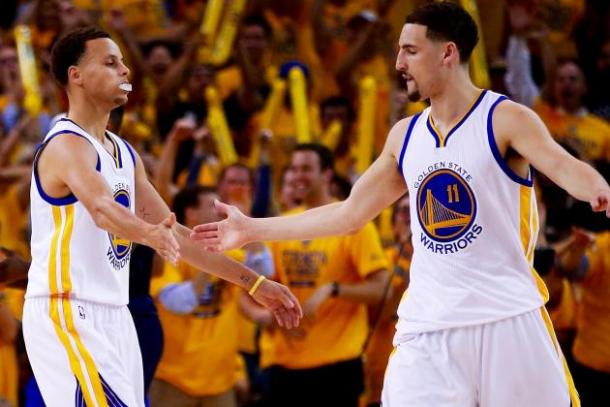 Frontcourt Advantage
Sully: The clear advantage here is Cleveland. LeBron James, Kevin Love, Tristan Thompson and Channing Frye can outhustle and outplay Warriors' Draymond Green, Andrew Bogut, Andre Iguodala and Festus Ezeli. James can take over a game, Love and Frye can stretch the floor and create space for Irving and James when they go in isolation and Tristan Thompson can do the dirty work and keep the Cavaliers pace consistent with hustle plays. Cavaliers no doubt have the edge in the frontcourt.
Oliver: Frontcourt advantage goes to Cavaliers' LeBron James, Kevin Love and Tristan Thompson. While the Warriors will rely on their backcourt, the Cavaliers will look for their frontcourt to continue their terrific play. LeBron James has paced himself well for the postseason and had been tremendous so far in the postseason. Love is a big X-factor in this series, and will need to perform well for Cleveland to win. Thompson is not a big scoring option but is a great rebounder. The Warriors play with a very small lineup, so the Cavs will need to have a big advantage on the boards.
Vijay: Frontcourt advantage goes to the Cavs and that is mostly due to the fact that the Cavs big men are used more by their team. The Warriors struggled against OKC when it came to rebounds and will likely be outrebounded again by Cleveland. They just aren't big enough and their offensive deficiencies don't help either. Take Andrew Bogut for example. He is a great defender for example but he is hard to count on for any offensive output. In contrast, Kevin Love and Thompson provide a nice "pair of opposites" when it comes to playing style. Love is more offensive minded than Thompson and vice versa when you think about Thompson's mentality. It works well.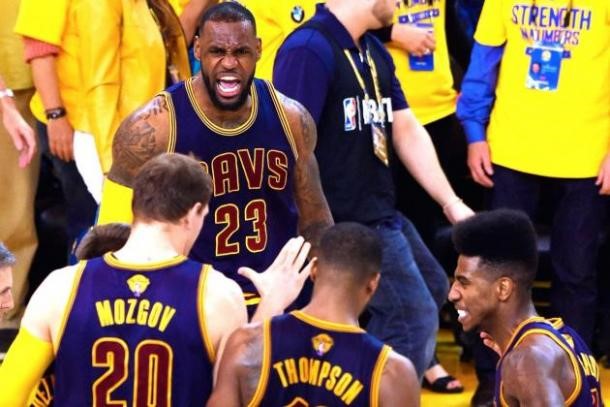 What the Warriors need to do to Repeat
Sully: The Warriors can repeat as champions and build their dynasty by playing the way did before their series against the Oklahoma City Thunder. Although they came back from a 3-1 series deficit, Golden State played their best basketball in the first and second round of the playoffs. Curry, Thompson, and Green know what is expected from them but it is in the hands of the others to carry the torch if they want to repeat as champions.
Oliver: Start strong and finish stronger. Against Oklahoma City, the Warriors found themselves down to begin most of the games. The Warriors pulled through in the end to close out the series but struggled with bad starts. Not only did they have bad starts to most of the games, but they were down 3-1 in the series. Cleveland will be much better closing out games and series' compared to the Thunder, so the Warriors cannot allow Cleveland to jump out to early leads.
Vijay: Get back to being themselves. The real Warriors showed up in Game 6 and 7 as they were able to outshine the Thunder and they have the momentum on their side heading into this matchup. Steph finally looks healthy and Klay cannot miss. This is basically the same team that won it all last year so why not win it again? They have the talent to do so and when they are on, they are easily the best team in the league. They just have to find that right switch against the Cavaliers.
What the Cavaliers need to do to Win their First Ever Championship
Sully: Last year, LeBron James carried the Cavaliers to a six-game series with the Warriors. With Irving and Love out due to injury, James had no choice. He averaged 35.8 points per game with little help on offense. Now with a healthy Irving and Love, the offense will be spread evenly. If those three play well, the Cavaliers will be crowned NBA Champions.
Oliver: Take advantage of their size. They need to create many second chance points, and not allow Curry and Thompson to have another chance. LeBron James finally has Kyrie Irving and Kevin Love healthy in the finals, and will need to play a huge role in the series. Also, The Warriors will also obviously rely on the three-point ball all series long, so they need to get back on defense and limit the Warriors in transition for their best chance to win.
Vijay: Have Love and Irving perform in the Finals in a big way. LeBron James will get his points no matter what and the Warriors are likely game planning for that. The big key will be if Love or Irving can have big games alongside that. If Love can neutralize the Death lineup with his shooting that would be even better for the Cavaliers.
Finals Prediction
Sully: This series will be all about the King, LeBron James, chasing that ring for his hometown. A grueling seven-game series with the Thunder have Stephen Curry and the Warriors tired in this series. With that said, LeBron James and the Cleveland Cavaliers will finally win an NBA Championship. Cleveland wins it 4-2.
Oliver: Cavaliers in 6. It's still LeBron's league. It still amazes me that it took Golden State six games last season to win the championship against James and the Cavaliers without Kevin Love and Kyrie Irving. This year, there's no excuses for the King. Golden State has shown some fatigue so far this postseason, while the Cavaliers have looked unstoppable all postseason.
Vijay: This series isn't going to be as close as people think. The Warriors are hot right now and Cleveland still has some questions about them even though they ran through the East. Warriors in 5 but it's the Finals so anything can happen.
And there you have it. Our roundtable discussion were quite similar and different in some areas. This series should be a great one. Game 1 is on Thursday, June 2, 2016. Tip-off is set for 9:00 p.m. ET in Oracle Arena, Oakland, California.