The Los Angeles Lakers beat the Houston Rockets Wednesday night at Staples Center in their first game of the new 2016-2017 season. Both the Rockets and the Lakers showcased their offensive firepower in a high scoring game where James Harden netted 34 points and a career-high 17 assists within new Rockets coach Mike D'Antoni's offense. Los Angeles was led by their young core with Julius Randle, D'Angelo Russell, and Jordan Clarkson combining for 63 points on 24/39 shooting (61%).
Houston We Have a Problem
The Houston Rockets couldn't seem to consistently get stops against a surprisingly high-powered Laker team, allowing Los Angeles to shoot 50% in the game and 34.3% from 3. Ryan Anderson was bullied inside by Julius Randle who battled his way to an efficient 18 points, seven rebounds, and six assists. While the Lakers were able to clamp down defensively in the second half giving them the victory, the Rockets' defense was unable to get any consistent stops and their team ended the game with only one block altogether (belonging to Clint Capela). If the Rockets want to regain their position at the top of the Western Conference they must be more committed to the defensive end.
The Best Offense...is offense
On the bright side the offense is there, and Harden looks extremely comfortable in his new role as a "point guard" in D'Antoni's typical run and gun offense. Harden was able to find the open man time and again throughout the game and had 17 assists to end the night which is a career high for the star guard. Rockets Center Clint Capela also had a great night with 16 points and 9 rebounds while adding Houston's only block of the night. New additions Ryan Anderson and Eric Gordon also played well in their debut netting 14 and 19 points respectively. If the Rockets can get their defense together they could be a serious threat in the league, yet the question is will their personnel be able to do it? Houston will look to bounce back against their interstate rivals the Dallas Mavericks on Friday night, 8:30PM ET.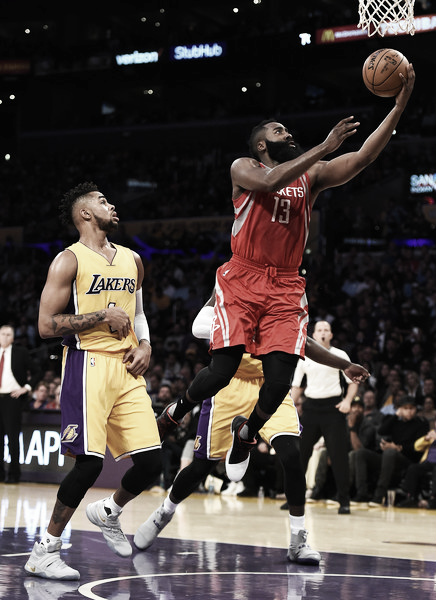 Hollywood Baby!
Laker fans must have been going crazy last night with a victory in the first game in the post-Kobe era. The young core went off last night with team captain Jordan Clarkson delivering in the final moments to cap off a great 25 point night. Clarkson was as announcer Mark Jackson put it "everywhere" and played airtight defense to end the game and sealed the victory with his offense. This is the type of effort you expect from your team captain, even if he's coming off the bench. After only winning a paltry 17 games last year, the young Lakers led by Luke Walton are giving Laker fans everywhere hope that this season might not just be another year spent in the lottery.
Ran D'Lo
Is everyone sick of hearing about the Laker's youth yet? Get ready to hear even more as they started the season off with a bang. D'Angelo Russell showcased his versatility on offense, scoring in a variety of ways whether it be posting up, penetrating or shooting the three. Although he did have some lapses in his decision making (a bad turnover in the 4th quarter) he ran the offense well and was a huge reason for the offensive chemistry on display. Randle also played a great all-around game and quelled the Laker fans fears after a shaky preseason. Coach Walton trusts him to bring the ball up on offense and create for his teammates and he certainly did that tonight, giving out 6 assists while only committing 2 turnovers. Although Randle's jumpshot wasn't falling he was able to create opportunities for himself and others with his strength, soft touch, and court vision. Los Angeles will look to continue their longest winning streak of the season in a matchup against the Utah Jazz on Friday night, 9:00PM ET.