 It took the entire four quarters, but the New York Knicks were able to defend home court and win their final game of the season against the Philadelphia 76ers in a wild finish.
76ers Commit Fouls which Leads to many Knicks' Free Throws
Philadelphia started the game with a 14-6 lead but that diminished with the lots of fouls they committed. New York attempted 15 free-throw attempts in the first quarter and converted on 68 percent of them. By the end of the frame, the Knicks led 25-22.
76ers Regain Lead with Big Scoring Quarter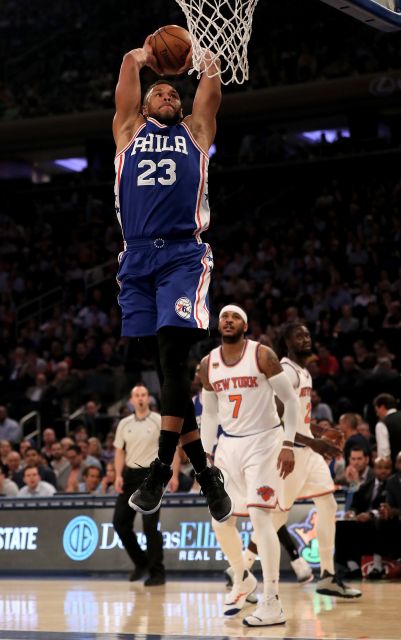 In the second stanza of the game, both teams scored lots of points. The 76ers got the upper hand and outscored their opponents 37-31. They shot 56 percent from the field and did a good job of distributing the ball with 13 assists.
Knicks' Turnovers Pile up and Still Trail
New York tallied nine turnovers in the third frame after committing eight in the first half. Their shooting percentage was at 48 percent while Philly's shooting percentage was still high at 57. The 76ers led by nine points heading into the final 12 minutes of the game.
Game Comes Down To Final Seconds
Knicks' Justin Holiday tied the game at 104 with 3:06 left in the contest. The lead then went back in forth up until the final seconds. With 31.1 remaining in regulation, 76ers' Nik Stauskas made a three-pointer to give Philly a 113-112 lead. Knicks' Maurice Ndour countered with a step-back jumper with 18.3 seconds to put the Knicks up by one. The 76ers had the last possession with a chance to win it at the buzzer. Stauskas attempted the final shot but it did not fall thanks to good Knicks defense.
Top Performers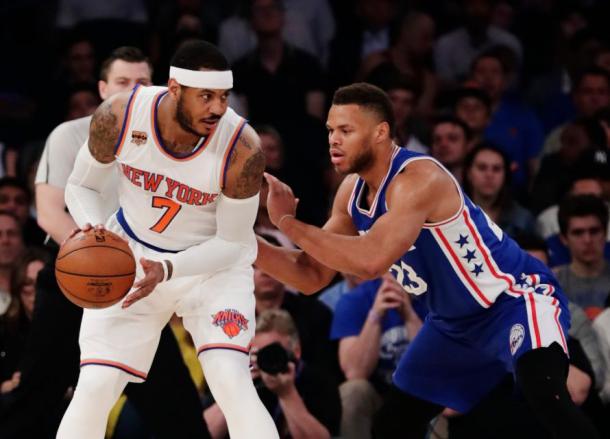 New York Knicks
Carmelo Anthony, who did not play the final 15 minutes of the game, finished with 17 points on 7-of-15 from the floor. Holiday scored 20 points. Marshall Plumlee finished with a double-double of 14 points and 11 boards.
Philadelphia 76ers
Four of the five starters finished in double-digit scoring. Justin Anderson scored 26 points while Alex Poythress chipped in 18. Stauskas and Tiago Splitter added 12 points apiece off the bench.
Anthony Speaks To Media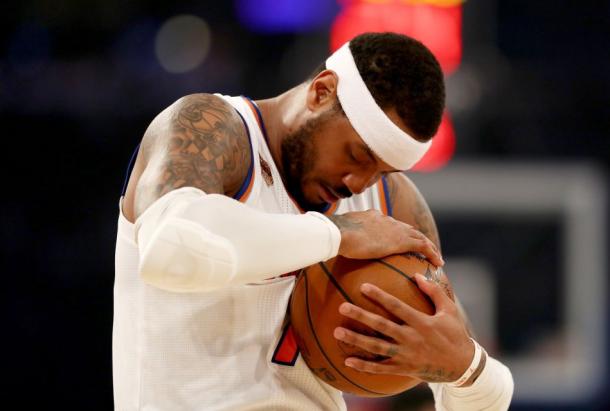 Anthony was asked if he thinks the team will trade him during the offseason, and responded with: "They might." He then added, "I gotta be prepared for anything."
Other things to Note
-The season series between the two teams finished 2-2
-Philadelphia ended the season with an eight-game losing streak.
-A chant of "We Want Melo!" broke out during the final minutes of the fourth quarter.
-With the Minnesota Timberwolves losing their final game and the Knicks winning theirs, both teams finished with a 31-51 record. A coin flip will occur by the league to determine which team will receive more ping-pong balls for the NBA lottery.