 The Golden State Warriors have regained the NBA title from the Cleveland Cavaliers in a spectacular 129 to 120 Game 5 closeout of the Cavaliers. The Warriors lost a single game throughout this postseason, capping off one of the greatest runs that this league has ever seen. 
What has been a hotly debated topic for some time now, as these two teams have met in the past three Finals, the Warriors have taken the upper hand in what is considered one of the best rivalries in the NBA.  When Kevin Durant came to this all time great Warriors team, anything short of a championship would have been a disappointment to this team, and this incredible group made good on what was expected of them, as Golden State is once again atop the basketball world.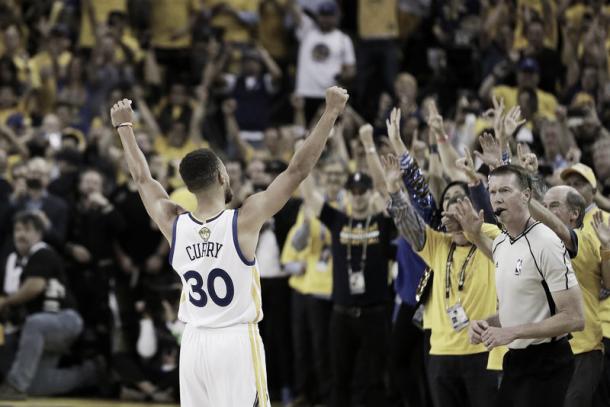 Back and Forth First Half
A tightly contested, high scoring first quarter was representative of the firepower of this pivotal game five, showing the determination of both teams to write their stories. Although Golden State was able to jump out to an early lead, Cleveland responded strongly with important stops that turned into baskets. 
Leading the charge was the all-important duo of LeBron James and Kyrie Irving, who had 12 apiece and were the main factors in Cleveland's game four victory.  Stephen Curry also knocked in 12 points for Golden State. 
Additionally important in allowing Cleveland to build an early lead was the early foul trouble that stars were put into. For the Warriors, both Durant and Klay Thompson were charged with two early fouls, resulting in both having to sit longer than preferred in the first. Kevin Love also tallied two fouls in the quarter, but the Cavaliers were still able to end the quarter strong, leading 37 to 33. 
The story of the second quarter was much different, however, as Golden State was able to chip away at Cleveland's eight-point lead, eventually going on a massive run that allowed them to go into the half up with extreme confidence and momentum. 
The Warriors were able to find a stronger shooting groove behind Durant's impressive 21 and Curry's 20 first half points, as well as a crucial offensive and defensive contribution by Andre Iguodala off the bench. 
Although James and Irving put up the high scoring numbers of 21 and 16 respectively, poor late quarter shooting and 11 turnovers in the half allowed Golden State to create massive separation between the two teams which went as high as a 17-point lead for the Warriors, resulting in a 71 to 60 lead for Golden State at the half.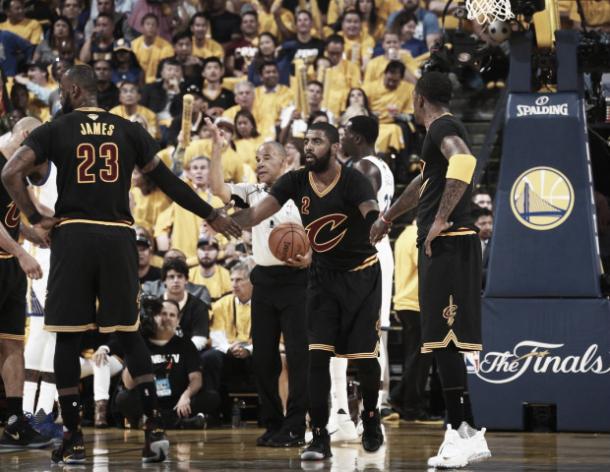 Warriors' Strong Second Half
A mere half away from a championship win, Golden State came out of the locker room focused and ready to make a statement, as they maintained a steady lead over Cleveland through a majority of the second half. 
J.R. Smith put on an impressive showing after his bounce back game four, hitting multiple threes in the second half to give Cleveland a glimpse of a comeback, however, Golden State's firepower was simply too much for Cleveland to respond to. Behind the scoring of Durant, who ended the game with 39 points on 70 percent shooting, the Warriors were able to maintain their halftime lead through the remainder of the game to seal a Finals win.
Curry and Iguodala were also pivotal in Golden State's win. Curry added 34 points and 10 assists, and Iguodala finished with 20 points and multiple crucial defensive plays off the bench. 
James continued his postseason onslaught, putting together a line of 41 points, 13 rebounds, and eight assists, and Irving and Smith put up impressive 26 and 25 respectfully. Unfortunately, due to a stagnant late game offense that could not keep up with Golden State's incredible offensive attack, Cleveland's strong numbers could not propel the Cavaliers to a comeback.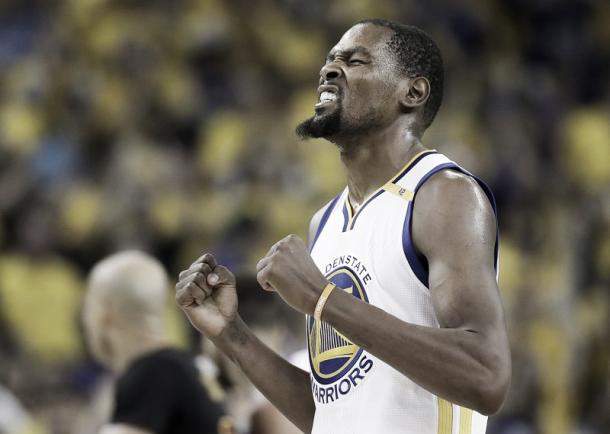 Finals MVP
Following the victory, Durant was named Finals MVP with averages of 35 points per game, eight rebounds per game, and five assists per game.