 Kyle Kuzma is a 6-foot-9 junior power forward out of the University of Utah. As a late bloomer, the 21-year-old has seen his draft stock steadily rise over his college career. At this point, he could very well be a first-round pick thanks to a season where he averaged 16.3 points, 9.0 rebounds, and 2.4 assists per game.
Let's dive into Kuzma's strengths and weaknesses as an NBA prospect and where he could potentially land on Thursday night.
Strengths
Kuzma is a unique power forward in that he has the fluidity and athleticism to run the floor, but also the skills to create offense and distribute the ball to his teammates. This fits him squarely into the mold of the modern-day NBA big man, which makes him valuable to just about every team.
While his career three-point percentage could be better, Kuzma showed improvement down the stretch and has smooth mechanics. If he can stretch the floor consistently, it will open up the rest of his offense at the next level.
His size and unselfishness led to the healthy assist numbers for a forward, and his ball-handling allows him to initiate offense with relative ease. These are skills more commonly associated with small forwards and guards, but it has become increasingly important to expect them from your power forward as well.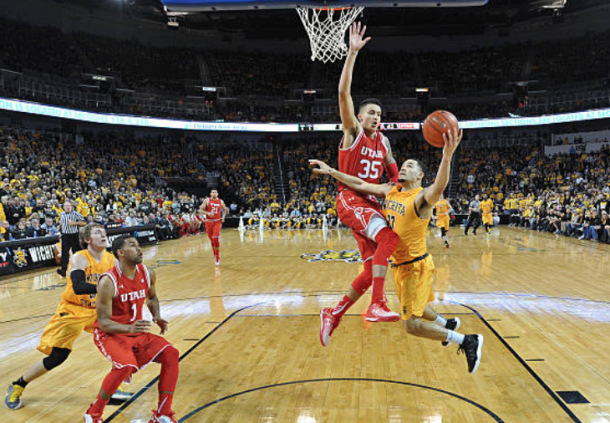 Weaknesses
As said before Kuzma was not the greatest shooter at Utah, where he shot 30 percent from deep and 63 percent from the line over his three years. Scouts are hopeful that his strong finish to last season and a solid display at the combine mean that his jumper will translate, but it is definitely an area to monitor.
Despite his length and athleticism, he is not the most physical player and it shows when facing length at the rim. He will have to rely more on craftiness and change-of-pace to score against NBA opposition.
Defensively, he has the tools to succeed but showed inconsistent effort levels and awareness in college. His lack of steals and blocks is a bit concerning, and he will need to become more impactful on this end to see big minutes.
NBA Comparison: SF - Tobias Harris, Detroit Pistons
Like Harris, Kuzma's combo forward skillset bodes well for his chances to score at a fairly high level in the league. Both prospects utilize their length and ball-handling ability to create mismatches against less mobile defenders. Kuzma will also need to improve his shooting like Harris did, as both of them lack the explosiveness and physicality to finish consistently at the rim. It is worth noting that Harris entered the league as a 19-year-old, so Kuzma will need to improve quicker in these areas. However, the 21-year-old has made massive strides in the past couple seasons so it would not be a surprise to see it continue.
Potential Fits
The Brooklyn Nets need just about anything, and pick No. 27 could be the perfect time to take a shot on Kuzma's upside. Brook Lopez is really the only consistent offensive factor for the rebuilding franchise, so Kuzma could have a role from day one to help improve things. It would also be a great situation for him, as he would probably get more playing time here than anywhere else in the league.
Kuzma also just feels like a San Antonio Spurs type of prospect at pick No. 29. The Spurs are infamous for developing young players with raw skills who may have been overlooked due to their college or various other reasons. They are an aging team at this point, so Kuzma could be a guy who develops under their system for a year or two and gets a chance for serious minutes once LaMarcus Aldridge moves on.
The Atlanta Hawks are also in a position to take the best players available at picks No. 19 and 31, so Kuzma could be a fit at 31 if he is still on the board. With Paul Millsap, Ersan Ilyasova, and Kris Humphries all hitting the open market, the Hawks are in serious need of frontcourt depth.
NBA Draft Prediction
The San Antonio Spurs seem like the destination for Kuzma, as they are situated right within his range and will be able to get the most out of his potential. The second half of the first round and early part of the second is filled with big men, but few bring the versatility and modern-day fit that Kuzma does. This could very well be a home run pick if he can consistently nail down his jumper.