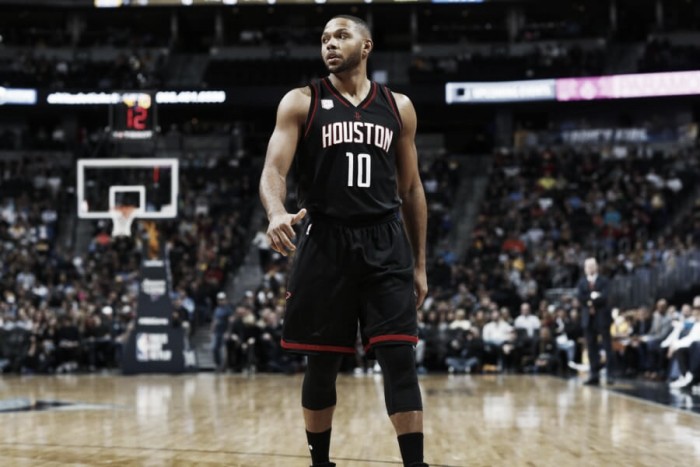 The awards keep coming for Eric Gordon. After winning the Foot Locker Three-Point Contest back in February, Gordon (358 votes, 46 first place) edged out his teammate Lou Williams (70 votes, five first place) and Golden State Warriors' forward Andre Iguodala (326 votes, 43 first place) to win the Sixth Man of the Year.
This is a huge revival in his career, as his previous seasons were plagued with various injuries. He only reached 70 games in one season, and that was his rookie one. This year, he played 75 games, while averaging 16.2 points per game and shooting 37.2 percent from deep. These are very impressive numbers for a player coming off the bench.
When the Houston Rockets signed him last season, they were hoping for a player that can spread the floor and fit in Mike D'Antoni's distinct gameplan. He did just that, quickly becoming James Harden's favorite target when driving to the basket. What ultimately put him past Williams was how consistently he played, as the latter had some great and some poor games.
Other Candidates
Lou Williams started off the season with the Los Angeles Lakers and was their leading scorer even though he came off the bench for all but one game. He was averaging 18.6 points per game while shooting 38.5 percent from deep. However, his numbers regressed when he was traded to the Rockets, as he only scored 14.9 points per game while shooting 31.8 percent from deep. This fall off may be the reason why he didn't end up winning the award.
Iguodala always seems to be in the running for Sixth Man of the Year, but it isn't because of his stats. Anyone that simply looks at them without watching the Warriors play would not understand why he ultimately got second place in the voting. What set him apart are the defense and the leadership he brings to the Warriors.
He often defends the best offensive player on the other team while giving quiet yet solid production on the other side of the court. He shot 36.2 percent from three this season, showing that he is a reliable offensive option. He also facilitates ball movement and makes great passes as evidenced by his four assists per game. As a forward, that's a really good amount.
What's Next for Gordon?
While Gordon had a great year, his stats did slowly decrease throughout, culminating in just 12.9 points per game in the playoffs. While some of this can be attributed to the addition of another scoring bench player in Williams, he has to do better in the postseason as the team's second highest scorer.
Therefore, the next step is to ensure that his production continues through the playoffs. Because the team is actively shopping Williams to reel in a star like Chris Paul or Blake Griffin, he will not only be the main scorer off the bench but also not be as pressured to be the second leading scorer. That combination should lead to a very efficient season for Gordon.