 Update (3:12 PM CT, July 2nd): P.J. Tucker took s pay cut to join the Houston Rockets. The Toronto Raptors offered the 32 year old a three year, $33 million deal, all guaranteed. Meanwhile, he signed a four year, $32 million contract with the Rockets, with the last year being only partially guaranteed. 
Chris Paul played big role getting friend PJ Tucker to HOU. Raps offered 3 yrs/$33M, Rockets deal is 4/$32M, partial guarantee in last year

— Brian Windhorst (@WindhorstESPN) July 2, 2017
While he might've liked having that final fourth year on his contract, he did say that he would go to whichever situation he felt he fit best in. Playing in the Rockets' offense will give him a lot more open threes while allowing him to be one of the main defenders. This may have been enough to convince him to take less money. 
Original Story:
It's hard being a Rockets writer this offseason. It seems like they're involved in countless rumors and are making an infinite amount of moves. Then, there's the NBA coming back with some over 38 rule to make an article completely useless. Oh well, it's still cool. 
Anyways, soon after Andre Iguodala ruined Rockets' fans hopes and resigned with the Golden State Warriors, Houston moved quickly and snagged Tucker, agreeing to signing him to a four-year, $32-million contract. In him, they get another three-and-D player that they can put behind Trevor Ariza. 
Last season, Tucker averaged 6.7 points per game while shooting 35.7 percent from deep. It's important to note that he played with both the Phoenix Suns and the Toronto Raptors, and his three-point percentage jumped from 33.8 to 40 after being traded to the better team (it's the Raptors just in case you haven't followed basketball since the Andrea Bargnani days). 
This means that, in a team that has two great ball distributors in James Harden and Chris Paul, he will get plenty of open shots that he can knock down. That makes him a great fit in Mike D'Antoni's system as he can space the floor and will be an efficient contributor off the bench.
His biggest asset is his defense. He's a tenacious and underrated defender and will ensure that the second team is not completely exposed on defense. Plus, he's on a team friendly deal and they can still pursue other free agents.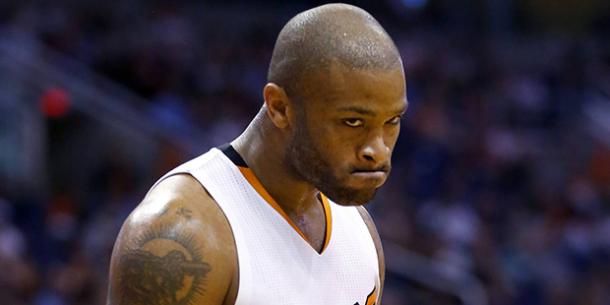 Tucker may not seem like much due to his stats, but he was the most affordable guy with his play style. Otto Porter Jr. would've been a great addition but is seeking a max contract and as a result is way too expensive. Luc Mbah a Moute would've cost less and was a viable option. However, he is less of an offensive player, possibly explaining the Rockets' decision to go with Tucker.
Finally, there were talks of the Rockets trying to trade for Iman Shumpert. The Cleveland Cavaliers are trying to get rid of his contract, as they are paying him a little more than $10 million next season. However, he is not as good of a defender or three point shooter (36 percent on one of the best teams) as Tucker. Plus, he's got a bad attitude and is more expensive, so going with Tucker is definitely the better deal.
This won't be the last you guys here from me for sure so, so long until the next Rockets' signing, which might be right after this article gets published.