 Jose Calderon has reached an agreement to sign with the Cleveland Cavaliers, according to his management agency, Priority Sports, via Twitter. Reports state that the deal will be a one-year, $2.3-million veteran's minimum contract.
Calderon, who through his career has been reliably steady at the point guard position, found himself in a whirlwind last season, bouncing between teams and only playing a total of 41 games. For the 2016-17 season, Calderon averaged 3.3 points per game, 1.8 rebounds per game, and 2.1 assists per game in 17 games with the Atlanta Hawks and 24 games with the Los Angeles Lakers. Calderon was also part of the Golden State Warriors for a matter of hours last season before being waived soon after his signing.
This news comes soon after the major names that Cleveland had reportedly been chasing, including Jimmy Butler and Paul George, found themselves traded to other locations. Butler was moved to the Minnesota Timberwolves while George will be joining MVP Russell Westbrook on the Oklahoma City Thunder.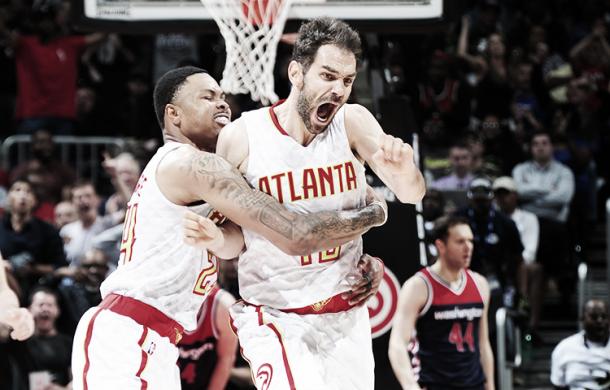 Cleveland's Current Situation
Calderon will likely fill the backup point guard behind Kyrie Irving following Cleveland's roller coaster season at the position. Following their loss of the gritty Matthew Dellavedova to last year's free agency, the Cavaliers had clear struggles finding a player who could gel with the team and fill their needed gaps when Irving went to the bench.
Young guards Kay Felder, Jordan McRae, and DeAndre Liggins - now a member of the Los Angeles Clippers via the Chris Paul trade, all found themselves in the rotation at the position throughout a good portion of the 2016-17 season, however, their inexperience and inability to match Dellavedova's defensive prowess showed.
The Cavaliers did find bench consistency late in the season, however, following their signing of former all-star Deron Williams following his release from the Dallas Mavericks. Although he did not acclimate immediately, Williams had some important showings for Cleveland late in the season. This signing does muddle a possible extension for Williams, who is an unrestricted free agent.
More Possible Moves to be Made
Another player who was used in the backup point guard position last season was Iman Shumpert, whose name has now surfaced in trade talks according to Adrian Wojnarowski of ESPN. Wojnarowski cites the Houston Rockets as the biggest contender to add Shumpert to their roster in this already prosperous offseason where they traded for Chris Paul. Cleveland would benefit in trading Shumpert as it would not only make room to resign mid-season pickup Kyle Korver, but it could also create the opportunity for future deals as well, as indicated by Brian Windhorst of ESPN.
Calderon's veteran minimum signing supports these claims, and kicks off this off season's moves for the Cavaliers following their recent loss to the Warriors in their third straight appearance in the NBA Finals.