 Before the season began, there were many arguments as to whose makeover was better: the Houston Rockets' or the Oklahoma City Thunder's. A couple of months into the year, there's a clear favorite: the Rockets.
They are tied with the Golden State Warriors for the top spot in the conference, while the Thunder are eight games behind, tied for fifth with the Denver Nuggets. Most would have Houston as favorites then, but the recent pass may suggest a different outcome.
After going on a 14-game win streak, the Rockets have lost two at home against the Los Angeles teams, both of which aren't that great. On the other hand, OKC have won four in a row, two of which were against the Utah Jazz. Oh, and Chris Paul is doubtful for the game.
Look back at offseason moves
During the summer, both teams underwent huge changes. The Rockets sent half their team plus others to the Los Angeles Clippers for CP3. Meanwhile, the Thunder made a couple of trades of their own, acquiring Paul George from the Indiana Pacers for Victor Oladipo and Domantas Sabonis (seemed like a horrible trade at the time, but they are Indiana's top scorer and rebounder, respectively) and Rocket target Carmelo Anthony.
It looks like all moves paid off, even though the Thunder needed some time to start clicking. Paul has been a menace when healthy, as he and James Harden have ensured that Houston has a top notch point on the court at all times. He is also tied for third in the league in assists with 9.0 and tied for second in steals with 2.1 per game.
Adding a defensive stud like PG13 propelled the Thunder defense from tenth in defensive rating last year to third. Even Melo has been solid at that end. The problem has been offense, where they have ranked 22nd in points per game, and much blame has been put on head coach Billy Donovan. Anthony is settling into his off the ball role, but three options on offense is too little. Speaking of which, all three of them are having very poor shooting years.
Fast forward to now
As mentioned earlier, Paul is most likely not going to play. Things didn't look good on Friday without the point guard, as they lost by ten against a heavily depleted Clippers team. Austin Rivers and Lou Williams combined for 68 points that game, and guess what position they both play? Point guard.
If they were able to wreak havoc on the Rockets defense, imagine what Russell Westbrook will do. Either Harden or Eric Gordon will be matched up against him, with P.J. Tucker also getting some minutes defending the reigning MVP. Luc Mbah a Moute is still out, but the good news is that Clint Capela has been upgraded to questionable. Having him in the post will help a lot as he can force Westbrook to take outside shots, something that he hasn't done well all year.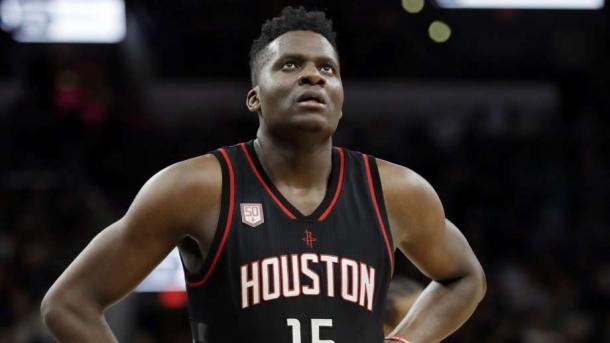 Players other than Harden will have to step up to the plate for the Rockets to pull this one. On Friday, he scored 51 of the team's 118 points. Gordon also had a big game with 28, but only two other players scored in double digits, the rest only getting a max of five.
The dark horse player for the Rockets will be Trevor Ariza. He will more than likely be tasked with guarding George as well as knocking down corner threes. He will have to bring out the best of his three and D'ness.
For the Thunder, Steven Adams should step up, especially if Capela is out. He can become a dominating presence down low as the rest of the Rockets' bigs aren't adept on defense.
All in all, it's looking like it's going to be a great game. Make sure to tune in on ABC at 7PM to watch the two teams duke it out. And of course, Merry Christmas!