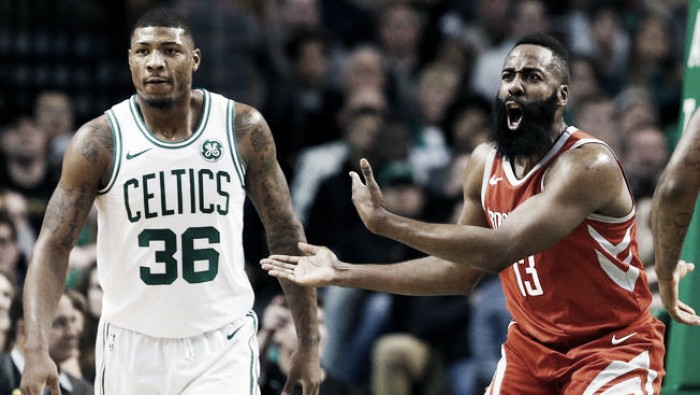 No team is perfect (yes even the Golden State Warriors). I'm not trying to suggest that anybody considered the Houston Rockets perfect. However, this recent stretch of games have displayed their main issues for the rest of the league to see, and they need to fix them to have a chance in the playoffs, let alone late in the playoffs. This was never more apparent than their most recent game against the Boston Celtics, another top team facing struggles as of late.
In order to kill two birds with one stone (but don't kill birds though, they're kind and don't deserve it), this article will recap the Celtics game as well as argue my point. It's always nice to let the audience know what they're going to read about early on. Think this is a way of time? Sucks, I did it anyways. But please don't stop reading, the views are dope.
Celtics game
Let me tell you about how my night went, since you guys asked. If you guys really don't care, skip this and the next two paragraphs. I was excited to watch the Rockets game on National TV (it was on TNT) because my provider doesn't show their games even though I live in Houston. It's some, contract dispute, I don't even really know. Turns out that I couldn't watch this game either, so a saddened Youssef (that's me) went with his brother to run some errands and eat.
At the restaurant, I checked the score and the Rockets were curbstomping the Celtics 62-38 at the half. James Harden and Eric Gordon were toying with the Boston defense and Houston was stopping a good offense without three of the best defenders: Chris Paul, Clint Capela, and Luc Mbah a Moute, all out with injuries. All was good, I set my phone down and enjoyed my delicious burger.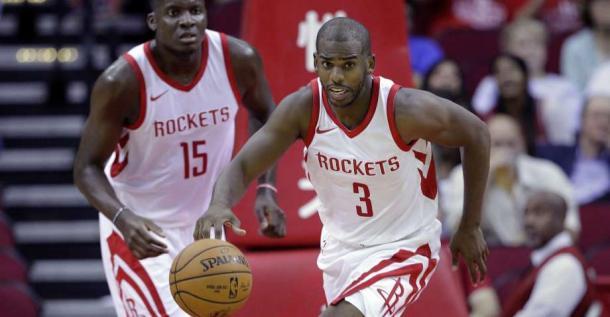 Afterwards, my brother and I decided to go to a friend's place to catch the rest of the game. Why not enjoy the last minutes of a blowout after a three game losing streak. When we got there, it was 71-58 with a few minutes left in the third. Not the destruction we were expecting, but a solid lead nonetheless.
That's when all hell broke loose. The Celtics were clawing their way back into this game slowly but surely, and years of Houston sports experience has taught me that this is never a good sign. Before I knew it, the Rockets were up only 87-86 with about five minutes left. Harden hit one of those threes which always makes the commentators exclaim "that would be a horrible shot if Harden wasn't taking it!" But this is the point of the game I dread most, when he does take those shots, because they are bad, no matter who's taking it. A little bit more on that later.
I'll keep the rest of the summary short. Harden takes five more of these shots, only making one. The Celtics manage to keep it close and the Rockets waste their last two timeouts while trying to inbound the ball with 13 seconds left. Their inbounding difficulties continue when Harden pushes Marcus Smart (a known flopper, but this was a legit foul), and gets called for the offensive. A visibly frustrated Harden exchanges words with Smart after Al Horford gave his team the lead and repeats his mistake. This sealed the deal, and the Celtics were able to crawl back and win.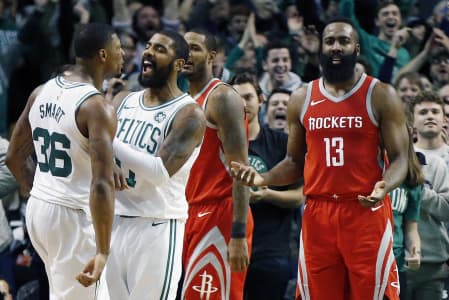 Harden and Gordon turned out to be the main offense for the Rockets, scoring 34 and 24, respectively. However, Trevor Ariza shot 3-4 from deep. Meanwhile, the Celtics had a more balanced attack. Kyrie Irving got 26 and rookie Jayson Tatum had 19. Terry Rozier had a particularly good game, netting 13 in 20 minutes.
The issues
The three previous losses displayed a certain issue: the Rockets cannot win with three premier defenders down. Well, no duh. Capela played in the Thunder game but was still hobbled. They had no depth and have to turn to Briante Weber for help. He may become a solid player in the future, but hasn't been great thus far.
So what makes the Celtics game different, even though they still didn't have those three players? The first half. They were spectacular in those two quarters, scoring with ease and shutting down the Celtics. Keep in mind, they're the best team that the Rockets have played in this losing streak.
The first issue is that the Rockets may still have trouble holding leads. this may change when the roster is healthy once again, but no team should ever allow a 26 point comeback. There is simply no excuse, and the only reasoning is that the opponents wanted it more in the end or that the team with the lead grew cocky. It seemed like both were true, as the Rockets were not playing with the energy they normally are when I was watching them.
The second, and you may hate me for this, is Harden. He's displayed leadership problems before, and he has done so once again. In a game with ten assists, only one came in the final quarter, and that was with almost seven minutes left. Afterwards, he became a ball hog and start jacking up shots. Through the legs, step back, shot. This is the version of Harden that I hate and the one that can derail the Rockets' hopes of taking down the Warriors.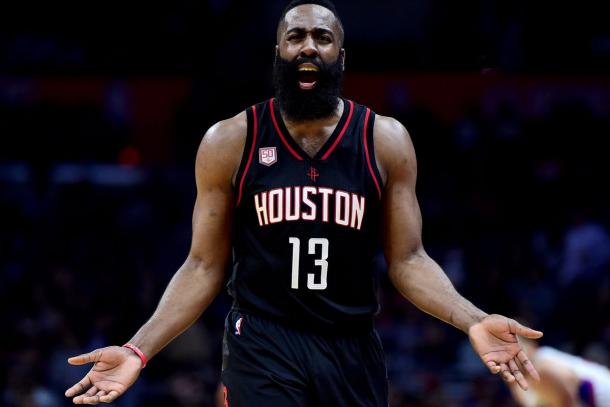 LeBron James gets flack for sometimes passing up on shots late in the game, but I would almost rather that happen than what Harden is doing. Everyone expects the Beard to take those shots, so late in the game, teams will put their best defender on him, collapsing in if he drives. I wish he would go to the basket more, but he starts settling on bad threes instead. The worst part is he's got great three point shooters around him, and can kick it out to them if need be. Ariza and Gordon have both made a higher percentage of clutch threes (42.9 and 40, respectively) than Harden has.
According to NBA.com, Harden averages 0.9 threes in clutch wins vs. 1.5 in clutch losses. In wins, only 35.3 percent of his clutch shots are threes vs. 52.9 percent in losses. See where I'm going with this? Harden cannot continue taking these threes late in games, although I suspect Paul's absence has something to do with it. If not, then Harden may be a bigger issue than I even thought.
Even more striking are his fits of anger. He was ejected late in the Clippers game, but that was already an L, so it's not like that negatively impacted the game. However, his two push offs definitely cost the Rockets this match. CP3 might have become the vocal leader of the team, but Harden is still the best player and the one that his teammates will look to in late game situations. He cannot let his emotions get the best of him in any game. It could easily be the difference between knocking out the Warriors and becoming just another failed attempt at stopping them.