 After two years, John Wall decided to return to Adidas. According to The Vertical's Shams Charania, the Washington Wizards' All-Star point guard signed a five-year deal with the shoe company on Sunday. Wall previously spent the last couple of years on the sneaker free agent market. As of Monday, the specifics of the deal beyond the length are not yet known.
Not his first rodeo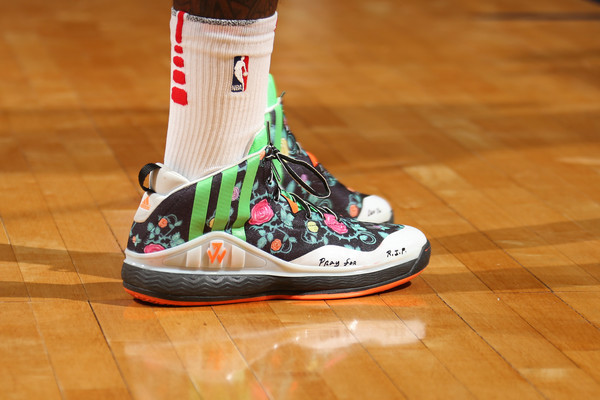 This will be Wall's second stint with Adidas; he previously signed a deal with them in January 2013 after his initial shoe contract with Reebok was transferred to Adidas (Reebok's parent company). The first Adidas pact expired in September 2015, shortly after the release of Wall's second signature shoe. Before Adidas made a third, Wall opted to leave -- turning down an eight-year, $66-million offer. According to reports, Wall felt slighted by Adidas after they gave Houston Rockets superstar James Harden a 13-year, $200 million deal; Wall felt that he and Harden were equally valuable to the brand. Adidas may have lowballed Wall because of supposedly tepid sales for his earlier signature shoes. Since leaving Adidas, Wall has worn shoes from the likes of Nike and their subsidiary brand Jordan.
A star deserving of a shoe deal
Like most players on sneaker deals, Wall has one of the premier players in the NBA since the Wizards drafted him first overall back in 2010. The former Kentucky Wildcat has averaged 18.8 points, 9.2 assists and 4.4 rebounds through eight seasons in Washington, lifting the franchise up from the laughingstock of the league to a respectable playoff team in the process.
While there are arguably more marketable point guards--Chris Paul, Russell Westbrook, Damian Lillard, and Stephen Curry immediately come to mind -- Wall is still one of the most exciting players plying his trade in one of the ten biggest media markets in the country. Time will tell if Wall's sneakers will sell better than they did the first go-round. After all, Wall was just beginning to emerge as a superstar when his first deal expired. Now that he's firmly established as a top star and a household name, Wall's shoes should be a bit more profitable.