 We have finally made it to the NBA Finals, where the Golden State Warriors and Cleveland Cavaliers will go toe-to-toe for the fourth straight year.
It could be said that both Eastern and Western Conference Finals will likely be more entertaining than the NBA Finals because both were a Game 7-win-or-go-home barnburner series. Yes, there were some games in both series that were lopsided but for the Cavaliers-Celtics series, Game 7 was one for the ages as we saw LeBron James put up another one of his historic Game 7 performances where played the entire game and recorded 35 points, 15 rebounds, and nine assists.
On the other hand, the Celtics, as young, inexperienced and without two of their key players in Kyrie Irving and Gordon Hayward out for most of the year due to injury, they gave it their all. Guys like Jayson Tatum, Jaylen Brown, Terry Rozier III, and Marcus Smart gave us a glimpse of what could be a powerhouse team in the East for years to come.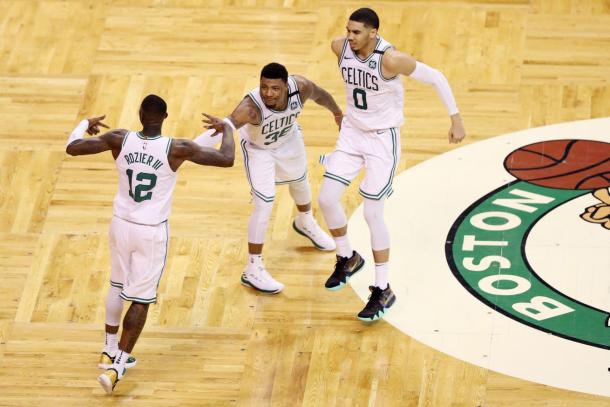 On the other side, the Warriors-Rockets series featured blowouts in Games 1, 2, 3, and 6 but Games 4, 5, and 7 made up for that with down-to-the-wire finishes. Houston seemed to have control of the series with a 3-2 lead after winning Games 4 and 5 but ultimately suffered because Chris Paul injured his hamstring in the Game 5 win. However, James Harden and the Rockets still looked like they could close out the series in Game 6 after their strong first-half performance but it was Klay Thompson and Stephen Curry who led them to a 64-25 second-half comeback to win Game 6 in a 115-86 blowout win. The same case was for Game 7 as Houston came out strong in the first-half but struggled to keep it going and ultimately lost the game in the second-half, getting outscored 58-38 and losing 101-92 behind Kevin Durant's 34 points. Going forward, Houston looks to be one of the teams that can compete with their current roster and can win a playoff series against Golden State when fully healthy.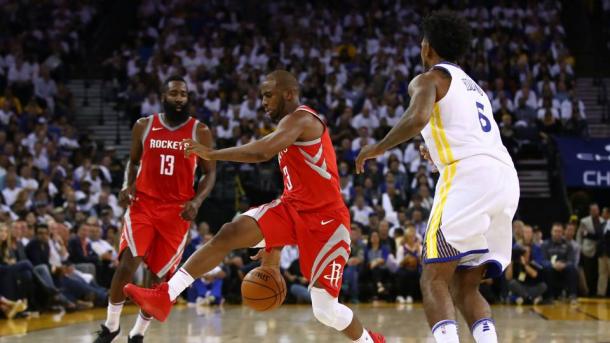 Now, with the final stage being set, Sully Akbari and Christopher Jeter are back for the last time to give their predictions on the NBA Finals. Before that, let's take a look at who they chose to win in their conference-finals picks.

As the postseason nears its conclusion, Sully's record for predicting the correct series winner stands at 9-5 and Chris's record stands at 12-2.
Moving onto Sully's and Chris's predictions.
Golden State Warriors vs. Cleveland Cavaliers NBA Finals predictions
Sully – Warriors win series 4-1
Honestly, there isn't much to say about this series. We have seen this series for the fourth straight year and the only thing that has changed through the four years are the rosters. The talent is heavily one-sided as the Warriors have four all-stars in Curry, Thompson, Durant, and Draymond Green, who have taken care of their opponents by themselves. The absence of Andre Iguodala, who is nursing a knee injury, may not be a big deal in this series as it was in the Rockets series but he still is a key player to the team.
As crazy as it may seem, the Warriors don't even need to show up for the first-half of games as they somehow turn it up in second. We saw it the Houston series and the thing is that the Rockets have more defensive stoppers than the Cavaliers but Houston was still not able to withstand Golden State's second-half onslaught. This makes it worse for Cleveland as they're not good on the defensive end in the first place, whereas Houston is.
If the Warriors are able to get out of their first-half funk and keep it going into the second, I give the Cavaliers no chance of winning a game. However, I do think there will be one game where the Cavaliers will be able to take one from the Warriors and I only see that in Games 3 or 4 as it is in Cleveland. The only way that happens is if James, who will be playing in his eight straight NBA Finals, has his usual outstanding games and his supporting cast in Kevin Love (still in concussion protocol), George Hill, J.R. Smith, Tristan Thompson, Jeff Green and Kyle Korver must also have good games too. It's a lot to ask but what's crazy is that those seven players including James will need great performances to stand a chance against Golden State's four all-stars. I don't want to sound like a broken record here but at any given quarter or half, Golden State will be able to run Cleveland out the gym and win a game. And for that, I see the Warriors repeating as champions in five games.
Chris – Warriors win series 4-1
Round 4 of this interconference rivalry features arguably the widest talent disparity between these two teams in their four years of battles in the NBA Finals. Golden State has a virtual All-Star team while the Cavs have LeBron James and a bunch of guys. The greatness of LeBron James should will Cleveland to two games. If you think that's far-fetched, remember that LeBron led the Cavs to a 2-1 series lead against the Warriors in the 2015 Finals with Matthew Dellavedova as his secondary option, although Golden State didn't have Kevin Durant then. Nothing is impossible when James is on your team.
That said, the Warriors have too much star power. Their movement on offense will overwhelm a Cavaliers defense that often seems to be disinterested in switching and closing out. This series will be entertaining in many aspects, but Golden State should win this series comfortably, despite LeBron's best efforts.
---
The Golden State Warriors will host Game 1 of the NBA Finals against the Cleveland Cavaliers on Thursday, May 31 in Oracle Arena at 9 p.m. ET.