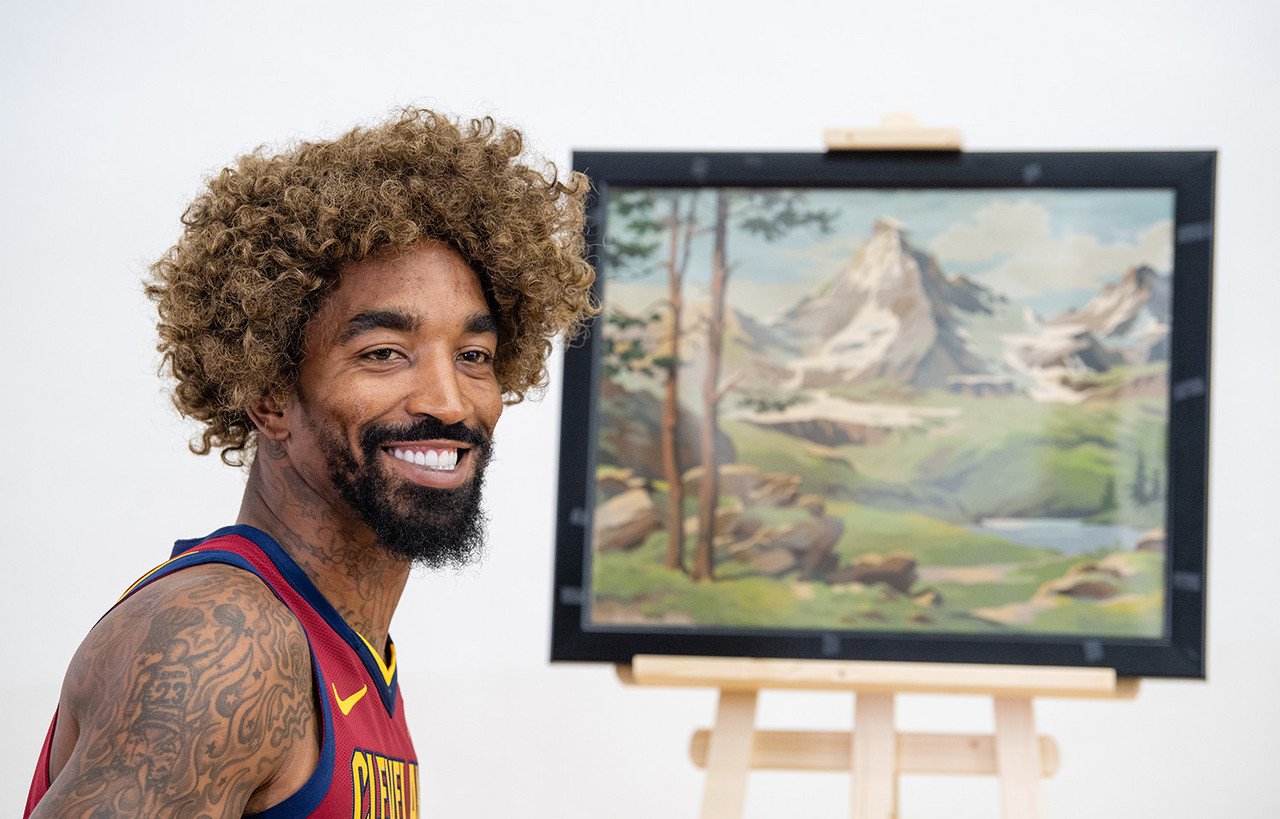 The Cleveland Cavaliers kicked off their 2018-19 season at the Cleveland Clinic Courts on Media Day with positivity and a fresh start top of mind. It should come as no surprise that the hot topic surrounding the team was how they recover after losing the four-time Most Valuable Player LeBron James -- who signed with the Los Angeles Lakers this offseason -- but the eagerness to start anew put a blanket of hope over this Cavaliers team, who seem ready to respond to the doubters in the upcoming NBA season.
Ready to face challenges
No one shied away from expressing just how big of a blow losing James is. The word "challenge" was constantly mentioned, as both players and coaches acknowledged the adjustments that will be needed to fill the void that James left.
That said, the organization seems ready to face what's ahead with excitement over the mix of experienced veterans and up-and-coming young talent that could keep this team in the running.
Head coach Tyronn Lue emphasized that this season will not be a rebuilding year. "There's no tanking," said Lue.
After a rough year where he stepped away from the team because of his health, Lue seems invigorated to explore new opportunities with his team.
After losing two isolation players in James and Kyrie Irving, Lue noted how he will respond to the change in pace that he had become accustomed to with the hope to push the ball more, giving everyone more touches and more chances to become leaders on the team.
"We have to go into every game with a winning mentality," said Lue. "It's a new challenge and we are ready for that challenge."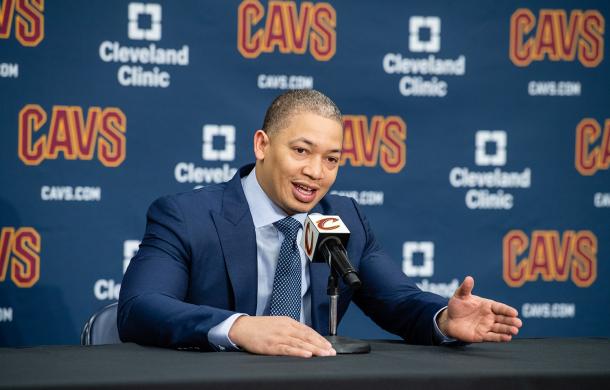 Love's new role
Another theme of the day was Kevin Love's new role as the first option, a position he is familiar with from his time with the Minnesota Timberwolves. But what is different about this Love from the one we saw in Minnesota five years ago is that this one has learned under James's wing.
When asked what he learned from James over the past four seasons, Love responded, "how to win." Love acknowledged that his game has changed since his days with the Timberwolves, but he feels that he has grown as a leader and has learned how to make sacrifices for the betterment of the team.
This also fed into multiple questions of Love's mental health, a topic he has been very outspoken about since midway through last season. While he is taking on more pressure, Love is mentally and physically preparing himself for his new leadership role.
Nonetheless, the confidence was clear in Love's presence. "We're going to surprise a lot of people."
Love understands that it will take time for him and the team to adjust to this change, and that mature and prepared attitude from their new leader could spell success for this underestimated Cavaliers team.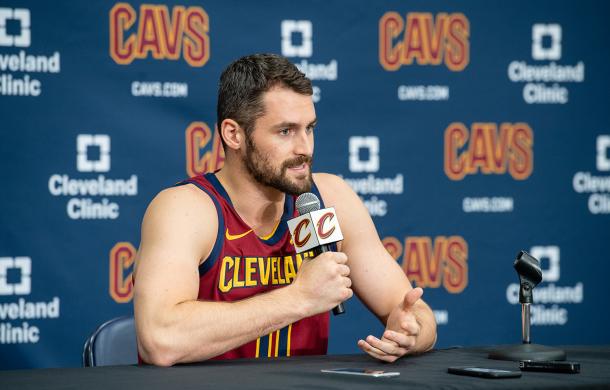 The young talent
As mentioned by Lue, the experience of Love, J.R. Smith, George Hill, Kyle Korver, Tristan Thompson, and the team's other veterans will be key in shaping Cleveland's young and emerging talent. The first of whom -- first-round draft pick Collin Sexton -- has shown incredible poise and potential in his brief time with the team.
The 19-year-old rookie showed flashes of brilliance in summer league, where he averaged nearly 20 points per game. To add to the excitement, Sexton tied with No. 1 overall pick Deandre Ayton in a poll conducted by the NBA asking rookies to predict who of the 2018 draft class will win Rookie of the Year.
Sexton kept his answers simple, stating that he has been working on his game in the offseason and expressing his desire to carve his own story as opposed to playing in the shadow of Irving as the team's talented young point guard.
Cedi Osman -- the second-year player out of Macedonia -- is also anticipated to have a bigger role this season. Osman worked out with James, Kevin Durant, and Kawhi Leonard in the offseason, and while he mentioned it was brief, Osman said that he did learn from the session and is prepared to do whatever the coaches ask of him to help his team win.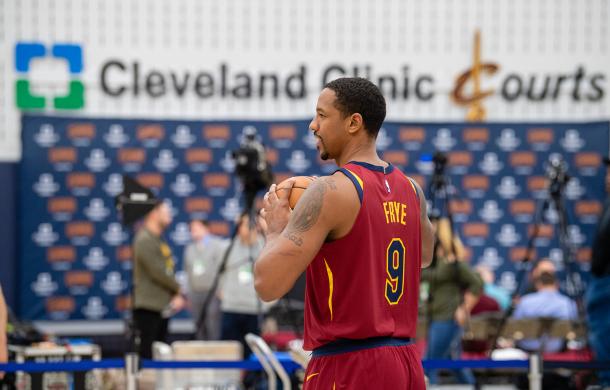 Veteran readiness
What makes the confidence of this team believable is the attitude that the experience players brought to the table in this strange time for the Cavaliers organization.
"We're going to evolve. We're going to play a different style of basketball and if we don't then we won't be that good," said Korver when asked about the "post-LeBron" era for this team. Korver recognized the capable players on the team who will fill needed gaps, stating that it will just take some time for the Cavaliers to find their identity.
When asked if he felt the team was getting written off, Thompson responded "we keep getting written off," continuing by listing the adversity many of the players on this Cavaliers team have overcome. "We take on the challenge to prove people wrong."
Even players who came to Cleveland partway through last season, Larry Nance and Rodney Hood, expressed their happiness to be with this team and their willingness to expand their roles and give different people playmaking responsibilities.
The loss of James will undoubtedly be felt this season. He led the Cavaliers to four straight Finals appearances and ended a championship drought in Cleveland that will earn him a place in the history books. But in a situation that could seem dire, the Cavaliers came out ready on Media Day.
The willingness to adapt with patience and confidence came through nearly every answer a player gave up at the podium, and after a summer of uncertainty and fear, the Cavaliers gave their fans a sign of hope for the upcoming NBA season.
Cleveland opens their season on Oct. 17, 2018 against the Toronto Raptors.