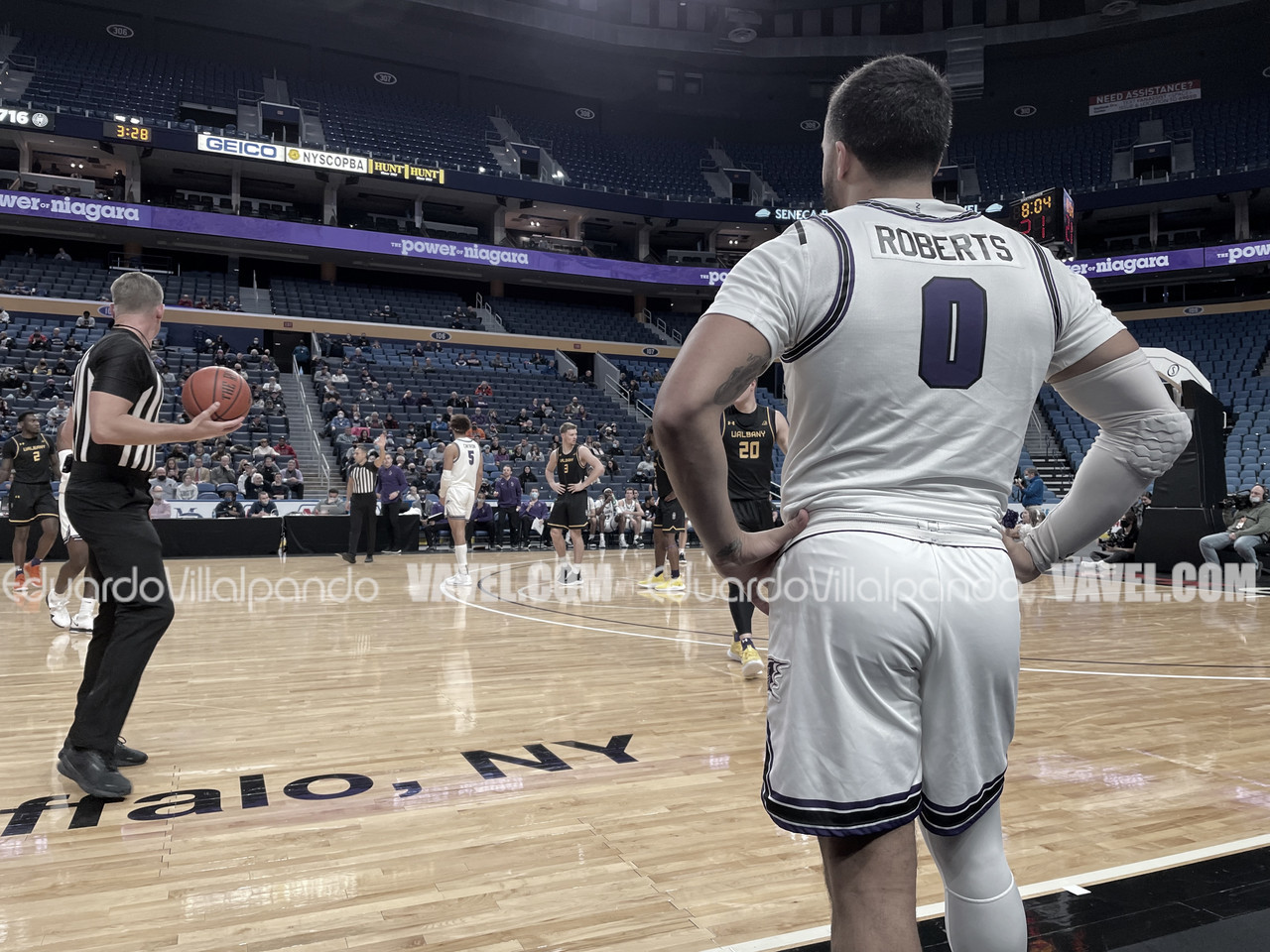 The Niagara Purple Eagles secured an important victory over the Albany Great Danes at the KeyBank Center in Downtown Buffalo.
The team coached by Greg Paulus kept the visitors to only 58 points in 40 minutes of play to secure their third win of the 2021-22 College Basketball season.
Niagara had three players in double digits such as Marcus Hammond, Jordan Cintron and Greg Kuakumensah, who had a stellar performance off the bench for the Eagles.
FINAL | Today's final score from the KeyBank Center‼️

🟣🦅🏀 pic.twitter.com/VdReA9MMQK

— Niagara Basketball (@NiagaraMBB) December 18, 2021
Hammond and Cintron
Senior G Hammond led all game scorers with 20 points in 27 minutes on the court. Despite going two from seven from the field, the versatile left-handed managed to get 12 of his points from the free-throw line.
Cintron's energy also played a vital role in Niagara's win over Albany. Not only did the 6'8 Center finished with a total of 12 points, but he also tallied eight rebounds and three assists.
'JC' has become a key player for Coach Paulus this season due to his big energy on both ends of the floor.
Big back-to-back offensive rebounds by @sniperfam_jc. The Purple Eagles have a nine-point lead over Albany at KeyBank Center. @NiagaraMBB

📸 @eduardovh_mx pic.twitter.com/Gctuq1s22m

— VAVEL USA (@VAVEL_USA) December 18, 2021
Niagara started the game strong with a 15-5 run but Albany managed to make it a game after a good end of the first half and start of the second respectively.
The Purple Eagles made it hard for themselves by starting the second half with three consecutive turnovers but still kept their composure to close out the game.
Paulus statement
''I'm really proud of our guys,'' Coach Greg Paulus told the media after the game. ''It was a game of runs… We had some tremendous 50/50 balls, offensive rebounds, some extra passes and just making those winning plays.
I thought that gave us a little bit of distance and then we were able to make plays to finish it off.'