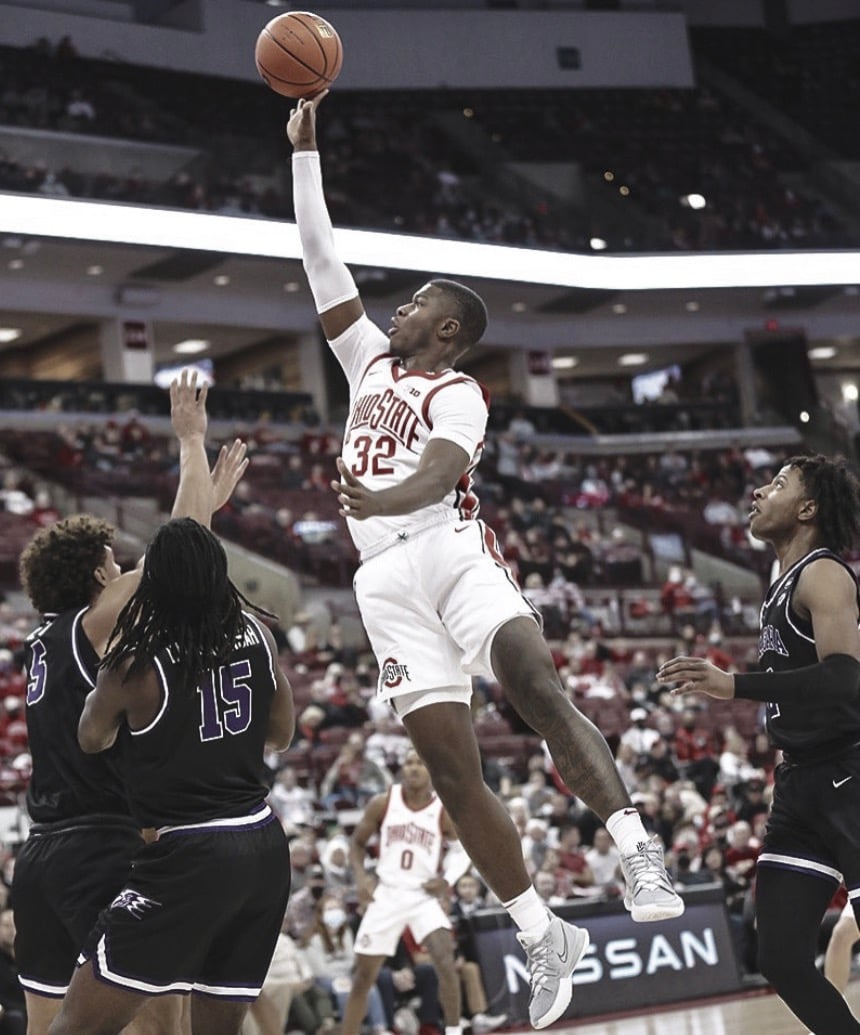 The Niagara Purple Eagles Men's Basketball team continued their third season under Coach Greg Paulus as they visited No. 17 Ohio State.
In front of a solid 9,000 people crowd at Columbus, NU suffered its second consecutive loss to open the 2021 / 22 season by 84-74.
The Purple Eagles, who only trailed by one point going into halftime, previously had lost their season opener against Xavier University.
Recap
Marcus Hammond led NU with 22 points, Sam Iorio added 18 and Jordan Cintron had 17. The team also shot over 50% from three-point range against the nationally ranked Buckeyes.
It should be noted this was NU's first matchup against a ranked team since playing at No. 14/15 Minnesota on Nov. 15, 2017.
"We only getting started," Eagles forward Sam Iorio said after the game. "It's amazing what having faith in one another translates too. Big week for the squad."
FINAL | The Purple Eagles battled with Ohio State, falling to the nationally-ranked Buckeyes by just 10 points. Marcus Hammond led NU with 22 points, Sam Iorio added 18 and Jordan Cintron had 17. The Purple Eagles shot over 50% from 3-point range.

🟣🦅🏀 pic.twitter.com/UkDmvcmeGY

— Niagara Basketball (@NiagaraMBB) November 13, 2021
Following his great game at Ohio, Purple Eagles senior guard Hammond, who was named to the Preseason All-MAAC First Team, is now only 55 points away from surpassing 1,000 career points.
On the other hand, Ohio State's E.J Liddell led all game scorers by recording 29 points while shooting 50% from the three-point line.
Despite taking the loss there's plenty of positives to take for Niagara, considering they really competed against one of the best teams in the entire nation. In case Coach Paulus squad can translate this playing style and effort into conference play, they could be big candidates to win the MAAC and enter de NCAA Tournament in March.
Last season, Niagara earned the No. 5 seed in the MAAC Championships. The Purple Eagles defeated No. 4 Marist, 67-62, in the quarterfinals before falling to No. 9 Iona, 70-64, in the semifinals.