Coming off an 8-8 season which started off with so much potential at 5-0, sees the Atlanta Falcons in a peculiar spot in the 2016 offseason. While the team as a whole and particularly the defense improved last season under rookie head coach Dan Quinn, the Falcons 3-8 slump following their hot fire start exposed many holes in the side. With only five draft picks this year, free agency is vital and with that in mind, Thomas Dimitroff has made moves to restructure nose tackle Paul Soliai's contract.
Paul Soliai's 2015 Season
The nine year veteran who is 32 years of age, is currently two seasons into a five year $32 million contract, in which he received $14 million guaranteed and $7 million in signing bonus. With that sort of money on the table teams expect veterans to be making a big impact on the field, but coming off a season in which he had just 22 tackles, five assisted tackles and one fumble recovery, it is clear as to why Dan Quinn and Thomas Dimitroff are looking for ways to secure some added cap space for this coming free agency, with so many holes in the defensive side.
To put Soilai's stats into context, the player with the most tackles in the same position was Aaron Donald of the St. Louis Rams, now of course the Los Angeles Rams, who recorded an impressive 69 tackles.
Of course no one expected Soliai to be in the same league as Aaron Donald, who is one of the Rams standout defensive players, but to be on the contract that he is with only 22 tackles is a worry for the Falcons.
Show Me the Money
It has been reported that his agent has already spoken to the Atlanta Falcons and further talks are scheduled for Friday, but despite Soliai admitting he would like to return to the Falcons next season, there are reports that he is adamant in re-negotiating his contract.
According to overthecap.com, the maximum cap space that the Falcons can save on Soliai's contract is around the $3 million mark and by cutting him they save $2.6 million for this season's free agency.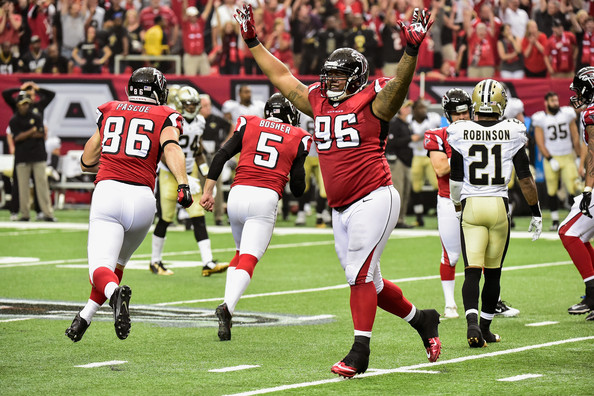 While it makes more sense for the Falcons to try and keep Soliai, as he did strengthen a weak defensive line, with Dimitroff's history of saving money and replacing players with the basement buys of free agency, expect Soliai to either leave or take that pay cut.