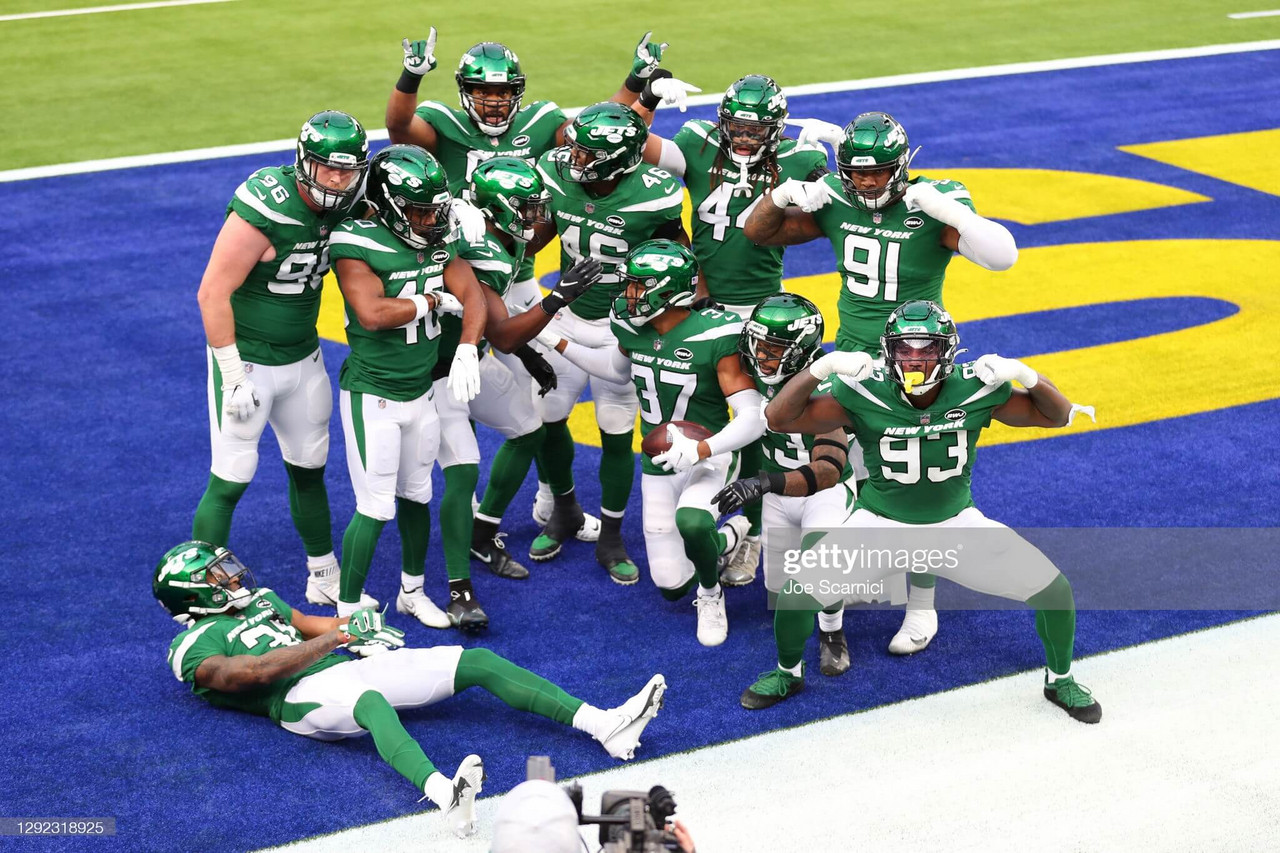 Finally. That's the only word that comes to mind as the New York Jets defeated the Los Angeles Rams 23-20 at SoFi Stadium. New York picked up their first win in over a year while dealing Los Angeles a severe blow in their pursuit of the NFC West title.
Sam Darnold completed 22 of 31 passes for 207 yards and a touchdown while running back Frank Gore scored his 100th career touchdown.
"It's the greatest feeling in sports to ice the game out and know we had it", he said. "It's the best. We knew we couldn't give it back to them (at the end) and for us to be able to execute when we really needed to, that was something we obviously hadn't done all year.
"To be able to execute and see it all kind of come into fruition, I think that was the biggest thing for us. It was an amazing feeling."
Jared Goff was 22 of 34 for 209 yards with two touchdowns and an interception. The loss drops the Rams to 9-5, one game behind Seattle for the NFC West lead.
Head coach Sean McVay knew his team blew a chance to clinch a playoff spot with the defeat.
"In all three phases, it wasn't good enough", he assessed. "This loss will demoralize us only as much as we allow it to. It's going to be embarrassing. Sick to your stomach about it, but we do have two games left. It's very humbling, but we're going to move forward."
Jets stun Rams to claim first win of 2020
After a Rams punt on the opening drive of the game, the Jets put together a 13-play, 74-yard drive that spanned over seven minutes with Darnold connecting with Ty Johnson on an 18-yard touchdown to give New York a 7-0 lead.
The New York defense was holding the Los Angeles offense in check and after J.T. Hassell blocked Johnny Hekker's punt, Sam Ficken converted on a 39-yard field goal to increase the lead to 10-0.
Goff was then intercepted by Bryce Hall on a pass intended for Robert Woods, but the Rams defense stood firm and held the Jets' offense to another Ficken field goal, this one from 25 yards with 7:37 left in the half.
Trailing 13-0, Los Angeles continued to struggle on offense until their final series of the first half when Goff drove eight plays in just 57 seconds and Matt Gay kicked a 45-yard field goal to cut the lead to 13-3 at halftime.
New York received the opening kickoff of the second half and marched down thew field in 11 plays. On the drive, Darnold was sacked by Samson Ebukam and he proceeded to fumble only to see the ball go out of bounds.
Faced with a decision on fourth and goal from the Los Angeles one-yard line, coach Adam Gase elected to go for it and Gore powered his way into the end zone as the Jets stretched their advantage to 20-3.
The Rams began their comeback on the next drive, Goff finding Woods from 15 yards out to half the deficit to 20-10. After holding the Jets to yet another Ficken field goal, Goff found tight end Tyler Higbee from three yards away on the fourth play of the fourth quarter.

A reversal on a second down pass stalled the next Los Angeles drive and Gay came out for his second field goal of the game from 42 yards away to cut the lead to 23-20.
After stopping the New York offense, Los Angeles had one final chance and after driving to the Jets' 37, McVay opted not to have Gay try a game-tying 55-yard field goal.
Instead, Goff threw an incomplete pass that was intended for Gerald Everett to turn the ball over on downs and after running out the clock, New York could finally do something they hadn't done since Week 17 of last year: celebrate victory.
"I'm just happy for our guys", Gase said. "They've done such a great job of how they've worked. They've been through a lot of adversity. It's been too long for us to even remember what a win feels like, almost. It's great to see those guys that excited."
Up next
The Jets return home to face Cleveland at MetLife Stadium at 1PM on Sunday while the Rams travel to Seattle for a showdown with the Seahawks on Sunday at 4:25pm.