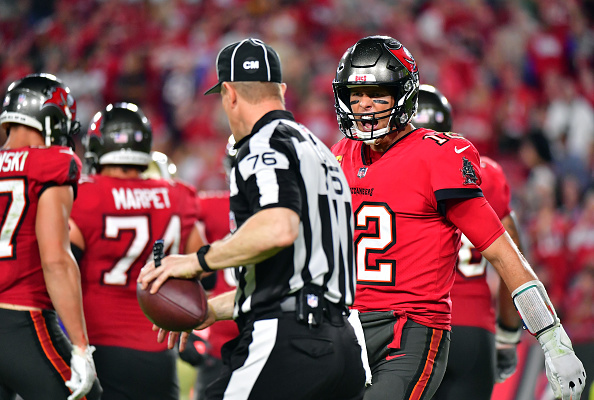 Saints shutout Brady and the Bucs
The Tampa Bay Buccaneers won the coin toss and decided to defer giving the New Orleans Saints the ball to start the game on offense. With Jameis Winston out due to injury, Taysom Hill got the start at quarterback.
The Bucs got off to a good start on defense putting immense pressure on Hill and forced a three and out. Tom Brady got the ball and on his first throw of the game got intercepted by Marshon Lattimore but upon review, the call was reversed.
Just like the Saints, the Bucs failed to get points on their first possession of the game and were forced to punt. The Saints got the first points of the game when Brett Maher kicked a 39-yard field goal for the early 3-0 lead.
Brady continued to struggle on offense and his first 10 plays were passes but ended up getting sacked on third down and the ball went back to the Saints.
The first quarter ended with the Saints having the ball on fourth down and a 3-0 lead. After trying to catch the Bucs offside which didn't work Maher kicked another field goal from 35 yards to make it 6-0.
Tampa got another good drive going and were in field goal range but Ryan Succop missed the kick from 45 yards out and the score remained 6-0.
The first half finished 6-0 for the visitors.
It goes from bad to worse for Brady and the Bucs
The Bucs started the second half on offense missing their two star players Mike Evans and Chris Godwin who were confirmed out due to injury which meant Tampa was down to three wide recievers.
It was clear Tampa was struggling on offense and continued to go three and out and punt. The list of injuries for the Bucs grew by one more as Leonard Fournette their star running back was declared out late in the third quarter.
With one minute left in the third quarter on third down Brady under pressure ran with the ball and Cameron Jordan was able to pop the ball out and the Saints recovered the football.
With 7:28 on the clock, Maher kicked his third field goal of the game this time from 45 yards out to make it 9-0 and make it a two-score game. With 3:40 left in the game and Brady driving he ended up getting picked off by CJ Gardiner Johnson.
Brady had one more chance to put points on the board with a minute left in the game but it wasn't enough and time expired and now the Bucs will focus on next Sunday when they face the Carolina Panthers.