The Tampa Bay Lightning were able to shut down the prolific Pittsburgh Penguins offense in Game One even with starting goaltender Ben Bishop leaving the game early with a lower-body injury. Andrei Vasilevskiy was called upon to take Bishop's place in the net and performed well, only giving up one goal to the Penguins on the powerplay on Patric Hornqvist's sixth of the playoffs.
Tampa Bay was able to play great against the Penguins with Vasilevskiy in net and now they will have to rely on him again as it has been reported by NHL.com that Ben Bishop is unlikely to play in Game 2 on Monday night. The Lightning are keeping the specifics of Bishop's injury quiet as is custom in the NHL by only saying that it is a lower-body injury; Steve Yzerman reported to the Tampa Bay Times that the injury is day-to-day.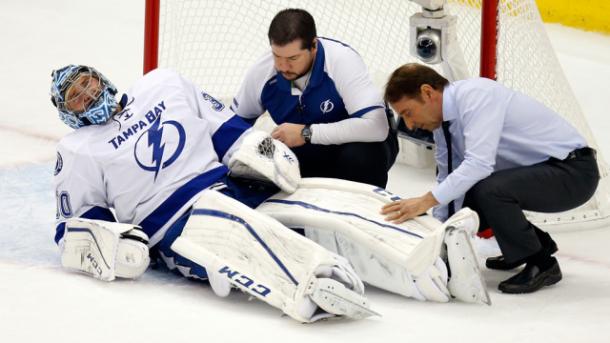 Vasilevskiy's Numbers
Vasilevskiy is a 21-year old goalie from Russia and has only started in one playoff game in his young career. In the regular season in Vasilevskiy's career, he has a .913 save percentage and has an 18-15-1 record. In his one playoff start, Vasilevskiy took on the Chicago Blackhawks in last year's Stanley Cup Finals and only saved 17 of the 19 shots the Blackhawks put on goal in a losing effort. He will need to be better to beat the Penguins again in Game Two. Staying sharp during 60 minutes of playing against the likes of Sidney Crosby, Evgeni Malkin and Phil Kessel is no easy task, but Vasilevskiy has played in important games and should be up to the task.
It is unclear when Ben Bishop will return to the ice for Tampa Bay although it is likely that the injury will not sideline him for the rest of the series. There is even a chance that Bishop could play in Game One, but as of right now on this off-day for the Eastern Conference Finals, the Tampa Bay Lightning are preparing to be without Ben Bishop and are looking to Andrei Vasilevskiy to build off of his strong performance in Game One and shut down the high-powered Pittsburgh Penguins for the second straight game.