As the series shifted to the Sunshine State, the Tampa Bay Lightning had home ice advantage, but the Pittsburgh Penguins were quick to get it back with a second straight victory, this one in the form of a 4-2 win in Tampa. Pittsburgh's third goal was scored by their captain Sidney Crosby on a power play goal midway through the third period; the goal was the insurance that the Penguins needed to secure their win.
Bonino, Kessel and Hagelin shine again
Arguably the best line in the playoffs for not only the Penguins but the league, the line of Nick Bonino, Phil Kessel and Carl Hagelin were once again at their best in Game 3. The line got the offense started in the final minute of the second period with Carl Hagelin finding the net after Lightning goalie Andrei Vasilevskiy gave up a rebound in front of the net. Phil Kessel would score the next Penguins goal when Nick Bonino found him right in front of the net from behind the goal line. Kessel now has seven goals in the playoffs. The line now has a combined 39 points during this year's playoffs.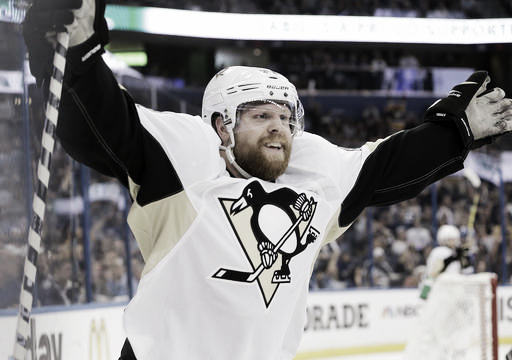 Penguins pressure Vasilevskiy
The Pittsburgh Penguins were able to cause a lot of problems for Tampa Bay's young backup goaltender. The Penguins got 48 shots on the net and although Vasilevskiy was able to stop many of them on his way to a .917 save percentage, he still allowed four Penguins goals. The constant pressure that the Penguins put on the Lightning and the great forechecking were big reasons that the Penguins took control of the series in this game.
Ondrej Palat provides scoring in defeat
Ondrej Palat scored to cut the Penguins lead back to two in the final two minutes of the game and also provided a secondary assist on the Tyler Johnson goal earlier in the third. Palat now has eight points in the playoffs and has mainly been on the same forward line as the leading scorers for the Lightning, Tyler Johnson, and Nikita Kucherov. This line will need to continue their success if the Lightning are going to have any chance at returning to the Stanley Cup Finals.
Looking forward
The next matchup in this series will take place in Tampa Bay on Friday at 8:00 PM EST.
Tampa Ba will hope to have Ben Bishop back in goal even though Andrei Vasilevskiy has performed well in his absence. The Tampa Bay penalty kill will also need to be better in order to stop the great Penguins powerplay and all the star power Pittsburgh has in their lineup.
Pittsburgh, on the other hand, will look to continue their winning ways and return to Pittsburgh with a 3-1 series lead and a chance to eliminate Tampa Bay in Game 5 in front of their home crowd.