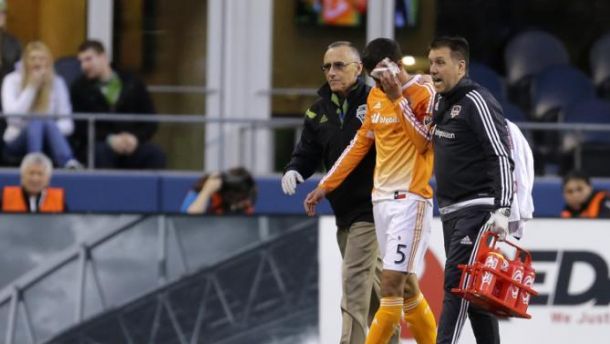 Houston Dynamo head coach Owen Coyle has stressed to his players from day one that consistency is the key to success. That means being consistent in training as well as games, regardless of their location. Coyle wants his team to play the same attack-minded style no matter who is on the field, no matter whose field it is. So far that season, the Dynamo has held themselves to that high mark rather well, putting on good showings in Los Angeles and Seattle.
In an interview with Generation Orange, Coyle said, "What we must understand is that...if we keep delivering performances [like in LA and Seattle] the points and results will come with the performances." He said that, "We must prepare mentally and physically" for road games. Coyle demands a lot from his team and the players are showing the extra hustle in practice. Having used 19 players in the first six games, everyone realizes that spots are there to be won and lost based upon performance. The players, young and old, push that much harder to win spots on the team sheet.
That yearning for time has resulted in good, consistent play on the field for the team. While the results have been slow in coming, the win against Montreal being their first since First Kick, the effort has been there. One area that he has stressed but hasn't gotten results in is ball management. For every game except one the Dynamo have lost the possession battle. He mentioned that this week they have stressed passing and movement on and off the ball to help remedy that.
Against a D.C. United midfield that features Perry Kitchen that will certainly be a tall ask. The talented defensive midfielder is coming off a great performance against the Red Bulls in which he scored two goals in the match. While the second-half collapse has to be worrisome, their ability to move forward and score goals is reassuring. For this match the team will be without strikers Fabian Espindola, due to suspension, and Eddie Johnson, due to a heart condition. They're also missing defender Steve Birnbaum, who is out with a sprained left ankle. On the plus side for United, midfielder Nick DeLeon trained this week and may make the squad if he can regain his form quick enough.
A key player for the Dynamo has been Spanish center back Raul Rodriguez. Every game the player has completed saw the Dynamo earn a clean sheet. It's no coincidence that his calming presence in the back has been critical for the defensive unit, especially with young goalkeeper Tyler Deric still cementing his spot between the pipes. The veteran La Liga defender suffered a concussion and a laceration in last week's game. While he did train with the team this week, Coyle said, "There's an outside chance that he may be involved in DC." Rodriguez is scheduled for a final checkup Thursday to determine his ability to join the team in the nation's capital.
Another loss for the Dynamo is Honduran International Oscar Garcia, missing due to a twisted knee. Who Coyle chooses to take his place will determine the tactics the club uses. If he opts for rookie Rob Lovejoy, coming off a Man of the Match performance, the team will rely heavily on Brad Davis to be the creator on the field. If young Argentine Leonel Miranda takes the spot, less of the load will be on his shoulders, though Davis will still be the primary creator.
Fortunately for the Dynamo, Davis showed stretches last week of being the player fans know. He picked up an early assist on a goal by Giles Barnes. There were parts of the game when his movement and passing were sublime. While not yet up to his lofty standards, it's the first real signs fans have seen that Davis is ready to be the dominant midfielder that has racked up 113 assists during his illustrious career.
With United missing many key players and coming off a disappointing collapse against arch-rival Red Bulls, this game has all the hall-marks of a low scoring affair. Cracking the second best defense in Major League Soccer is a tall ask. On the flip side the Dynamo have yet to prove they can be consistently good in front of goal. Expect a low-scoring affair between these two teams, likely decided by a 1 - 0 score line. It's likely either one can win the game, but the edge, however slight, has to go in Houston's favor.