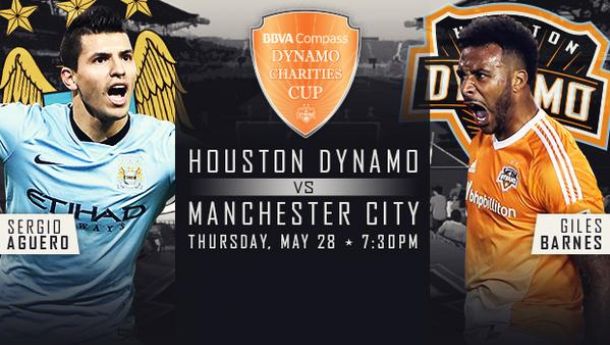 The Houston Dynamo announced that their annual Charities Cup opponent will be Manchester City of the English Premier League. The 2013-14 champion will travel to Texas on May 28 for their first ever matchup against the two-time MLS Cup winning team.
There's no need to go over the talent available to City coach Manuel Pellegrini as anyone who watches the World Cup, at the very least, will be familar with these names. Sergio Aguero, Vincent Kompany, Yaya Toure and so on and so forth. This will certainly be the highest profile opponent the Dynamo have ever faced. In their previous tournaments, they've faced the likes of Stoke City, Aston Villa, Bolton Wanderers and others.
For fans who are very excited to see City play in Houston, they should temper their expectations. On the Dynamo's side of things, this match comes just two days before they travel to face expansion side NYCFC at Yankee Stadium. It's unlikely that many of the key players for the Dynamo will see much playing time against Manchester. On the flip side, this Manchester City is coming just four days after wrapping up the Premier League season, and most big name players will be on holiday getting ready to join up with international sides, have already gone to join up with their international teammates, or already left for their postseason holiday trips.
Perhaps more important is the fact that this friendly comes just one day after Manchester City is slated to play Toronto FC in their newly renovated stadium. While the reserves and bench players are nothing to sneeze at, it's unlikely that fans in Houston will see the full compliment of talent available to City after such a compressed schedule.
With the proceeds going to local charities in Houston, it'll still be a match worth attending and fully of craziness that can only be found in such matches.For season ticket holders of the Dynamo, their ticket is included in the package. That means there will be about 10 000 tickets available for this match from the Dynamo, and they can be purchased at www.houstondynamo.com/tickets.