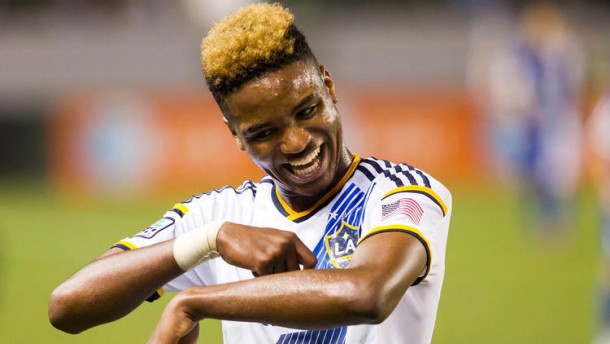 As fans prepare to watch the Columbus Crew and Portland Timbers fight it out for MLS Cup, there are who clubs are busy changing their rosters ahead of January's pre-season camp. One of the more interesting rumors is that young striker Bradford Jamieson IV of the Los Angeles Galaxy is wanted by two clubs.
One of the strengths the Galaxy have long had is getting the absolute most out of their low-cost players. While the high-priced players get all the press, it's those who are on the lower end of the payscale that make the whole team tick. Players like Jamieson, Jose Villarreal and Sebastian Lletget, who were the unsung heroes of this past Galaxy season. Unfortunately, the cap realities of MLS are coming down hard on the team.
Even with the creation of Targeted Allocation Money (or TAM) to help with this issue is forcing the team to shake up the roster. They have to find a way to fit all 4 of their Designated Players under the cap, making one of them a non-DP with allocation funds (i.e. Omar Gonzalez). If they can move Jamieson for either regular allocation funds or TAM (or both), it would be a good deal for the team.
According to @MLSTransfers on Twitter, the two clubs rumored to be interested are the New York Red Bulls and the Houston Dynamo. The runners-up in the Eastern Conference likely don't have much in the way of money to trade for the talented striker but they do have several young prospects of their own to move. The Dynamo do have plenty of money to trade after missing out on the playoffs for two years running.
Both teams are in need of a talented young striker to work around for years to come, though in the Dynamo's case whether another young striker is what is needed is an open question. The Dynamo recently re-signed Will Bruin and Giles Barnes to anchor their forward corps alongside Erick Torres for years to come. They also have U-20 Colombian international Mauro Manotas to bring along. If this move happened it might mean the youngster could go out on loan, possibly to USL-side Rio Grande Valley Toros.
Meanwhile, the Red Bulls have Bradley Wright-Phillips to lead the line, with Gonzalo Veron looking to make an impact next season as a DP. Veteran Mike Grella was sensational this past season but it's unknown whether he can replicate that. Finally, New York has U-20 Cameroonian international Anatole Abang. Adding another young striker to the corps wouldn't be a bad idea, especially one who is starting to prove himself.
With the right coaching and system, it's entirely possible that 2016 could be Jamieson's breakout season for whichever club he joins. Jamieson would fit into the Red Bulls right away based on the way they play, while the Dynamo have recently said they are looking to get younger and faster, which would make him an ideal fit.
Keep checking back here to see how this rumor develops during the off season.