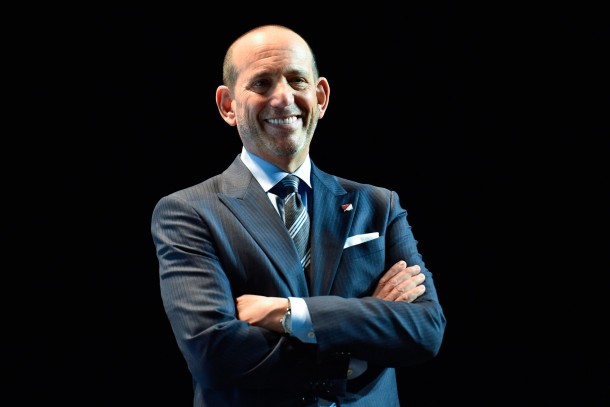 Usually, the saying goes "Too little, too late." It means someone didn't take initiative until their fate is already sealed. For Major League Soccer, no such problem exists. In fact, it's quite the opposite. For years after the league contracted down to 10 teams after the Tampa Bay Mutiny and Miami Fusion failed, "slow and steady wins the race" became the unofficial motto. After all, growing too quickly for their own good was what had killed the original North American Soccer League and virtually every women's soccer league preceding the National Women's Soccer League. When commissioner Don Garber did add a team, it was in a starving soccer market such as Seattle or Portland. Sure there were some missteps (moment of silence for Chivas USA) but for the most part, the new markets were meticulously thought out and a few of them such as the aforementioned Portland and Seattle are now flagship franchises as far as club culture and attendance is concerned.
The caution and meticulous planning was a product of a league humbled by nearly a decade of trial and tribulation. The league found itself facing poor attendance, operating at a loss, barely able to pay its players and seeing its legitimacy called into question after its American stars finished dead last at the 1998 World Cup. Humility is what saved the league during this time. They kept it basic, didn't take risks, and played things close to the chest. Years of frugality and patience paid off when the league caught a break with the signing of David Beckham. Suddenly stars poured in: Thierry Henry, Rafa Marquez, Cuahotemoc Blanco and others. Stadiums got packed, sponsorships were signed, things were looking good. The league became successful.
With that success, some of that humility was lost. Commissioner Don Garber's risks have become less calculated, and a bit… bolder. Instead of awarding cities with bona fide markets, he's expanding to cities with questionable sports markets such as Atlanta and Miami. He's added a second LA franchise when their first franchise doesn't sell out despite being the most successful team in MLS history. He's buying into his own hype a bit too much. Yes, the league has been successful as compared to years past, but compared to the other major sports leagues in this country or soccer leagues in other countries, there is still much to be desired.
With their latest announcement that the league could possibly expand to 28 teams, it seems the trigger-happy expansion is set to continue. The problem with this is, for a league already fighting an uphill battle to provide the same quality soccer as the Barclays Premier League or La Liga, more teams means less quality. A player not good enough to make the cut when the league was just 20 teams is all of a sudden in contention to start in a 24 or 28 team league. When a league expands, players to fill rosters do not just appear out of thin air. They're drafted, signed, and brought from overseas. However, given the fact that soccer is not this country's most popular sport, the increased demand for players isn't exactly met by an ample supply.
The dropoff in quality from the first tier MLS players to the 2nd tier is pretty steep. In the battle to create a league with quality performers, less is more. Less is always more. The other top sports leagues in this country have a never ending supply of players, making the supply greater than the demand, ensuring good quality and sustaining their 30-plus team leagues. Even leagues without a high domestic crop like the NHL are sustained by an influx of Canadian, Russian and Swedish players that fill the gaps.
The other problem is that MLS is expanding to questionable markets while existing markets are struggling. Chicago and Colorado are both from the MLS's original 10 team phase, yet consistently struggle to put bodies in seats. For MLS, its inability to effectively tap into Chicago's vibrant sports market is particularly troubling. The number of sellout friendlies and national team games at Soldier Field shows it has a hungry soccer contingent too, yet this contingent largely ignores its domestic club.
MLS has survived despite being a consistent underdog in the sports world by being prudent, and taking only calculated risks. It's made sure to grow at a slower rate than the national interest in the sport, as a ways of making sure they never get spread too thin. But with its recent impressive success, the increased timetable for expansion and the prospect of 28 teams is troubling to say the least. If Don Garber and the rest of the MLS front office aren't careful, they may doom themselves to the same fate as every preceding American soccer league.