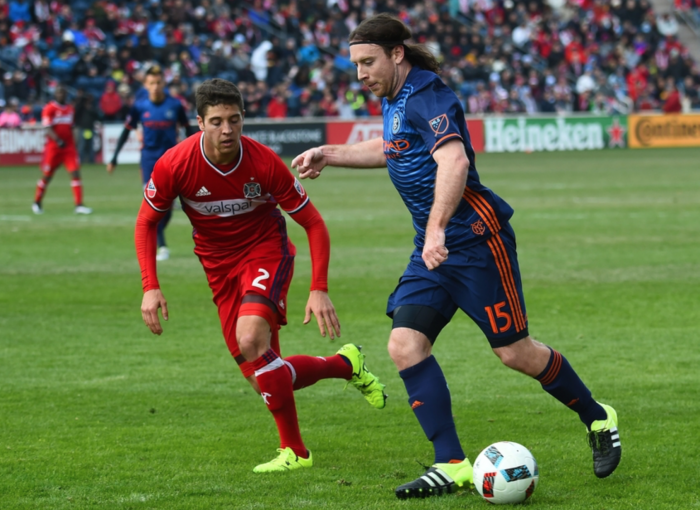 After a 4-3 victory at Toyota Park on opening day, it seemed that new New York City FC manager Patrick Vieira had found the right formula for the attack, but not the defense.
Since that match, NYCFC has scored three goals while conceding four. While that may not be the offensive output Vieira was looking for, the four goals conceded in the three-match span could be considered an improvement over last year. But, if New York truly wants to be considered a playoff contender, than they must show their credentials at home against the Chicago Fire this Sunday.
Home Woes
City's matchup with Chicago at the Stadium on Sunday is already their fourth home game of the season, while the only away match they have played was on opening day in Bridgeview. Yet, in their last four matches (all at home), NYCFC have drawn two and lost one.
In a league where home teams have historically always have had much higher winning percentages than the away team, NYCFC must start to take three points from their home matches. The last thing City wants is to have to rely on winning away matches late in the season for their chance at a playoff berth.
Protection Is Key
Federico Bravo has proven over the five matches so far that he is the perfect compliment to Andrea Pirlo in the midfield. Bravo's defensive work and cover for Pirlo has allowed the Italian to move freely and have a larger influence in the City attack.
Take a Breather
New York did not have a match last weekend as they were given a bye week in the Major League Soccer schedule. While it may seem a bit odd that they would have a break so early in the season, Patrick Vieira didn't mind it one bit.
"I think it's always good to have a break because we can spend more time on the tactical side and do more work. But at the same time, you get really excited and want to be on the field," Vieira told NYCFC.com. "You want to play games because that's what players want. I believe it will be the same game. They've got some good individual players up front with really good pace and I believe they will be really compact and really direct so we have to be prepared very well and work."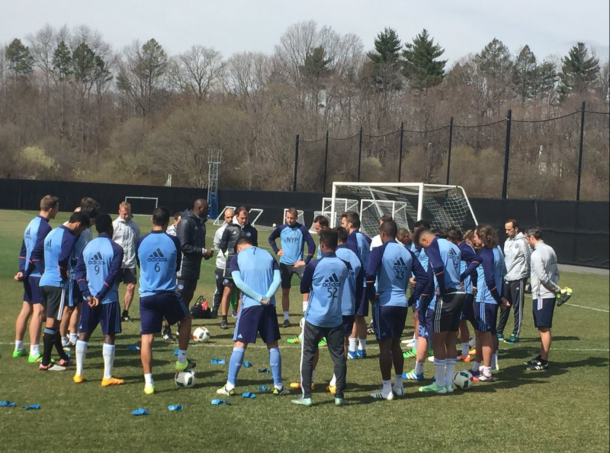 Midfielder Mix Diskerud also told NYCFC.com that he enjoyed the short break from the daily grind.
"Everyday we get together and train, we become better. It's nice to have a little break from the game, you can say, but we're eager to get back out on the pitch and get three points."
Momentum
Chicago tallied their first victory of the season last weekend at home against the Philadelphia Union. The Fire escaped with a slim 1-0 victory in snowy conditions at Toyota Park.
They hope to continue that momentum into their match at Yankee Stadium on Sunday, knowing that getting consecutive victories would be a huge boost to the team's morale.
Fire head coach Veljko Paunovic knows that the type of match NYCFC played in Chicago will be different from the style his club will see from the hosts in the Bronx.
"I think (NYCFC) plays differently when they play at home," Paunovic told the Fire's club website. "But the essence of their play is very offensive (attack-minded), they have very good individual quality also in that they know how to play as a team. Especially when they play at home they feel more comfortable. I see a team who wants to win, creates a lot of chances, and are very intuitive, they have very good players."
Game Notes
-In the all-time series, New York City has won one, lost one, and tied one with the Fire.
- Chicago is unbeaten in their last three MLS matches.
-Frank Lampard continues to train on his own, and is not expected to play for at least three more weeks.
-NYCFC is first in MLS with 6.5 shots on target per game and second with 17.0 total shots per match
-Injury Report (NYCFC): Connor Brandt (OUT), Jack Harrison (OUT), Frank Lampard (OUT).
-Injury Report (Fire): David Accam (OUT), Sean Johnson (OUT)