 For the only time this season, the Los Angeles Galaxy and the New England Revolution will battle at the StubHub Center.
Currently, Los Angeles is sitting in the fourth spot in the Western Conference on 15 points. However, they have played between two and three less matches than their competition. If they win more points than they drop, the Galaxy could be looking at first place sooner rather than later.
Meanwhile, the Revolution need a jumpstart to their season. In the ten matches that they have played thus far, Jay Heaps' men have only come away with one victory while losing twice and drawing seven times. The biggest thing holding them back is their defense, having let in 16 goals already, second worst in the entire league.
Form
The Galaxy have played well as of late, gaining at least a point in their last six matches. This run has shown that Bruce Arena's side is capable of scoring great goals, coming back from behind, and bunkering down on defense when it matters most. During this stretch of games, LA has scored an astounding 14 goals; most without their captain.
New England, on the other hand, need to turn things around quickly. While the season is still quite young, the visitors are on the outside of the playoffs looking in. The one win will not get the job done and will be hoping to steal three points on the road. But to do this, everyone from their goalkeeper to the forwards must be focused and up to the task.
Key Players
Los Angeles' key man at the moment, is without a doubt, Giovani dos Santos. The Mexican international has been on fire since returning to full fitness. In the last four matches dos Santos has played, he has scored four times. He is peaking at just the right time and as dos Santos and will hope that his form is good enough to play for his nation in the Copa America this summer.
There are a plethora of players to choose from for the New England Revolution as their main target man. But it has to be said that Diego Fagúndez is by far, the Revoultion's most impactful soccer player. Sometimes, it is hard to forget that Fagúndez is all but 21-years-old. He is extremely influential in the final third of the pitch. Opposition clubs always put an emphasis on marking him which makes Fagúndez a vital piece to the Revs' success.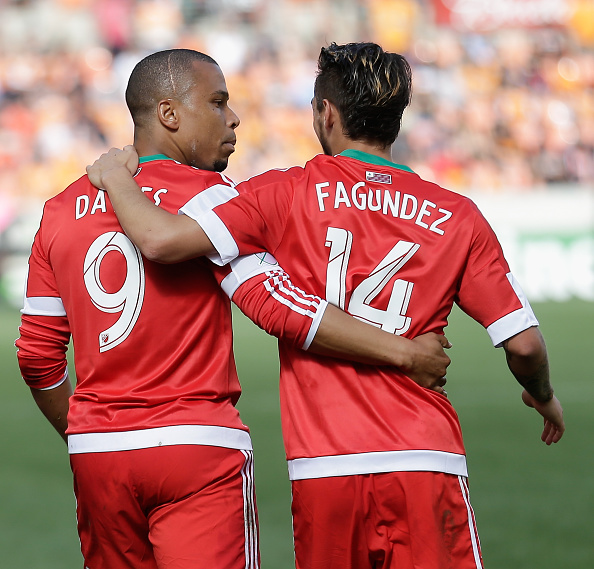 Head-to-head
In the last couple of seasons, this fixture has been dead even. Between the pair, Los Angeles and New England have won two games and drawn another. The Revolution, though, have a bit of an advantage in this area, winning on the road. Four seasons ago, New England battered LA in Southern California, winning 3-1. However, things have changed quite a bit since then and Sunday afternoon's contest should be an interesting one.
Prediction
The home side have been in fine form in recent weeks and are currently on a six-match unbeaten run. Every player on the roster is playing well and they are getting deeper again with the return of Robbie Keane. Once this side fully gels, they will be hard to beat. With all of this noted, the Galaxy will surely come away with all three points.