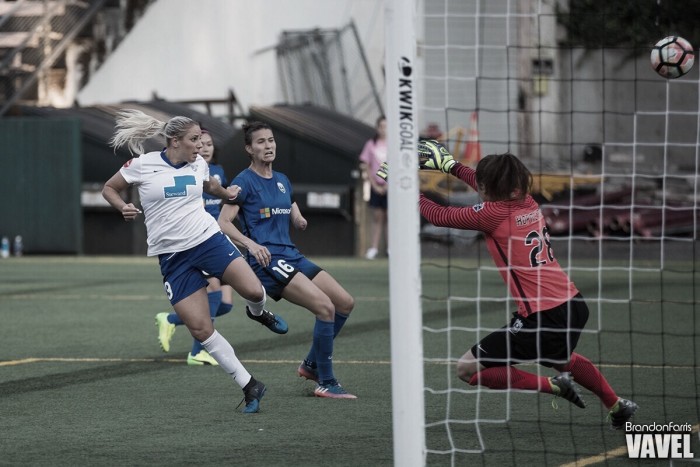 The Seattle Reign came out on the field prepared and fired up to score for Week 13 of the season. They were on a two-game winning streak while the Boston Breakers hoped to continue with their successful three-game victory record.
Opportunities for Seattle and Boston
In the first 13 minutes Seattle saw early action as defender Rebekah Stott made a cross to midfielder Lindsay Elston, who took a shot on goal despite having a Breakers defender on her, but her chances were then ruled out by goalkeeper Abby Smith. The stakes were high and shortly after, Tiffany Weimer took a shot on goalkeeper Hayley Kopmeyer to bring the pressure, but wasn't successful to see the first goal of the match.
Smith attempted to clear the ball, but fell short and created a perfect opportunity for Naomi Kawasumi as she had maintained control of the ball and shot from outside of the box to score the leading goal for the Reign in the 32nd minute, putting Seattle ahead 1-0.
The Breakers were determined to score and in the 42nd minute, defender Christen Westphal crossed to forward Adriana Leon and finished the ball with a solid right foot that hit the back of the net before Kopmeyer could reach it. Leon scored the equalizer for Boston which also marked her third goal of the season.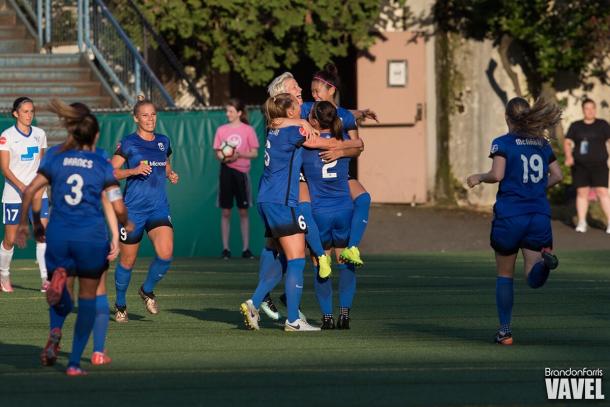 Striving for goals in the second half
The beginning of the second half began at a slower pace, but both teams had much to push through and offer for better results. Seattle had several opportunities on decent shots to make a comeback, but still didn't see the back of the net to take the lead. The Breakers weren't able to clear a corner kick in the 47th minute and Kawasumi almost saw her second goal as she nicely chipped the ball and Elston made way to the goal, but Smith was on it with a save.
This game marked 100 regular season NWSL appearances for head coach Laura Harvey as she also made observations on the Reign's improvement:
"I didn't think we really imposed ourselves on the game enough. We created some good chances, but not enough. We just didn't control the game well enough for me. I told the girls at the end of the game that there was just something flat about us. I don't know what it was, but we're going to have to talk about what that might be and how we can solve that. We can't play like that at home and expect to win games."
This 1-1 draw brought down the Reign to fifth place with 21 points and the Boston Breakers stand in eighth place with a total of 14 points. Seattle Reign will host Sky Blue FC next weekend at 10:00 pm ET as the Boston Breakers will travel to BBVA Compass Stadium to face off with the Houston Dash at 8:30 pm ET.