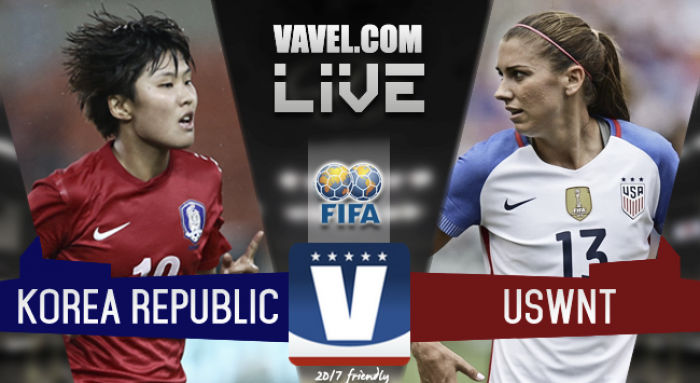 USA 6 - 0 Korea Republic
Thanks for joining me at VAVEL USA ?for this afternoon's game. This is Andi Gebhart, ?signing off until next time!
Goals the second half came from Lynn Williams and Allie Long
Final Wistle from Cary, NC and a win for the USA 6-0!
92' Korea Republic can't convert on the set play they won.
5 minutes of stoppage time added onto this game.
89' Williams is still going for it all out.
83' GOAL: Allie Long from Horan to make it 6-0 USA!
78' Lloyd off the side post! So close to scoring!
68' Williams get's a yellow after colliding with Korea Republic's Kang.
67' Korea Republic's goalkeeper Kang is currently down and being stretchered off the field. She will be replaced by Kim Minjung.
Substitution 65': Carli Lloyd in for Casey Short! Lloyd is getting a great ovation!
61' GOAL: Lynn Williams from Megan Rapinoe for an easy tap in! 5-0 US!
Substitutions to start the 2nd half: Jane Campbell? in for Ashlyn Harris, McCall Zerboni in for Becky Sauerbrunn, Allie Long in for Sam Mewis, Megan Rapinoe in for Christen Press, and Crystal Dunn in for Alex Morgan.
The second half is getting ready to start in Cary.
?HALFTIME: 4-0 USA over Korea Republic with goals from Press, Ertiz and Mewis with two.
46' GOAL: Julie Ertz with header in to make it 4-0!
44' 7th corner of the match for the U.S. on the day.
41' Lee Geummin with an opportunity for Korea Republic but a great save by Ashlyn Harris to keep a clean sheet.
35: GOAL: Christen Press with a howler from the top of the box. 3-0 USA!
30' Lynn Williams with a great run up the side and a near goal by Lindsey Horan.
25' The North Carolina Courage contingent have been playing really well in front of their home crowd today.
20' GOAL: Mewis off the deflection from Kang! 2-0 USA!
18' Another corner kick but no trouble for Kang and Korea this time.
17' Corner kick for the U.S. and Mewis almost heads it in. Great looks from Mewis so far this game.
16' Corner kick for the U.S. and Lynn Williams had a great look but Kang with the last minute save.
15' The U.S. have been dominating possession
10' Korea Repubic tried to make a go only to have it broken up by Alex Morgan's hustle
7' Korea Republic's goalkeeper Kang Gaae ?bobbles the ball in from Mewis almost leading to a 2-0 lead for the U.S. Thankfully for her she saved it at the goal line.
3' GOAL: Samantha Mewis from Abby Dahlkemper off the corner! The North Carolina connection!
1' Here we go!
We are under 5 minutes from kickoff and the teams are taking the field.
It is a beautiful day in Cary, North Carolina today. A perfect day for soccer.
?Korea Republic Starting XI?- 1- Kang, 6-Park, 8-Cho (capt.),17-Jang, 19-Kim; 7-Lee Mina, 9-Jeon, 13- Ji, 22-Han, 23-Jang; 11-Lee Geummin
On the bench for the U.S. today are Kelley O'Hara, Carli Lloyd, Megan Rapinoe, Jane Campbell, Crystal Dunn, Allie Long, McCall Zerboni.
Ashleyn Harris returns to goal today. This will be her 14th cap and her third start of the year. Alyssa Neuher will not be dressing for tonights match.
?USWNT Starting XI- 24-Ashlyn Harris; 11-Sofia Huerta, 7-Abby Dahlkemper, 4-Becky Sauerbrunn (capt.), 14-Casey Short; 8-Julie Ertz, 9-Lindsey Horan, 3-Samantha Mewis; 23-Christen Press, 13-Alex Morgan, 12-Lynn Williams
Good afternoon everyone and welcome to our coverage of the game. The USWNT is facing off against Korea Republic in about an hour and they are looking for the series sweep. I will be giving you live coverage of everything you need to know from now until the final wistle.
11:35AM ET: Hey everyone! It's Andi and I will be your host for the match today. The game has changed to ESPN and not FS2, but the time remains the same. If you aren't near a t.v. today don't fear, I'll be here to give you updates along the way! I will see you in a few hours!
The game will be broadcast on FS2 with pregame starting at 1pm ET and the game starting at around 2pm ET.
The game will be played at Shalen Stadium in WakeMed Soccer Park, Cary, N.C. This is the home of the North Carolina Courage and will be a homecoming gave of sorts for four players including NWSL Defender of the Year Abby Dahlkemper, midfielders Mewis and Zerboni, and forward Lynn Williams who all play for the Courage.
?Carli Lloyd made her comeback from injury during the second half of the game on Thursday. It will be interesting to see how Jill Ellis uses her for the game on Sunday.
Tobin Heath and Taylor Smith who were injured during the NWSL final are not expected to play on Sunday.
Korea Republic's lone goal on Thursday came on a screamer from Han Chaerin ?during added time at the end of the first half. The goal was her first internationally and came during her first appearance on her national team. It will be interesting to see where the game takes her.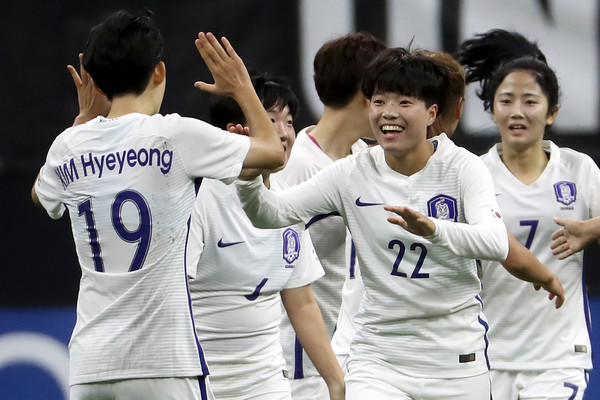 ?With Pugh and Sullivan missing the game USWNT coach Jill Ellis called up McCall Zerboni from the North Carolina Courage as another option in the midfield, along with her Courage teammate midfielder Samantha Mewis. ?This will be Zerboni's first call up to the National Team and she is one of the select few players who have been called up at the age of 30 or above for their first cap. Zerboni helped lead the Courage to the NWSL finals this year and was selected as part of the NWSL's Best XI?.
Mallory Pugh ?will miss the game on Sunday after an injury in the second half of the game on Thursday side-lined her going forward. It is not known how bad the injury is at this time, but we will find out more in the next few weeks when the women gear up to play a pair of games against Canada. Andi Sullivan, who started the game on Thursday will also miss the game in North Carolina due to her college soccer schedule at Stanford.
Julie Ertz has definitely shined as of late for the USWNT and her goal during the 24th minute proved it.
The USWNT are coming into the game after a big win of 3-1 against Korea Republic on Thursday night in New Orleans. With goals from Julie Ertz, Alex Morgan in the first half, and a PK from Megan Rapinoe in the second half the USA showed that they can still be dominant after a series of rough games this year.
Hello and welcome to VAVEL USA's coverage of the second match of the United States Women's National Team versus Korea Republic. The USWNT are looking for the sweep in the two game series, and I, Andi Gebhart?, ?will be your host for the afternoon.The match is set to take place at 2pm ET at Shalen's Stadium in Cary, N.C.