 With the Boston Breakers folding, all Nation Women's Soccer League clubs got to pick additional players for their rosters in the 2018 Dispersal Draft. The Houston Dash selected 3 players in the draft: The rights to forward Kyah Simon, midfielder Lotta Ökvist and goalkeeper Sammy Jo Prudhomme.
Kyah Simon's rights added to a crowded Dash front
Simon, a forward for Australia's Women's National team, was selected sixth overall. Currently, Simon is playing for Melbourne City FC in the Australia Westfield W-League. This season she has 2 goals with 3 assists in 11 games. It is not yet known if she will play this season in the NWSL. Simon had elected to skip the last NWSL season for reconstructive shoulder surgery. She would have the surgery done on both shoulders. During her two years with the Boston Breakers, Simon collected 19 goals in 53 games. It will be interesting to see where she will fit with fellow strikers Christen Press, Rachel Daly and Kealia Ohai along side. In an interview Head Coach Vera Pauw said, "Simon will be the player who will dive into the box in the space that our striker will leave. We will have the extra scoring ability that way."
Picking up youth in defender Lotta Ökvist
Ökvist, a 20 years old defender from Sweden, was selected in the second round, 13th overall in the Dispersal Draft. She has played for Sweden's U17 and U19 teams. Ökvist helped the Sweden U19 team win the 2016 UEFA Championship. Last season she played in Sweden's Damallsvenskan league for Piteå IF. Time will tell if we will get to see Ökvist break into the lineup. She will definitely add depth to a struggling back line. Coach Pauw said of Ökvist "The way she plays, she can also play left center back. She will give a lot of maturity to the defense."
Sammy Jo Prudhomme added to Dash goalkeeper competition.
Prudhomme, was selected in the third round, 24th overall. Last season she started in five games as Boston's backup goalkeeper. She set a Breakers record when she held opponents scoreless for 337 consecutive minutes. Prudhomme can be a capable backup for Jane Campbell. Both will have to be at the top of their game because the Dash selected Sarah Shimer in the 2018 College Entry Draft. This will definitely be a two horse race between Prudhomme and Shimer for the backup goalkeeper roll. With Campbell being a constant call-up for the USWNT, Prudhomme or Shimer may be called into the Houston Dash starting goalkeeper roll for a stretch of games.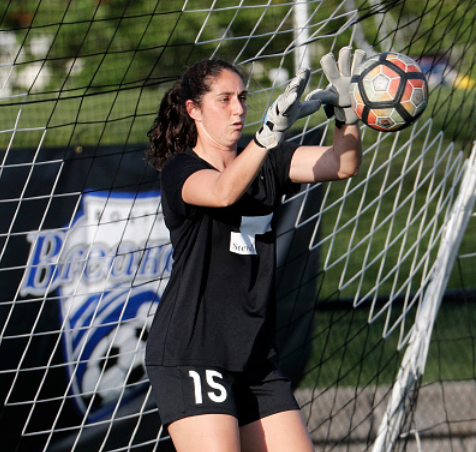 The Dash elected to pass on their fourth round selection. Both Simon and Ökvist will take up an International roster spot.
Quotes via Chron.com