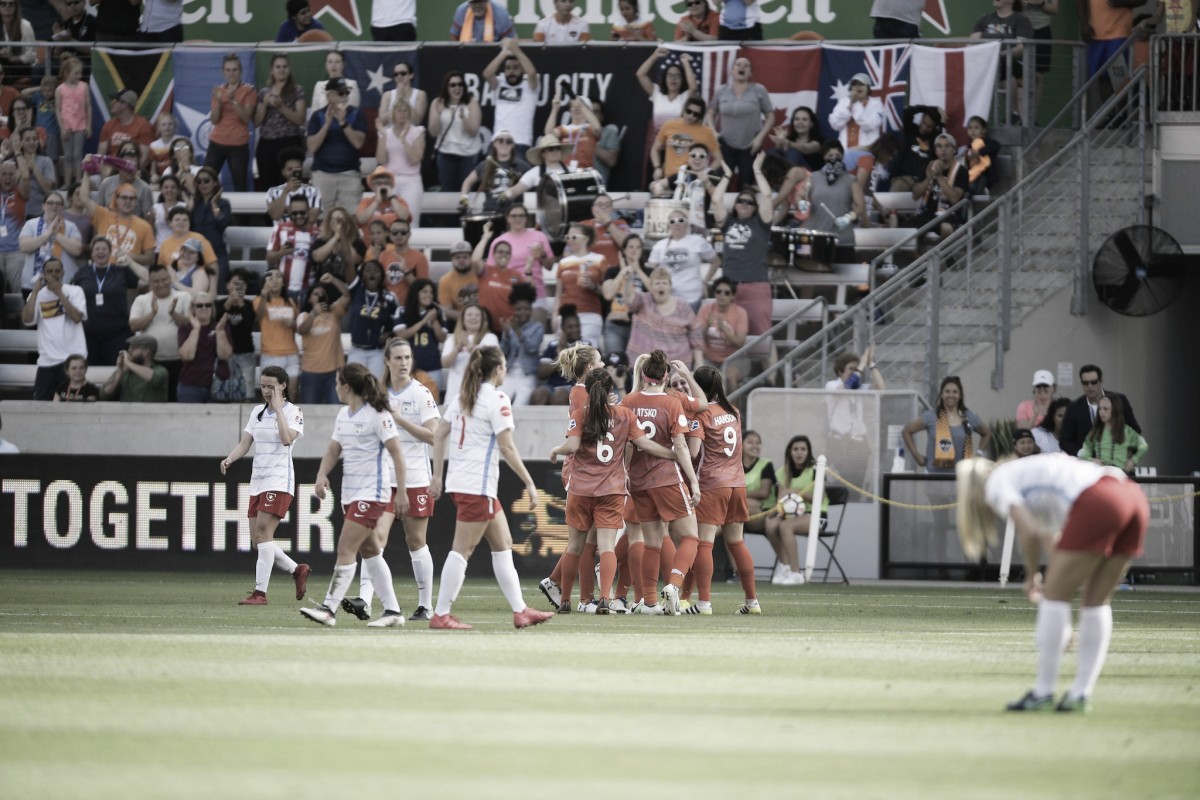 The National Women's Soccer League wrapped up opening weekend with the Houston Dash hosting the Chicago Red Stars at BBVA Compass Stadium. The third consecutive season opener in which these teams faced each other in Houston resulted in splitting points for a 1-1 draw.
First have dominance by Houston
The Dash have become more of a possession-oriented team this season, holding onto the ball consistently in the first half. They were able to find balls through and over the top of Chicago's defense often, keeping their opponent's backline on their toes for majority of the half. The Red Stars were able to get a few corners, but they were unable to capitzlie on their chances. The teams would battle back and forth for the better part of the half, fouls being exchanged every few minutes.
The 0-0 scoreline was broken in the 38th minute, when Dash forward Savannah Jordan slotted a square ball right across the front of the goal and a sliding Kimberly Keever was there to slot it past Red Stars goalkeeper Alyssa Naeher. Keever was signed to the Dash the day before the match, initially being picked up by the Dash in the 2018 NWSL College Draft. The Dash were able to weather the storm for the remianing minutes of the half, keeping the scoreline at 1-0 as they entered the locker room for halftime.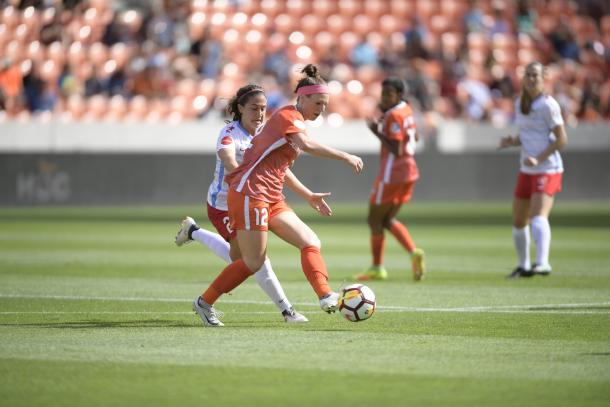 Dominance is not enough
The Dash were able to continue to press forwad in the second half. Goalscorer Keever was subbed out for Nichelle Prince to start off the half. Hoston continued to receive chance after chance, but were uanble to put another one away to solidfy a win. Dash forward Linda Motlhalo seeme to get closer and closer to scoring another for Houston, but was unable to find the back of the net before she was subbed off. Rookie forward Veronica Latsko was also getting in on plenty of the action, causing the Red Stars backline to be wary of the newbie.
Chicago started coming to life towards the end of the match, forcing Houston to stay on their defensive half for the better part of the last ten or so minutes of the half. A miscleared ball resulted in a corner for the Red Stars in the 90th minute, who before this were inching closer to a goal with every free kick and cross coming Houston's way. It was Taylor Comeau that found that equalized for the Red Stars, despite Kristie Mewis' best attempts and heading it away. With two minutes of stoppage time left, the Dash were unable to find the back of the net again before the final whistle.
The Dash are home again next wekeend when they host the Utah Royals on Friday, March 30. The Red Stars return home to host the Portland Thorns on Saturday, March 31.