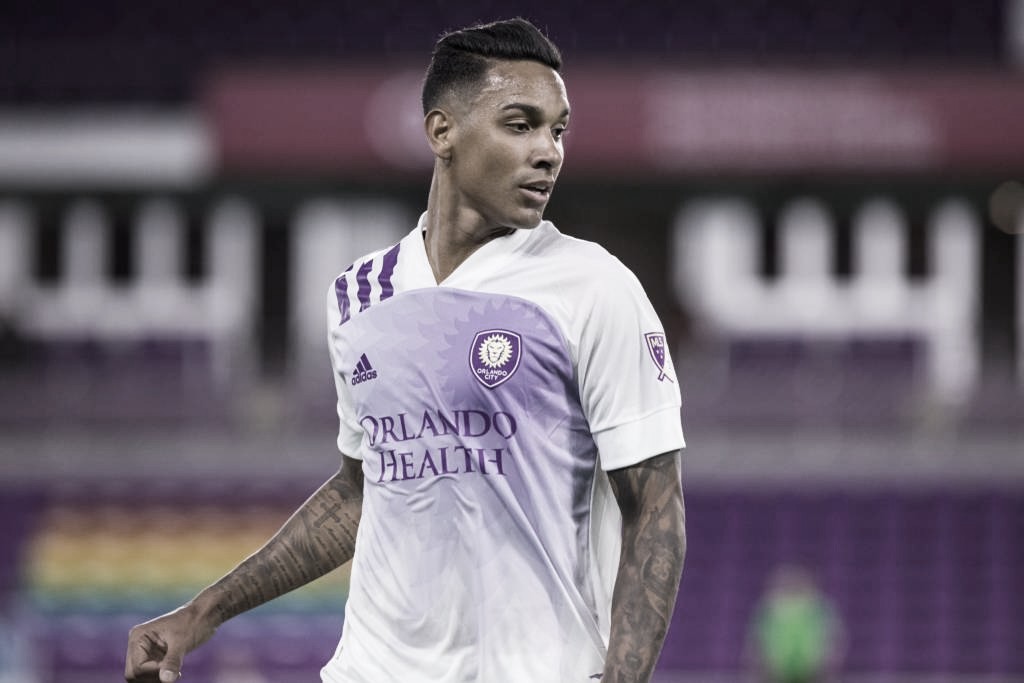 On Monday (08), defender Antonio Carlos talked to us about his adaptation to American soccer. During the interview with VAVEL, the Orlando City athlete described the characteristics of Major League Soccer (MLS) on the field, told his experiences outside the field and praised his co-workers.
Antonio, 27 years old, belongs to Palmeiras. However, as it wasn't much used last season and would still not get many opportunities this year, the club opted to loan the athlete to Orlando City. The player has a loan agreement valid for one year with the American franchise, but there's still a contract until 2023 with the Brazilian team.
He has played in several Brazilian teams, such as: Flamengo, Ponte Preta, Avaí and Corinthians. This is the first time that the athlete plays abroad. When asked about the differences between Brazilian and American soccer, Antonio Carlos characterized the Latinos with a better tactical strategy and said that Americans value the physical.
"So have a little difference for Brazilian soccer that's more touch on the ball. Sometimes it's a game with a lot of transition and, in addition, a game with a lot of strength. The strikers are very strong. The wingers and the sides try to reach the bottom line so that, with the strength of the center forward, he can surprise the defenders. I think that, in my opinion, the main feature here in the United States is the strength."
When a professional goes to work abroad, in any profession, there's a certain adaptation period. From your routine, for example, within a company to aspects of your personal life. It's a new way of communicating, new eating habits, other cultures and more. The current City jersey 25 told us how this moment is going for him.
"I think the language was more difficult. Although I, my wife and my daughters started the study process. But, unfortunately, the coronavirus stopped this. It was more the language. The cuisine is very quiet, because my wife cooks very well, and the culture I think isn't very different. It's pretty quiet. Americans are very responsible for everything that's happening. That's it... the language complicated me a little, but in Orlando it gets easier. It's a city that has many Brazilians and other Latinos, so I am able to meet some of the difficulties."
Who has never been embarrassed on a trip? Will any reader identify with this story here? Antonio said he had problems with the local language. So, we asked him if he was in trouble or embarrassed because of this difficulty in communication. With great humor, he replied:
"Being ashamed or in trouble ... I don't think so. A situation that happened during the first three days was that I would arrive at the club and ask me: "how are you?", Of course, in English and, as I didn't know how to answer (laughs), I just shook my head and said "yes" or "okay" (laughs). I think that was the most embarrassing situation that I went through. It's a bit of a shame, but that's what happened. At least the first three or four days were a little difficult to talk (laughs)."
However, the defender isn't the only Brazilian in the team. Ruan Teixeira (former Ponte Preta), Júnior Urso (former Corinthians) and Robinho (former Ceará) are part of the roster. Carlos stressed the receptivity of all members of the franchise and included these athletes.
"My relationship with the team is very good. I'm a little better now to talk to them. Had Ruan and Robinho here, both Brazilians, and Urso arrived with me. It's very okay. Today, I know how to answer a few more questions and all my teammates, workers and technical staff at the club welcomed me very well. They're giving me a lot of morals. They are helping me. As I did in all clubs, I will help them a lot too. I'm sure. Because, as I said in all clubs, I will leave my legacy and I will leave my legacy here too. I will do my best. My relationship with the team is very good. I like everyone and, most importantly, here everyone helps."
For this season, the Lions decided to hire coach Óscar Pareja to lead the team. The coach, who was voted best MLS coach when he was working at FC Dallas, was in Tijuana before accepting this proposal. In addition, the main star of the roster is Nani. The star, who won a Champions League with Manchester United and a Euro for Portugal, was at Sporting Lisbon until he was signed last year by the American club. Quality hires, opportunities created for younger athletes to gain experience and more.
"He's a great coach, he's helping all of us, he's teaching a lot about his history and, in addition, he's a winner in life. Professor Óscar Pareja welcomed me with open arms, talks to me every day, asks about my family and I think this is important. It's to feel important within your role. This is very good and Óscar Pareja does it with everyone. He's a great coach. Nani needs no comments. He's a brother to me. From the moment I arrived, I was a person I wanted to be close to. I was a fan and working alongside Nani is extremely extraordinary. He's speechless. The quality he has, the person that he's, the group leader that he's, he takes the reins and, without a doubt, is sensational. I think the two will get along very well, both Óscar Pareja and Nani, and I believe we have a lot to achieve this year. Really, they are two sensational people and that I will remember forever in my heart", said Antonio Carlos.
Due to the outbreak of cases of the new coronavirus on a global scale, all MLS matches have been stopped since March. However, the return forecast is scheduled for the month of July with closed gates.