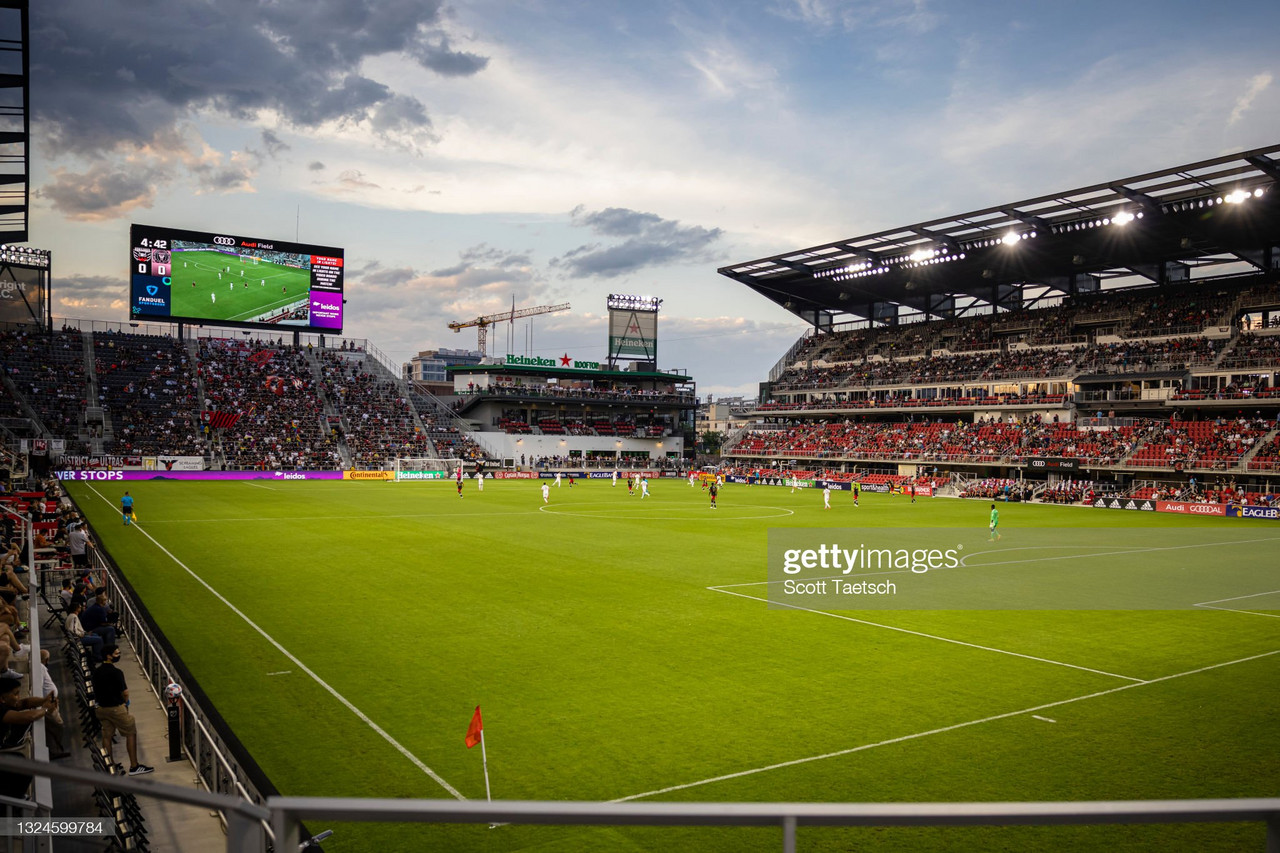 Charlotte FC open their inaugural season in MLS with their regular-season debut at Audi Field to take on DC United.
As the 28th team in league history, Charlotte will look to turn around their fortunes from the preseason, when they went 0-3-1 and scored just one goal in the four games total.
D.C. United comes off of a season that saw them just miss the playoffs with several key players departing the club, who have now gone eight years without a trophy.
Team news
D.C. United
Adrien Perez was held out of the preseason finale, but he's not on the injury report.
The club are short on attackers to enough of a degree that the club has signed Loudoun's Azaad Liadi to a four-day contract.
Nigel Robertha and Jeremy Garay are officially out due to injury, while Ted Ku-DiPietro is questionable. Ola Kamara missed the entire California leg of camp and is still doubtful despite training with the group this week.
Rookie Sofiane Djeffal signed yesterday, but he hadn't received his visa yet, so he is unable to play.
Charlotte FC
Designated player Karol Swiderski is questionable as he awaits his visa while his back-up Vinicius Mello is out.
Defender Anton Walkes is questionable, new addition Daniel Rios was signed only a couple of days ago, but might get major minutes up front.
Ex- D.C. United men Joseph Mora and Yordy Reyna figure to start, though Mora has real competition from aging ex-Leicester City defender Christian Fuchs.
Predicted lineups
DC United: Hamid; Najar, Hines-Ike, Birnbaum; Gressel, Canouse, Nyeman, Smith; Perez, Estrada, Flores
Charlotte FC: Kahlina; Lindsey, Makoun, Corujo, Sobociński, Mora; Gaines, Alcívar, Franco, Ortíz; Reyna
Ones to watch
Edison Flores (D.C. United)
He's been a disappointment in his two seasons with the club, some of that due to injuries, but with some of the bigger names departing, he'll be a key man, especially in trying to unlock a tightly packed Charlotte defense.
Yordy Reyna (Charlotte FC)
The Peruvian forward has seen a significant number of minutes throughout the preseason. He's scrappy and versatile in attacking positions, and has played further out as a winger.
The 28-year old signed from D.C. United as a free agent and will no doubt be motivated against his former club and will be called upon with injuries and other circumstances affecting the attacking options.
Previous meetings
This is the first-ever meeting between D.C. United and Charlotte FC.
In Charlotte, the game will be show on WSOC-TV and www.charlottefootball.com/live in English while Telemundo Charlotte will have Spanish-language coverage.
In the Washington D.C. area, the match can be seen on NBC Sports Washington Plus and the club's website at www.dcunited.com in English and TeleXitos in Spanish.
Kickoff is set for 6pm Eastern time.