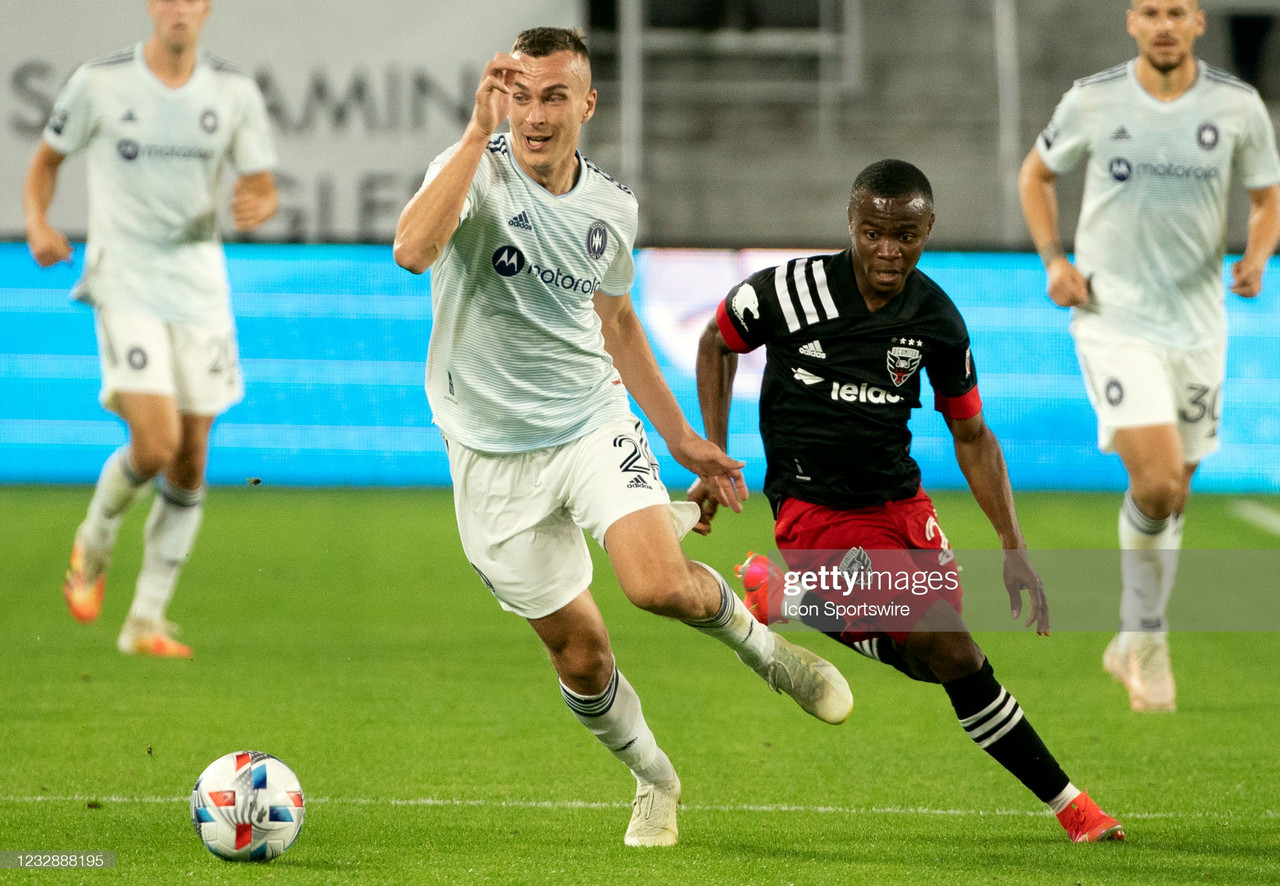 MLS just keeps on keeping on, and this week is no different as the Chicago Fire hosts D.C. United at Soldier Field on Wednesday night.
Chicago were in good form going into this past weekend, but they were absolutely humbled in their last contest, losing 5-1 away to Nashville SC. A Hany Mukhtar masterclass (alongside a Johan Kappelhof disasterclass) meant that the match was over before it really even began. The result should serve as a reality check for the Fire, who now absolutely know that the rest of this season will be a challenge.
D.C., on the other hand, have been quite inconsistent this campaign, and that trend only continued on Saturday. Far from the worst showing, they only lost 2-1 on the road against the Philadelphia Union, who are a good side. It was still more points dropped for United, though, who seem like they can only get the job done against teams who are worse than they are. That does mean that they have a good chance in this game, at least.
Team news
Not much has changed for Chicago in terms of who is unavailable for selection. Kenneth Kronholm and Carlos Terán are both still injured, while Francisco Calvo is still with Costa Rica at the Gold Cup. They will be without one more player, to be fair, as Johan Kappelhof is suspended due to his sending off versus Nashville. Luckily for the Fire, Stanislav Ivanov might finally make his debut for the club after recovering from an injury that he picked up before the start of the season.
D.C., on the other hand, are in the midst of a mini injury crisis. Brendan Hines-Ike and Steven Birnbaum are both hurt, while fellow defender Donovan Pines is on international duty, so none of them will probably feature. Paul Arriola is also out due to Gold Cup commitments, while the likes of Russell Canouse, Ola Kamara, Adrien Perez, and Kevin Paredes are all seen as doubts for the contest.
Predicted lineups
Chicago Fire: Shuttleworth, Omsberg, Pineda, Bornstein, Sekulić, Medrán, Giménez, Frankowski, Navarro, Berić, Aliseda
D.C. United: Hamid, Najar, Brillant, Alfaro, Gressel, Nyeman, Moreno, Mora, Reyna, Robertha, Asad
Ones to watch
Gastón Giménez
Gastón Giménez hasn't started for Chicago since the 29th of May, but there's a good chance that will change on Saturday.
Away from the team for a few contests since he was with Venezuela at the Copa América, he wasn't involved when they briefly turned things around. Since he wasn't in the lineup while they were winning, the Designated Player was kept on the bench even when he did return since the Fire were doing fine without him. You don't change a winning side, as the saying goes.
However, the side in question has stopped winning, which should let Giménez regain his spot in the lineup. He'll be under immediate pressure to perform, though, as he needs to start living up to his hefty paycheck.
The midfielder's arrival ahead of the 2020 season was a big deal. Coming to Chicago from Vélez Sarsfield with plenty of hype and pizzazz, he seemed like an excellent signing at first. He impressed in his first few appearances, and it looked like he'd be a very impactful player for the future.
That's not what has happened, though. Giménez is far from a bad player, and he never really hurts the team when he's out on the field, but he just doesn't do much of anything. The game often passes him by, and fans watching will usually forget that he's even out there to begin with. This wouldn't be too problematic if he was a cheaper player, but he's one of the top earners at the club.
Hopefully his time on the sidelines will have reinvigorated him, and the Paraguayan can now make the most of his potential return to the starting eleven. However, if he continues to disappoint, then there's reason to believe he'll be gone before the end of the year.
Nigel Robertha
The man who will likely be leading the line for D.C. due to the aforementioned Ola Kamara injury, Nigel Robertha has done well in the former's absence.
Another player in the midst of his first MLS campaign, Robertha's acquisition came with a lot less fanfare. Bought from Bulgarian outfit Levski Sofia for around $1 million, it took the striker some time to get going. He was forced to settle for brief cameos off the bench at the beginning of the year, and then a leg injury ruled him out for a number of games.
Robertha got his chance when Kamara went down, though, and he made the most of it. He scored on his first start versus NYCFC, and he then got on the scoresheet in the following contest against Toronto FC. The one against New York was quite the effort as well, as he slammed a shot towards the near post into the roof of the net from a tight angle.
He may have been kept at bay in United's last game, but the 23-year-old will look to add to his tally versus Chicago. He's someone that has incredibly quick feet, which allows him to settle the ball, dance past defenders, and convert a number of different types of chances. His relatively young age means he's still got room to grow as well, and if he fully develops, then he could become quite the threat going forward.
Whether or not that happens remains to be seen, but for now, Robertha's focus is on having another strong showing and keeping his place in the team even after Kamara does return.
Last time out
These two sides have already faced off once this season, with that contest taking place at Audi Field.
D.C. made the most of their hot start to the match, taking the lead after just seven minutes. The move started when Adrien Perez broke free down the wing, getting to the byline before dinking a cross into the area. His ball picked out an unmarked Edison Flores, who headed home from close range to put his side in front.
The first half was a remarkably hectic one since both teams created chances, but neither was able to find the back of the net.
Chicago sent bodies forward in search of a late equalizer, and they came close to tying things up on a few occasions. However, their wastefulness in front of goal cost them, as they couldn't convert.
That allowed United to hold on to the result, and the hosts eventually secured the clean sheet, the win, and all three points.
How to watch
The match will kick off at 7:00 p.m. CST, and it will air on WGN TV and chicagofirefc.com for fans in Chicago and on NBC Sports Washington and dcunited.com for fans in the D.C. area. Anyone else in the United States will be able to watch the action unfold on ESPN+.