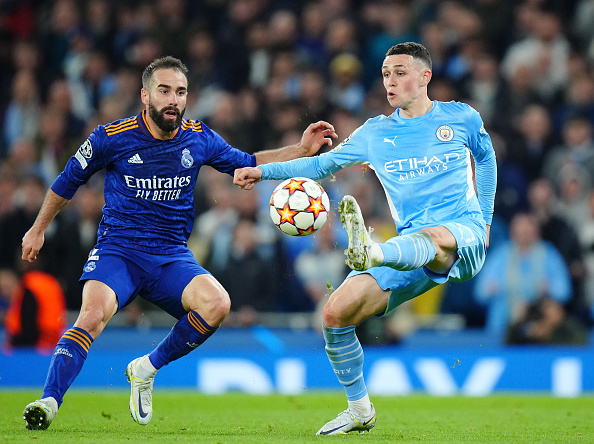 Another slow start for Real Madrid
Manchester City got off to a roaring start and less than two minutes in Kevin Bryune put the home side up early with a great cross from Riyad Mahrez and a jumping header that went past Thibaut Courtois.
Eight minutes later City struck again as Gabriel Jesus with a superb cross from De Bruyne and was able to beat Courtois with a powerful shot to make it 2-0.
25 minutes in Real Madrid still didn't have a shot on target and 30 seconds later Mahrez had a chance to make it 3-0 but his shot went off the outside of the net and stayed out.
Seven minutes later Karim Benzema got the visitors on the scoreboard as he managed to volley a great cross from Ferland Mendy to make it 2-1.
In the 40th minute Courtois was sprung into action once again off a corner from Mahrez but was able to punch the ball away as he was diving to make the save.
A high scoring second half
Carlo Ancelotti made a switch at the beginning of the second half bringing in Nacho for David Alaba who had his health before the game in question.
Manchester City made it 3-1 in the 53rd minute as Phill Foden with a stunning header that went past Courtois after a brilliant cross from Fernandinho to put them up by two.
Vinicius Jr responded for Madrid just two minutes later as he made a quick run up the pitch and beat Ederson through his legs to reduce Manchester lead to one.
Eder Militao tested Ederson just a minute later as he got a header on target but the City keeper was able to make the save. In the 67th minute it was Courtois turn to make a big save this time on Zinchenko.
Real Madrid made their second change of the game in the 70th minute subbing in Edouard Camavinga for Rodrygo. Three minutes later City scored again as Bernardo Silva got a great shot from the top of the box and beat Courtois to make it 4-2.
Luka Modric was able to test Ederson in the 77th minute from distance but again was denied by the Manchester goalkeeper and on the ensuing play Dani Ceballos was subbed in for Modric.
Three minutes later Real Madrid was given a penalty due a handball in the box by Aymeric Laporte and Benzema stepped up to the penalty spot and beat Ederson to make it 4-3.
The visitors made another change in the 88th minute bringing on Marco Asensio for Vinicius Jr. After three minutes of added time the final whistle blew and Real Madrid will head home down one goal.
The second leg will take place next Tuesday in Madrid at the Santiago Bernebeu where Real Madrid will look to once again pull off a stunning comeback and book their spot in the final.