Today, US Soccer announced its U-23 Women's National Team 22 player roster for the U-23 Nordic Open Tournament. The squad, coached by B.J. Snow, will travel to Sweden where they face Norway on June 6 in Karlstad, England on June 9 in Mallbacken, and wrap up against host country Sweden on June 12 again in Mallbacken.
Snow's roster features a wide age group of players, starting with seven NWSL players. Five of the seven players are in their rookie season of their professional career, with goalkeeper Jane Campbell of the Houston Dash and forward Ashley Hatch of the North Carolina Courage both having senior USWNT appearances under their belts. Hatch earned her first cap in October while Campbell made her debut just last month. Defender Christina Gibbons of FC Kansas City was called into camp with the senior team at the begining of this year. Margaret Purce of the Boston Breakers and Kristen McNabb of the Seattle Reign are settling in well with their repsective professional clubs as their rookie season goes on.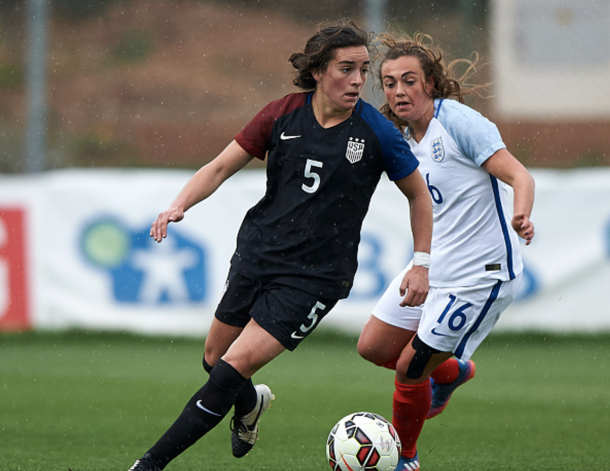 Orlando Pride's Danielle Weatherholt and Sky Blue FC's Erica Skroski are in their second professional season, both with their original clubs.
Aside from the seven professional players, the roster features 12 college players and three high school players. The three high school players - Brianna Pinto, Jaelin Howell, and Sophia Smith have all trained with the full team in the past. Pinto was part of the SheBelieves Cup roster this past March, while Smith and Howell were called up last April.
The U23s will depart for Sweden on June 1, with the NWSL players missing their upcoming matches this weekend.
U.S. Under-23 Women's National Team Roster by Position
GOALKEEPERS (2): Jane Campbell (Houston Dash; Kennesaw, Ga.), Casey Murphy (Rutgers; Bridgewater, N.J.)
DEFENDERS (8): Christina Gibbons (FC Kansas City; Raleigh, N.C.), Zoey Goralski (UCLA; Naperville, Ill.), Ellie Jean (Penn State; Coventry, Conn.), Hailie Mace (UCLA; Ventura, Calif.), Tegan McGrady (Stanford; San Jose, Calif.), Kristen McNabb (Seattle Reign; Montville, N.J.), Kaleigh Riehl (Penn State, Fairfax Station, Va.), Erica Skroski (Sky Blue FC; New Brunswick, N.J.)
MIDFIELDERS (8): Jordan DiBiasi (Stanford; Littleton, Colo.), Jaelin Howell (Real Colorado; Windsor, Colo.), Mayra Pelayo (Florida; West Palm Beach, Fla.), Brianna Pinto (CASL; Durham, N.C.), Margaret Purce (Boston Breakers; Silver Spring, Md.), Danielle Weatherholt (Orlando Pride; San Clemente, Calif.), Michelle Xiao (Stanford; Omaha, Neb.), Sandra Yu (Notre Dame, Strongsville, Ohio)
FORWARDS (4): Mallory Eubanks (Mississippi State; Lexington, Ky.), Ashley Hatch (NC Courage; Gilbert, Ariz.), Savannah McCaskill (South Carolina; Chapin, S.C.), Sophia Smith (Real Colorado; Windsor, Colo.)