 There was much doubt over Roger Federer going into 2017, but the Swiss legend defied most to win two Grand Slam titles and end the year as world number two. He stunned the field in Melbourne to clinch his 18th Grand Slam over long-term rival Rafael Nadal, before titles followed in Indian Wells, Miami, and Halle. An eighth Wimbledon title followed shortly afterward before further successes in Shanghai and Basel meant he ended the year with the most titles on the ATP World Tour. Not bad for a guy who is in his mid-thirties and missed the second half of the 2016 season.
Win/Loss
Federer registered an impressive 52-5 win/loss record over the season, equating to a just over 91 percent win rate. Only one of the five losses was delivered at a Grand Slam, with Juan Martin del Potro edging past in four sets at the US Open, meaning Federer ended with a near-perfect 18-1 record at the majors, although he didn't feature at the French Open. An even better ratio was earned in the Masters 1000 events, as the Swiss finished with a 20-1 record including titles in Indian Wells, Miami, and Shanghai, with his one loss coming to Alexander Zverev in Montreal.
High Points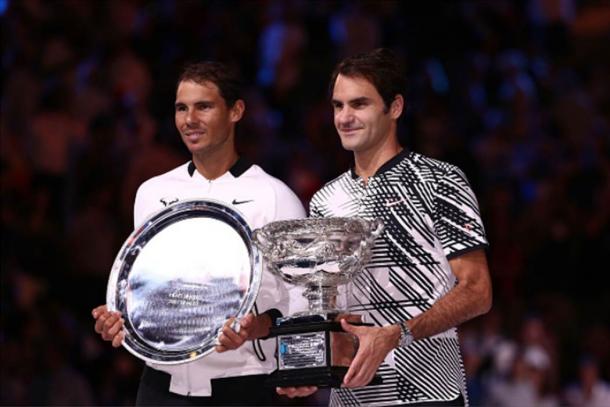 Federer's 2017 season featured several high points across the year, starting in Australia where a magnificent eighteenth Grand Slam title was delivered in what was supposedly his comeback event. Jurgen Melzer and Noah Rubin were despatched in comfortable fashion before a stunning display against Tomas Berdych gave him momentum to take into the second week. Kei Nishikori was overcome in five tight sets, with Mischa Zverev's dream run ended in straight sets in the quarterfinals. Swiss compatriot Stan Wawrinka left his comeback just a little too late as Federer reached the final where he was due to face long-term rival, Nadal. The Spaniard led by a break in the deciding set, before tiredness, alongside some superb tennis from Federer, allowed the Swiss to claim a dramatic 18th Grand Slam and his first since 2012.
Any notion that this was to be a flash in the pan for Federer was crushed in the following months, with a superb sunshine double being completed in first Indian Wells, and finally Miami. Two more victories followed over Nadal, alongside an incredible three-set thriller against Nick Kyrgios, with the pair requiring three tiebreakers to settle the tussle. Either side of the American hard-court double were two shocking losses to Evgeny Donskoy and Tommy Haas, but the defeat to long-term friend Haas wasn't followed until August in Montreal, as Federer clinched titles in Halle and at Wimbledon to continue a breath-taking year.
Another success in Halle was backed up without losing a set in his five matches, but perhaps more impressive was his feat of repeating this in SW19 a few weeks later. Alexandr Dolgopolov, Dusan Lajovic, Mischa Zverev, Grigor Dimitrov, Milos Raonic, and Berdych were all seen-off quite emphatically, setting up Grand Slam final number 29 against Croatian Marin Cilic. Cilic was suffering from a foot problem, but nothing was going to come between Federer and a record 8th men's singles title on the grass of Wimbledon.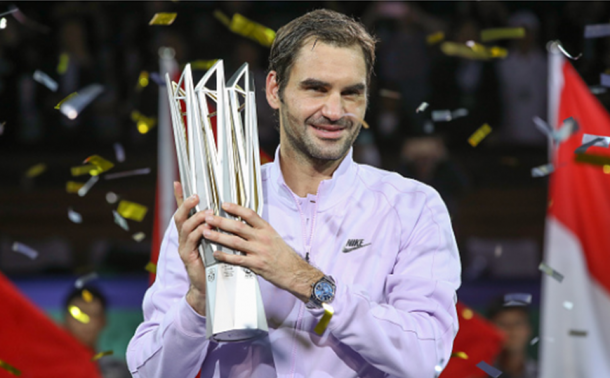 Because of his hugely successful first half of the year, no titles until Shanghai in October seemed a bit of a drought, but Federer eventually secured his sixth title of 2017 by earning another victory over Nadal in a one-sided final. A season-leading seventh title was earnt in his hometown of Basel just a fortnight later, as Frances Tiafoe, Benoit Paire, Adrian Mannarino, David Goffin and del Potro were defeated. His hugely successful year proved more than enough for a record 15th appearance at the season-ending finals. The Swiss won all three of the round-robin matches, but Belgian Goffin proved too much in the semifinals.
Low Points
It's tough to find any real negative moments in Federer's season, but perhaps the decision to play at Montreal was, in hindsight, a poor decision to make with back problems occurring yet again. His quest for the world number one spot forced his hand to play in Canada, but it had an influence on his performance at the US Open, where scratchy performances somehow led him to the last eight, where Del Potro was one poor-performance too far.
Victories in Shanghai and Basel re-ignited his season, but he was unable to produce any consistent magic at the O2 and departed in the semifinals to a fired-up Goffin. Whether Federer skipping Montreal would have changed his end of season fortunes will never be known, but if he was to turn back time, I'd be confident he would make a different decision.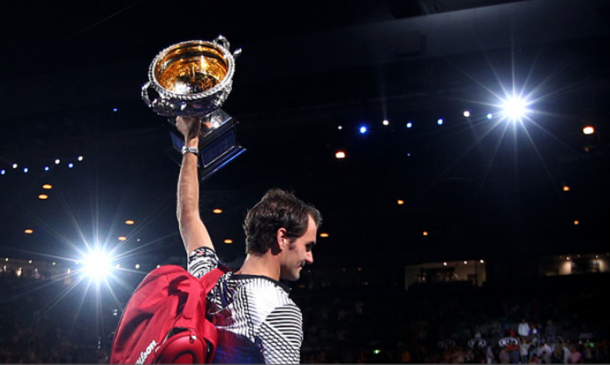 Grade: A+
2017 has been a complete change in fortunes for Federer, with expectations of his year low due to injuries affecting his previous season before eventually meaning he had to miss the second half of it. Many had doubts of whether or not we'd see him on a tennis court again, let alone him contending for Grand Slams titles, but not only did he contend, he won two of the three majors he entered, with the Australian Open success being backed up superbly by another title in Wimbledon.
The decision to skip the clay season proved a masterstroke, with his dominance on grass and early part of the indoor swing in the Autumn, allowing him to free his body from the stress that a clay court can give him. A disappointing display at the US Open was only highlighted more due to his staggering success before, and a last-four upset to Goffin in London was more due to the Belgian's brilliance than Federer playing below-par.
He ended the year as the world number two, the most titles on the ATP Tour in 2017, and a 4-0 record against the world number one Nadal, to complete one of the greatest seasons he's ever had, and perhaps a 36-year-old could ever dream of. The returns of Novak Djokovic and Andy Murray will prove as arguably bigger tests than he's faced at times in 2017, but they would both do well to recreate the Swiss great's supposed 'comeback year'.
I doubt we'll ever see Roger Federer play another tennis match on a clay court due to its strain it puts on him, but it would be very tough to doubt his ability to continue to be one of the dominant players on the ATP World Tour.